As a homeowner, you are constantly thinking of ways to make your home look beautiful, trendy, and cutting-edge. One quick way to do that is by upgrading your furniture.
Using new furniture pieces like transparent dining chairs can beautifully transform the outdated style of your dining room. A uniquely styled acrylic dining set is a sure way to give the room a different vibe and character.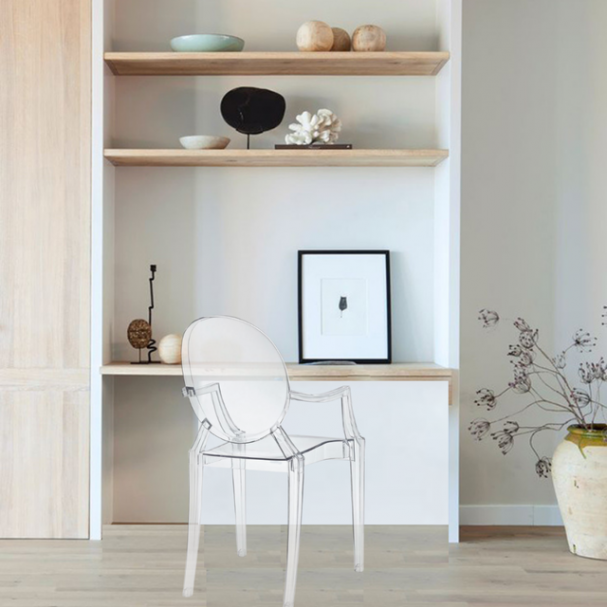 Stylish and Functional
Traditional furniture pieces are usually made of wood. Modern furniture materials include mild steel, metal, glass, plastic, brass, and acrylic. An upholstered dining chair framed in steel or brass combines traditional and modern elements. A modern acrylic chair exemplifies avant-garde design.
The odd shapes and forms of acrylic chairs offer an interestingly fascinating effect on the overall dining room design. They are stylish and visually beautiful. And don't forget that acrylic furniture pieces are perfectly functional as well. There is just no compromise in the functional and aesthetic value of these modern chairs.
Why Choose Acrylic Chairs
Your furniture choice can define and characterize your design style. If you want your dining room to display a non-traditional style, you must consider having trendy acrylic chairs.
Choosing acrylic chairs for your dining table comes with added benefits. Some of them are:
Neat and Tidy Look
As the centerpiece of the dining area, your typical dining set can almost over-crowd the entire space. The bulky cushioned chairs and the massive-looking hardwood occupy most of the space in your dining room. With almost no vacant or empty space left, your dining room becomes unappealing.
On the other hand, a clean-looking, neatly designed dining room never fails to amaze and catch the attention of your house guests. The unique design style of an acrylic chair balances out the sturdy character of the wooden dining table. The well-defined form of the chair projects a minimalist style, keeping the space decluttered, neat, and tidy.
Trendy Style
The design of acrylic furniture is one that transcends modern style. You can integrate your home office chair transparent designs to make your dining room look trendy. You have unlimited design options with acrylic furniture.
Low Upkeep
In solid form, thermoplastics found in acrylic furniture do not turn yellow in sunlight. Hence, you need not worry about furniture discoloration. This results in low maintenance costs. When scratched, repair of the acrylic surface only requires buffing to get back its luster and gloss. They are lightweight and therefore, easy to clean. They are so durable that they can outlast conventional furniture.
Comfortable and Practical
Often, the functional aspect of any furniture piece is somewhat compromised when prioritizing comfortability. With acrylic furniture, these aspects – comfort and function, are not lost. Everyone can enjoy a lengthy dinner table conversation without feeling any discomfort while seated on those transparent dining chairs.
Enjoying these benefits and at the same time increasing the overall attractiveness and value for money of your dining area, there is no denying that acrylic furniture is indeed the way to go.
Things to Remember When Buying Acrylic Dining Chairs
Like your living room, the dining area is where you and your family and guests gather to enjoy good food and each other's company. Hence, it is important that your dining table and chairs are chosen perfectly.
There are four factors you need to take into consideration when buying acrylic dining chairs – space, investment-worthiness, color, and of course, cost.
Space
It's quite prohibitive, in terms of furniture selection when you have a small dining area. One great thing about a transparent acrylic chair is that it saves a great deal of space.
But what about generously spaced dining rooms? Will acrylic furniture over-emphasize the big area? Will they look small when placed in a spacious dining area?
Not at all. With the right acrylic chair design styles carefully chosen, no dining room can ever look disproportionately big. A good selection of acrylic furniture pieces will shift the conventional furniture's focal point to keep the design elements in balance.
Investment-Worthiness
Most people consider furniture as an investment. Some opt for the expensive ones knowing that they will last longer and will not go out of style for many years. A furniture upgrade often involves discarding old ones to make way for new pieces. And it is not always easy to decide which furniture to keep and which ones to remove. There are some furniture pieces you are not ready to part with for sentimental or simply because they are too expensive to throw away.
But that should not restrict you from introducing new transparent dining chairs to go with the existing furniture. The acrylic furniture pieces are likewise investment-worthy because they are durable. They are purposeful and adaptable to different design styles.
Color
Unlike wood, acrylic furniture designs showcase different colors. You don't necessarily have to stick to the clear transparent chairs as there are designs that incorporate beautiful vibrant colors like red, or gold. Simple styles use color tones like gray, silver, white and black.
You can infuse energy in a rather dull dining area by using brightly colored acrylic dining chairs. Similarly, you can tame the effect of the dining table's heavy wood grain patterns by choosing a clear modern chair or a silver-framed acrylic dining chair. Depending on the mood you want to create in the room, there are suitable colors to choose from.
Cost
Compared to wood furniture, acrylic furniture is pricey. But the price difference is reasonable and acceptable because you are paying more for durability and low maintenance cost. Unlike other cheap furniture materials, acrylic offers a longer life span. Acrylic furniture does not require costly repairs, or high maintenance costs because they are designed to last for a very long time. The initial purchase cost is easily off-set by minimal expense on its upkeep
When looking for great-looking and trendy acrylic chairs, make sure that you take all these four factors into consideration. Don't hesitate to talk to experts to help you choose the correct acrylic furniture. You can also check out our website for more information.