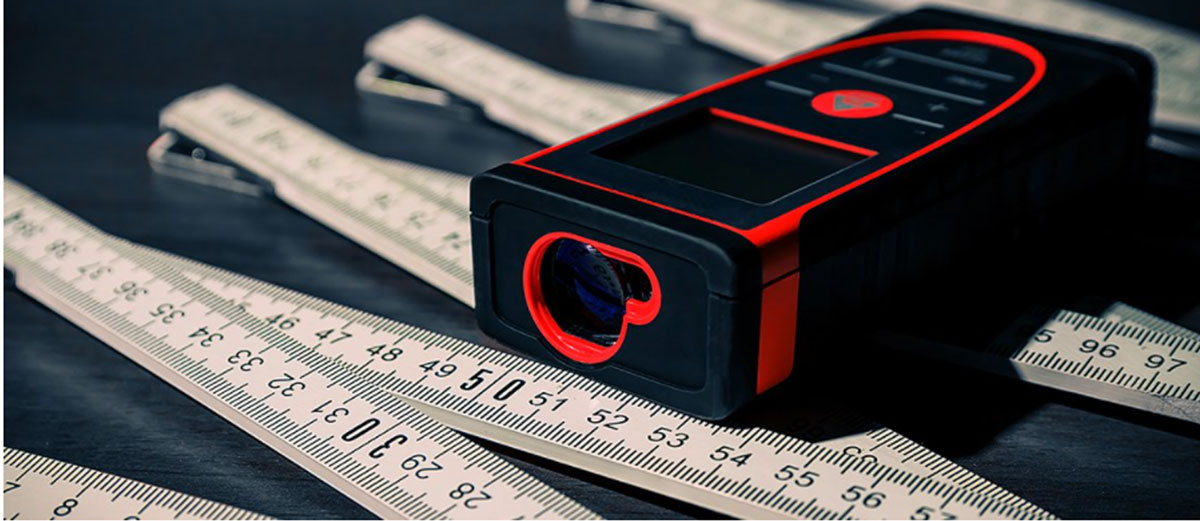 If you're looking for essential measuring tools that will help you save money and complete your do-it-yourself DIY projects at home without seeking professional help, then my friend you have landed on the right destination!
Accurate measurements are the key to customizing furniture, flooring, or inserting new countertops. And that's why today we present to you the latest and most used measuring tools that every homeowner should own.
To make projects turn out the way you want, you need accurate measurements, and that's where the use of measuring tools comes in. Whether it's a DIY wall project, or placing a work shelf, measuring tools are the go-to tools that are used in every house
No matter what measurements and tasks you will throw at them, these tools will provide you with accurate measurements and satisfactory results. For measurements relative to length, depth, angles, or temperature, measuring tools cover every part of your mini home projects measuring requirements.
Without any further due, Read below to know why these measuring tools are worth adding to your toolbox and are proven to be useful in the time of need.
Essential Measuring Tools For Every Home Owner
Laser Tape Measurement Tool
Laser Tape Measuring tool is used to measure long-distance in a short time. The tool shows measurement with the help of a digital measurement device. With one hand and one-person operation, the measuring tool uses a laser to quickly measure your distance accurately.
Laser Measuring tools are used in measuring the length of the room, the width of any objects (no matter the shape and size), or even hanging a picture on the wall. Functions and benefits of a laser measuring tool are as follows:
Laser measuring tools can be a laser level or a laser tape measure. Both have unique qualities are can be used for multiple purposes. Checkout laserlevelguru for more measurement related tips.
Features of Laser Measuring Tool
Benefits of Laser Measuring Tool
 Compact Design
 Button Activation Laser for One Person Operation
 Large and Clear LCD screen for Quick Readings
 Available in Different Color, Size, and Brand
 Easy to Read Tape Measure
  Easy to Use Features
 Durable and Versatile in Use
 Affordable
 Converse Wide Distance with Ease
With an instant measurement of the required distance, you can finish your work with ease. If you're someone who loves fixing and renovating furniture and has long-distance measurements to cover, then laser measurement tool is here just for you!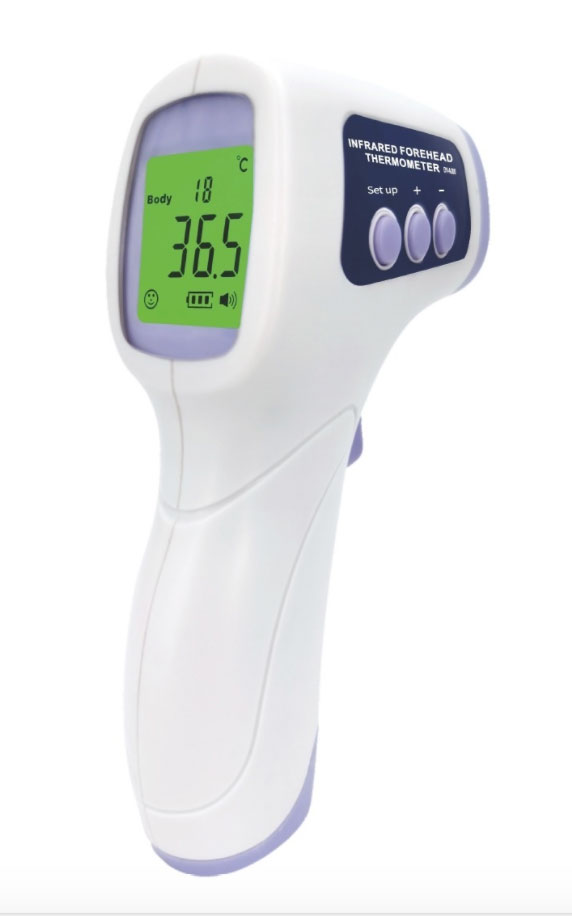 Infrared Thermometer (Temperature Measuring Tool)
When it comes to measuring temperature, you need something that is versatile, comfortable in size, and easy to use,  And that's where the thermal temperature is introduced. The Infrared thermometer is one of the best and most used temperature measuring tools available for every homeowner.
With the help of temperature measuring, not only the body, but appliances like HVAC, electrical and heating devices can also be instantly measured within seconds. Features and Benefits of the temperature measuring tool are as follows:
Features of Temperature Measuring Tool
Benefits of Temperature Measuring Tool
 Solid Grip with Standard Size Frame
 LCD with waterproofing
 Adjustable Thermared Rays
 Durable and Affordable
 Versatile in Use
 Multipurpose Device
In the time of need, thermal temperature tool provides you with accurate and quick readings of surface temperature in comparison to the traditional temperature measuring devices.
If you are looking for a measuring tool that can help you determine the loss of energy in your house, seal cracks, and power regulators temperature, then Infrared Thermometer is the tool for you!
Digital Angle Measurement Tool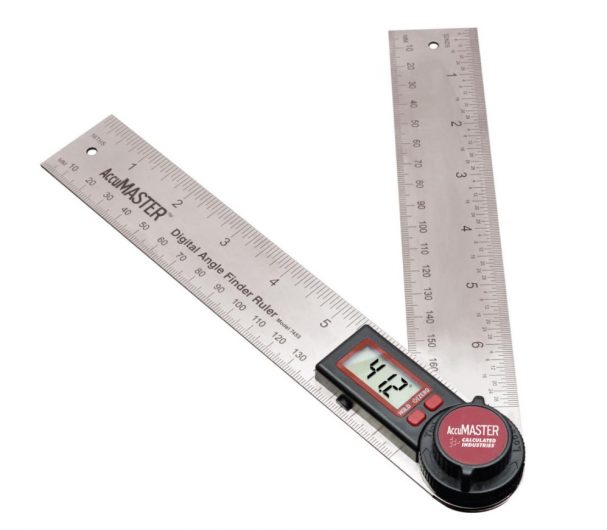 Are you having trouble with completing your custom furniture building project, or stair construction work? If yes, then to help you out we present to you the Digital Interior and Exterior Measurement tools!
The angle measurement tool is a perfect digital device for all "do-it-yourself" projects. Whether it's your woodworking projects, flooring, tiling, and even custom renovation work, angle measurement gives you accurate readings when it comes to measuring angles.
Features of Digital Angle Measurement Tool
Benefits of Digital Angle Measurement Tool
 LCD Readouts, with One-Hand Operation
 Standard and Metric Readings with 0% Error
 Made with Digital Technology with Ruggedness of Analog Rulers
 Easy to Read Measurements
 Adjustable Angles, with Considerable Size
 Durable, and Versatile
With the help of the Digital Angle Measurement Tool, you can measure the inside, outside and reserve angles accurately. The accuracy and functioning of this mini device make it a practical choice for settling levels, taking angle measurements, and finding unwavering leveling issues.
Digital Caliper (Length, Diameter, and Depth Measuring Device)
Calipers are one of the most common devices used by homeowners and professionals for years to measure the area, diameter, and measurement between the two sides of any object. In other words, any linear measurement with a minimum least count of 0.02 mm can be measured in length, diameter, and depth with the help of a Vernier Caliper.
While compared with a traditional caliper, digital Calipers provide you with quick readings without doing any calculations and measurements. Know more about the features and Benefits of Digital Caliper from the reference table below: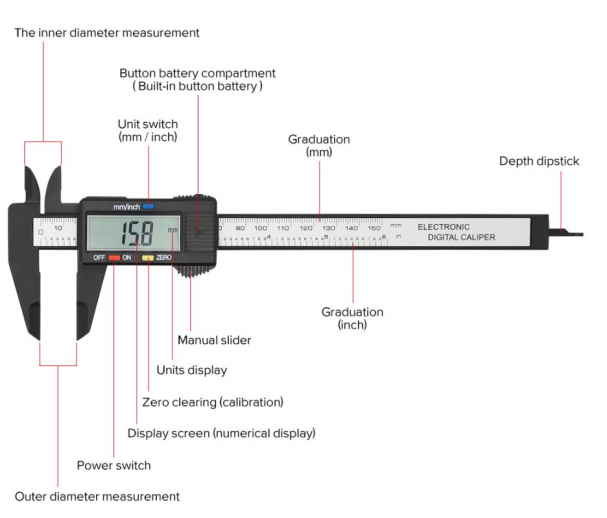 Features of Digital Caliper
Benefits of Digital Caliper
 Digital Accurate Readings
 Works in Length, Diameter, and Depth Measuring
 One Hand Operating System, with Standard Grip
 Versatile in Nature
 Easy to Use and Function
 Cheap and Easily Available
 Multi-Purpose Use
For homeowners who love working with wood and experimenting with mini projects for home improvement, Digital Caliper brings to them three universal systems of measurement (length, diameter, and depth) for furniture and metal works.