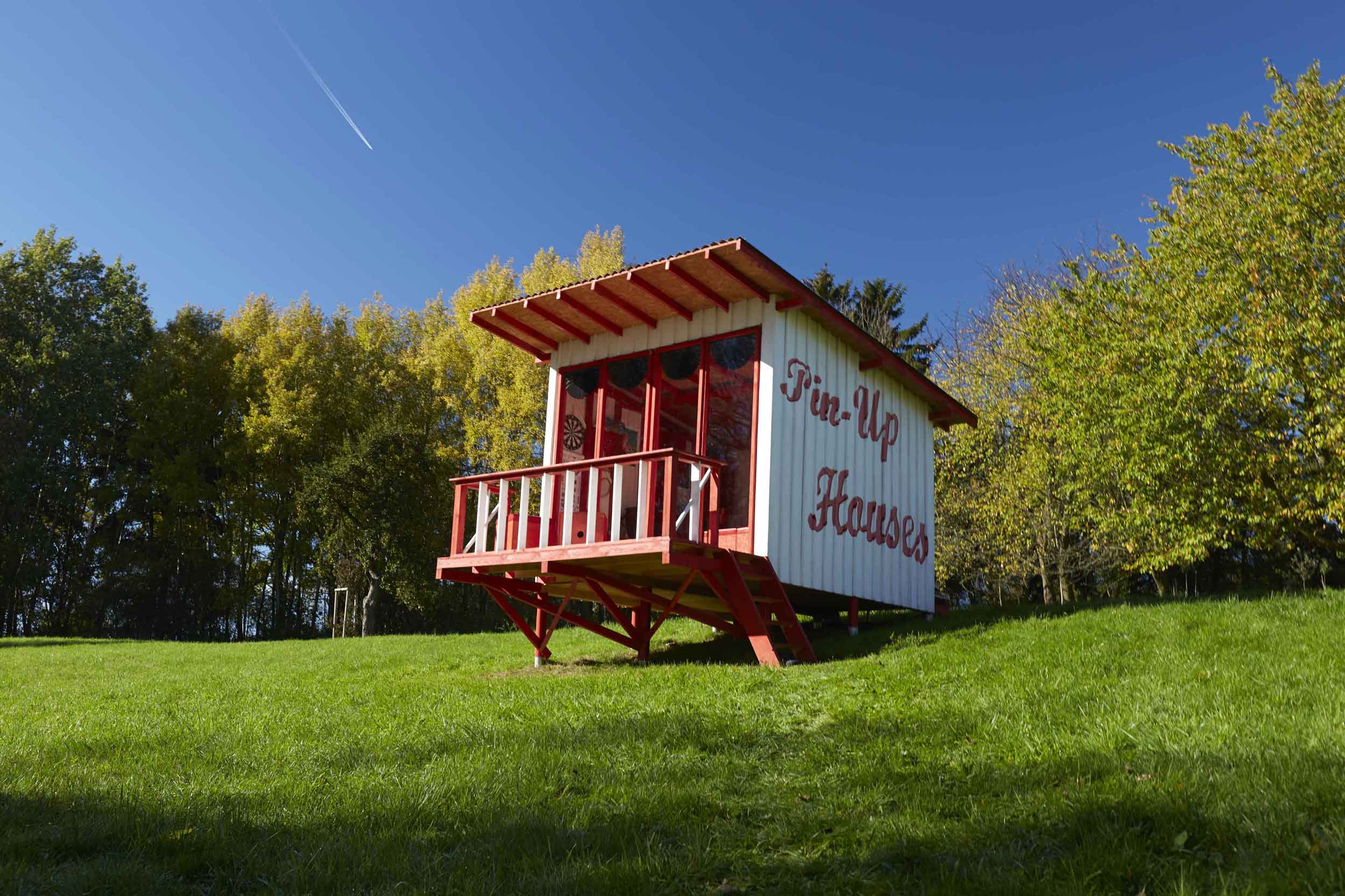 Download press release & pictures  of the Cheryl Cabin project:
The Cheryl cabin
Location: Czech Republic, south of Prague
Costs: $2,900
Construction time: 28 days
Number of builders: 1
Design: Joshua Woodsman- architect
In the beginning, I dreamed about designing small living spaces, which could be built by anyone anywhere. This led to the creation of the project Pin-Up Houses. All Pin-Up Houses are of a unique design and very functional, using smart principles. The plans for the construction are so easy to follow that anyone can build them. To prove this, I decided to do it myself, DIY style, without any outside help.
I eventually  found a plot on a large meadow where the house would fit nicely. There I first built a tall scaffold and set a GO –PRO camera on top to document my endeavor. During the course of the construction the camera shot one frame every minute, creating a time-lapse video. I built the house in one month resulting in around 60,000 photos perfect for demonstrating its step-by-step construction.

The house is built in a traditional way using 2x4s. The floor base is insulated and the roof is made of OSB boards and corrugated iron. A classic wood-burning stove is an ideal heating solution. At the back of the cabin is a covered place for storing wood. An interesting feature of the building is the small terrace. It is a wonderful place to relax . The multifunctional furniture can be placed almost anywhere and with pegs even on the wall. Designed box-stools also provide storage space saving a lot of room. They even double as kitchen shelves and counter space. Several times a month I go there to take a break from the city. My friends like the cabin too, so it is quite frequently used for more social events as well.
Last but not least, I hired three pin-up models as well as a voice actor to put together a professional short video promoting the house, its plans and ultimately the entire Pin-Up House project , which can be viewed on the website. Of course, I couldn't have shot this clip without the help and support of many of my friends.