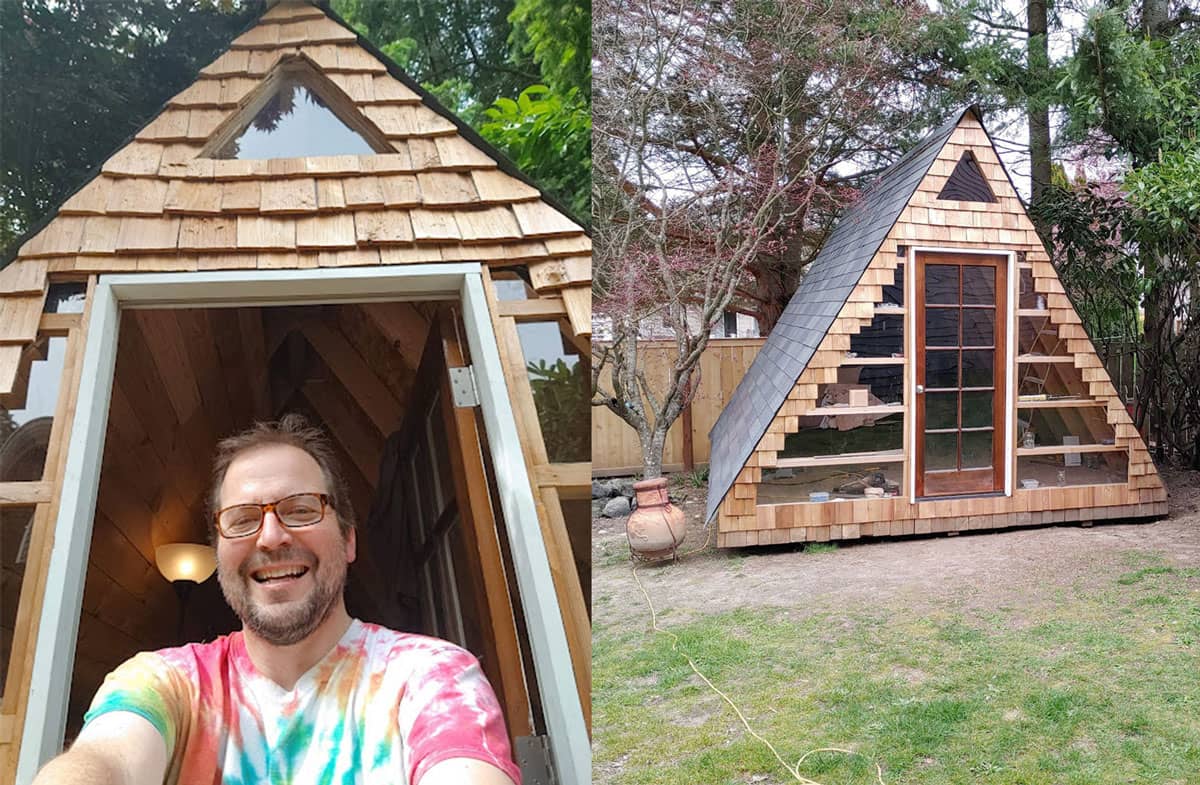 The cabin looks well made, can you tell us where you built it and what your profession is?
This was built in our backyard in Washington State. I am a real estate appraiser.
Have you been choosing between more of our designs?
No, we bought the Lily plans and I modified them to fit within our building code, so no permit was needed as it is not wired or plumbed.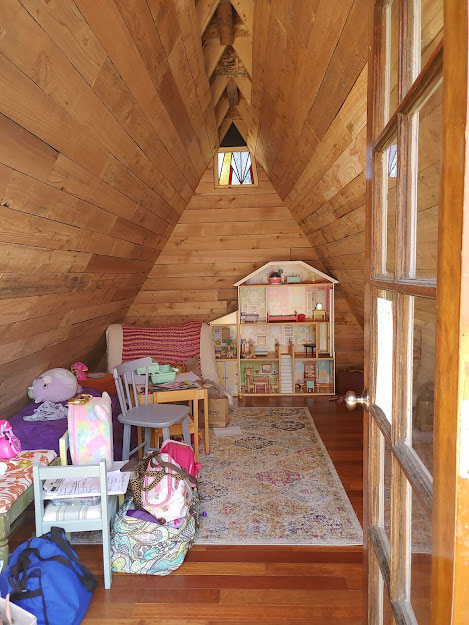 What changes did you make to the shed Lily design and why?
Modified the height and footprint. Code allows for 10' high and under 200 s.f. to be built without a building permit, so I made it 16'x12'. The other factor was to reduce waste, utilizing 12' lumber and 4'x8' plywood.
Did you use glass or Plexiglas for the glazing in the front wall?
Yes, was able to get some end cuts from a local supplier at a discount that fit perfectly for the front with proper supports and spacing. We also found an old stained glass window for the back wall, putting it up high so there is light coming in but otherwise keeping that side sheltered from the neighbors on that side.
What became the most challenging thing for you during the whole process?
Finding more old cedar fencing when I ran low to finish the interior. There is a fencing company that has a place where they give away all the old fences they tear out and I just had to keep an eye peeled for when there was a cedar in their giveaway bin. I planned down the cedar boards for the interior and used the fencing to do the back exterior wall and hand-split shakes for the front. When it came time for flooring, I also used recycled wood tongue and groove for that. It was fun to use the old fence wood for the back that faces out to the neighbors as it looks weathered like the cabin has been there for a while.
What is the main purpose of your cabin?
A-frame for our daughter to play in
Have you read our book How to Build a Tiny House? If yes, did you find the content helpful?
Yes
Any recommendations to new cabin builders who are just about to start their building journey or are deciding to buy our plans?
Just do it, but understand, the devil is in the details. Funny how many blueprints are out there that architects put a note 'SITE VERIFY' meaning that the builder has to know what they are doing to make it work.
Thank you Tom for your answers and I wish you all the best in your life.