A-Frame Shed Plans
What will you get
Timber construction step by step guide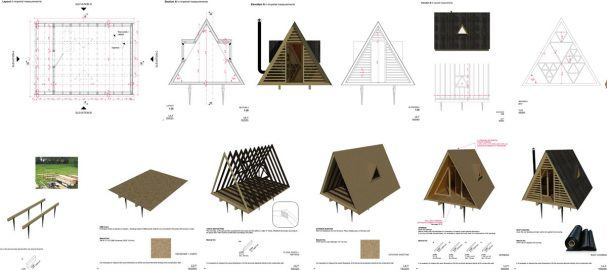 A-Frame shed plans
Complete set of A-frame shed plans (pdf): layouts, details, sections, elevations, material variants, windows, doors.

Complete material list + tool list
Complete set of material list + tool list. A very detailed description of everything you need to build your small house.

A-Frame Shed Plans
Glass, wood, the countryside, fresh air, a low-cost house plan, and most importantly, sustainable living. Those are the main attributes of our A-Frame shed plans. Tiny yet spacious, the A-Frame shed plan is a great choice for people who like to be creative and innovative and those who like to camp. If you like camping under a tent but also like to be in a cozy and warm room at the same time, the A-frame shed plan combines both. The floor framing concept makes sure that the house does not accumulate any humidity from the ground.
A-Frame Shed Lily Made of Recycled Wood- an Interview With a Builder Tom