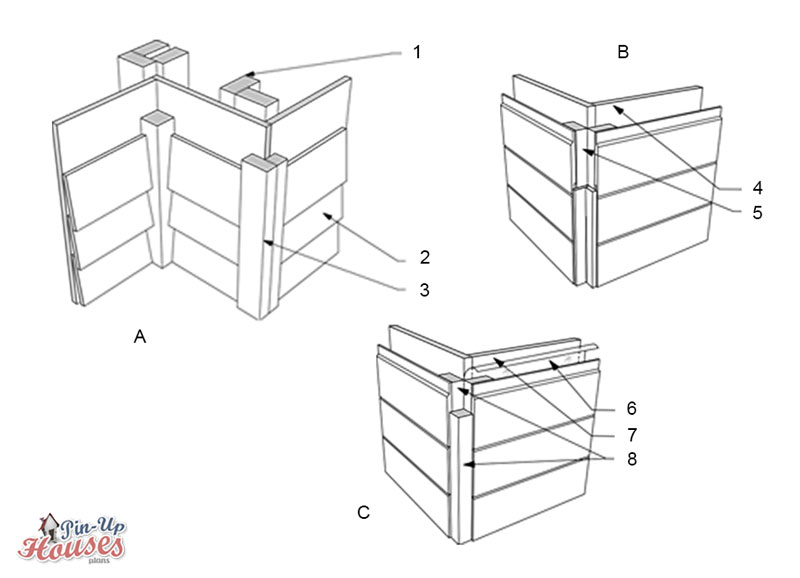 External wall cladding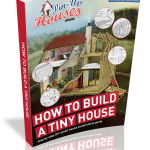 When you are constructing your wooden tiny house or small cabin and are finished with the wall framework, wall siding is another step. It is a non-load bearing external level of the building. It acts primarily as a weather-proof barrier of your small house, further it can improve the sound or thermal insulation. It also plays a significant role in the overall visual impression as well as the environmental impact of your small house.
Some sources specify siding as a particular type of external wall cladding applied to a wooden wall, while others describe it more generally as the outer layer of house. Nonetheless, there are various materials available to be used for cabin siding, each of them act slightly differently in relation to the above mentioned influences. So apart from your personal preferences of performance and visual taste, other aspects to be taken into consideration when choosing cabin siding options are price, durability, maintenance requirements, your location and its weather conditions or orientation of your house.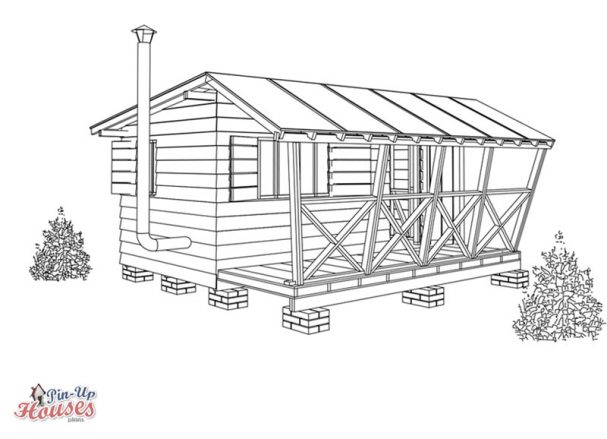 Exterior board cladding
The same applies when you choose what particular types of siding, as there are also various cabin siding options such as shingles, sheet materials, metal siding or façade profiles with gaps. We are going to examine one of them in this article; the exterior board cladding, which consists of boards vertically or horizontally attached on top of the walls. We will concentrate on horizontal wooden exterior board cladding, also called clapboards or weatherboards, one of the more relevant for small house constructions. The horizontal wooden boards are attached from the exterior of the house in a way where the upper piece overlaps the lower piece. Although siding is understood as a non-load bearing part of the construction, some of them can have a bracing effects, especially in case of light-weight timber frame structures when correctly applied.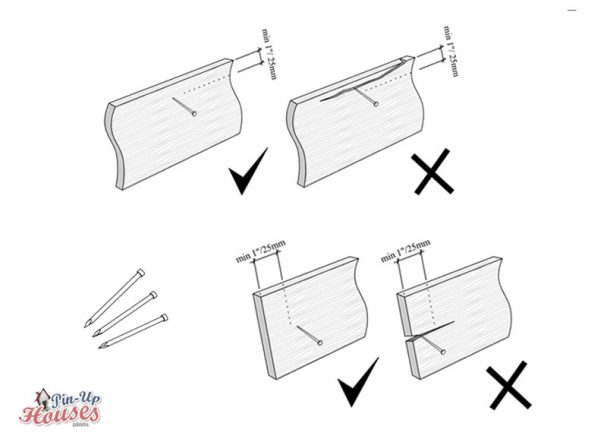 Board cladding installation
The external wall cladding should be anchored ideally to the very base of the timber frame structure from bottom to top by nails or screws, which need to have anti-corrosive coating, such as for example stainless steel or galvanized steel fasteners. Nails should penetrate the load-bearing structure to the depth of at least 1 1/3" (35 mm), while for screws the recommended depths is roughly ¼ less. The anchoring structure can be a stud or beam of the wall framework, such as it is usual in majority of small cabin constructions and also in our micro homes plans. Or it can be a board; in that case, the nail should go through entire thickness of the board.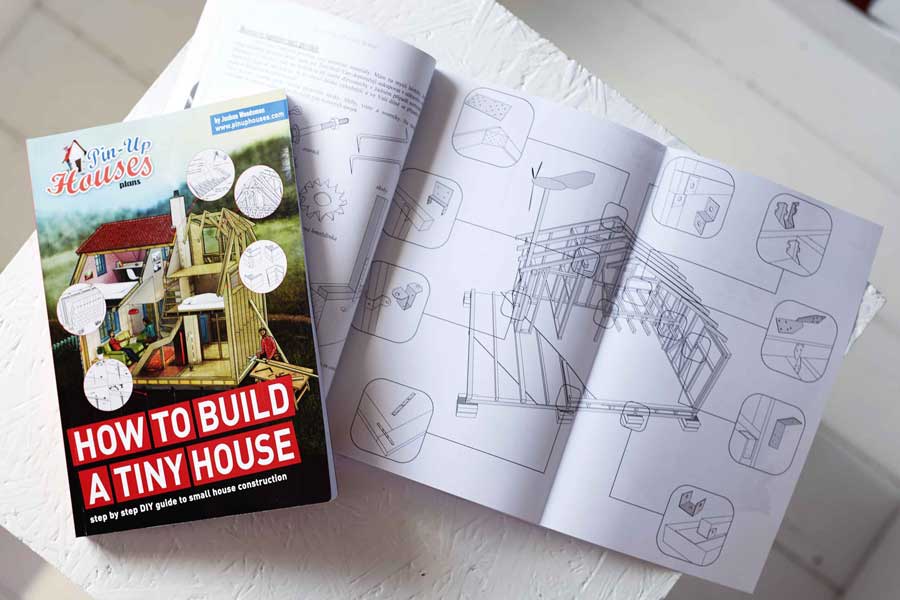 We need to make sure that the wall framework has dried to a standard level of moisture content before we start the exterior board cladding installation. Also for the external wall cladding boards, an important aspect is keeping them dry and safe before installation to avoid any possible complications. Because if we attached damp boards, then after drying up the gaps would start widening and spots around nails could start cracking. The same risk is in case you use the nails too close to the board edges. Minimal distance should be 1"/25 mm, although the further away, the better.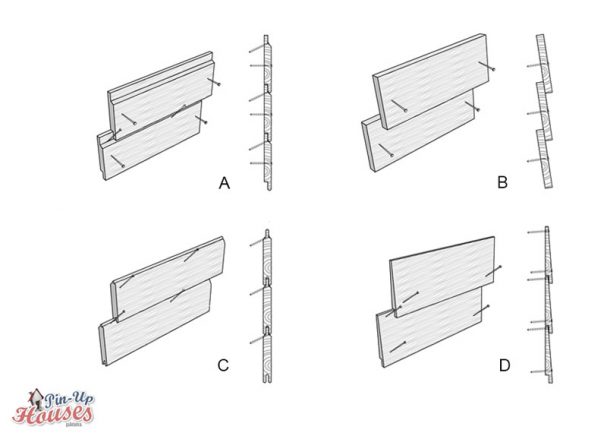 A. Shiplap boards
B. Standard planed boards
C. Tongue and groove boards
D. Bevel boards
In this category of cabin siding options, we need to think about the overlapping of adjacent boards, as you can choose from more possibilities and types of board cladding. The easiest one are standard planed boards, which are simply attached in a way when all of the boards are slightly tilted in the same direction and the bottom part of the top board overlaps the top part of the board bellow. Bevel boards are thinner at the top and thicker at the bottom, where part of it is protruding in such a way to fit exactly on top of the upper part of the board below. Similar are shiplap boards, only their thickness is same throughout all their length and width and they have a notch on both top and bottom parts, to easily click into each other. Tongue and groove boards use the standard tongue and groove system, which enables the bottom board interlock into the top one.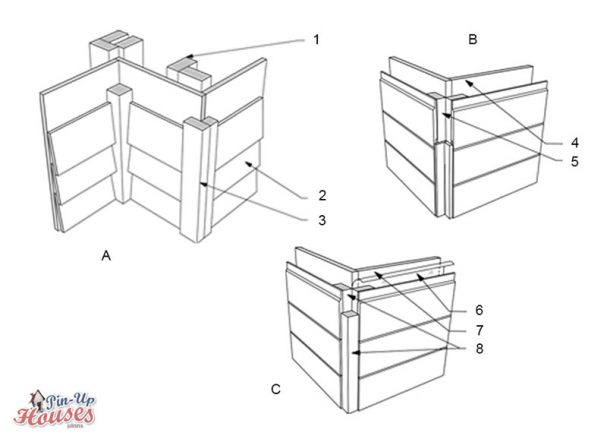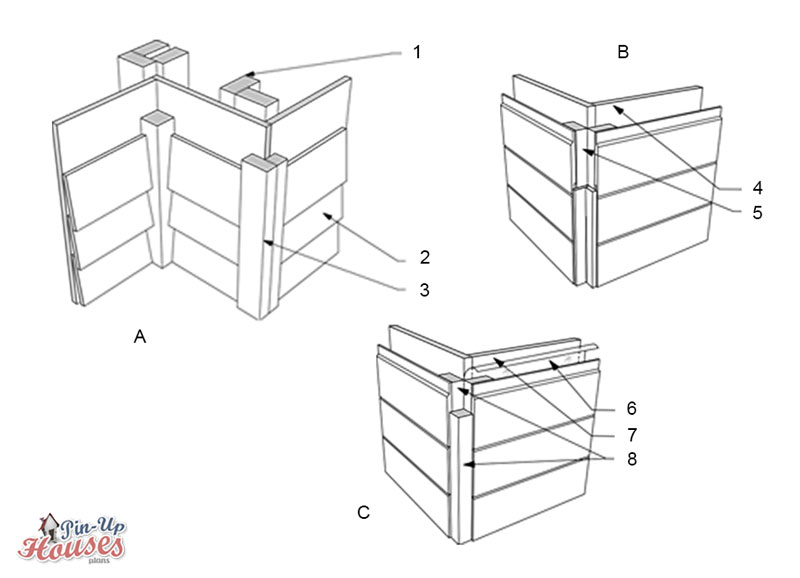 A. Internal corner
B. External corner
C. External corner
Corner stud
Cladding
Exterior battens
Wall sheeting
Exterior battens
Hydro insulation
Wall sheeting
Exterior battens
Board cladding materials
Wood as a choice for exterior board cladding of your tiny house has many advantages. It is strong, durable and versatile material. It is reliable, easy to work with and install and it adds beautiful natural look to your small cabin. Due to its natural resilience it is able to withstand more extreme climate conditions, winds, highly reactive soils and other stresses. On the other hand, the material is not very fire-resistant nor among the cheapest (but you can cut the costs down by looking for reclaimed materials). And it requires quite excessive regular maintenance and layers of protective treatment or chemicals, as it is at risk of wood-worm's and other insects' attacks. Although western red cedar and redwood, which are among the most popular wood choices, have natural resistance to moisture absorption and decay and require less maintenance. Other possibilities of materials to use for external wall cladding or board cladding are for example vinyl, fiber cement, brick, metal, stone, composite materials etc.
More about DIY timber structures
Would you like to learn more about cabin siding options? Or something else related to the construction of our small house plans? Is generally DIY timber construction not what you feel expert in? Well we have something for you! Our step by step book guide How to build a tiny house! It will lead you through every part of small timber construction, provide many useful information and comprehensible manuals and illustrations. You can order a printed or electronic copy of your new book guide right here.