As timber is by far the most common material to use while building a tiny house, we are here to post an overview about how to get your precious material ready. How to treat it and other useful tips on "before you build" are summed up for you below.
Preparing the timber
In order to get timber ready for assemble your wooden house, leave it to dry out properly first. A structure drying out could be damaged by its volume changes, regardless of the fact that drying wood tends to bend etc.
Making a pile
Wooden beams are stored in so-called piles. Level out bases made of bricks or other solid materials, and start arranging the individual beams on top of them. Alternate with wooden strips to ensure good ventilation. The gap between the ground and the first layer should be at least 30 cm to prevent wood becoming wet from the bottom. Check the scheme below that represents an ideal pile.
Prior to storing wood, I recommend cleaning it of all bark and bast which accommodate many fungus germs and other organic pests. The individual tops should receive a protective cover layer of a paint or oil. Wood is most susceptible to degradation over cut surfaces. Wood can also be treated by special preparations against wood borer and fungi.
Anti-fungal and insecticide treatments
Anti-fungal and insecticide treatments provide temporary protection against destructive processes in the surroundings. The treatment is recommended for all wooden surfaces in the exterior, primarily under the conditions of high humidity. The treatments are temporary – if the treated surface is not dry the layer will be washed off. The treatments are most often transparent.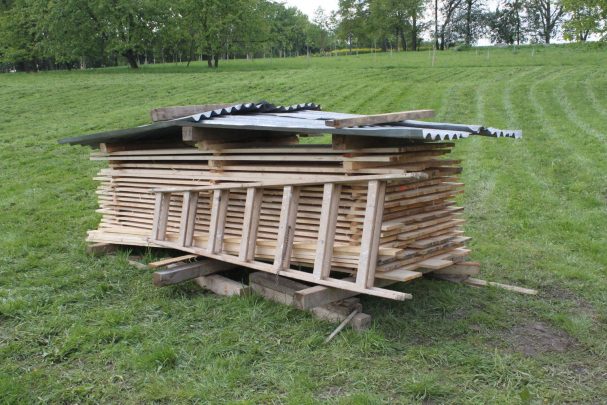 Work safety
Safety during the ongoing work process is something anyone must not underestimate. The most deceptive tools an amateur should approach with deep modesty (if at all) include electric saws (both hand saws and saw benches), electric planes and circular saws. A grave injury can be caused by practically any tool, however, the aforementioned categories are special hazards.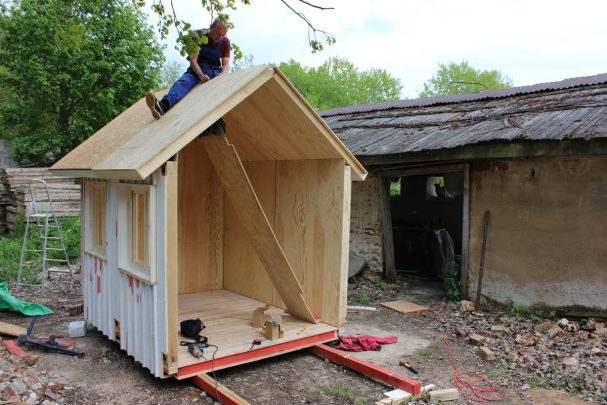 The construction of a wooden house requires a lot of metal fasteners like various nails, thumbtacks etc. I recommend reserving special buckets for scrap metal right at the start. Rusty nails unnecessarily contaminate the surroundings of the building otherwise, remaining a hazard long after the house has been finished, still hidden in the ground.
Other tips include consistent bending of the tips of nails which, if lying lost in the surrounding debris, constitute a super-dangerous trap for your feet. When sawing various synthetic materials (OSB), you must wear a mask to filter the air inhaled.
Another necessary means of protection during various construction actions is protective goggles.
"Safety first" is a motto that shall not be taken without notice. Keep in mind to prevent yourselves and your co-workers to preclude an injury. No doubt you can enjoy building your tiny house while staying on the safe side 🙂 For more tips on building your tiny house, check the updates on the blog.