Ready to leave the busy city behind? If the answer is "yes", here is what you should know about living in an off-the-grid house.
You're not the only one considering moving away from the busy city. Living off the grid has gained great popularity over the last few years because it offers countless benefits (lower carbon footprint, financial freedom, etc). If you have some appreciation of nature, you most likely have a fantasy about leaving the crowded city behind and moving into the wilderness. This is the ultimate expression of self-sufficiency and independence you can show, and we assure you that living off the grid is a viable solution.
Even if most people have the misconception that living off the grid implies having access to no modern technology, energy, conveniences, or utilities, the fact is that most remote houses feature everything the owner needs to live a comfortable life. If you live with a clear conscience, you can improve your quality of life. 
Why is the off-grid lifestyle efficient?
Even if you have lived in the city your entire life, switching to an off-grid lifestyle is still achievable. However, from the beginning, we should warn you that it requires adopting a minimalist and sustainable lifestyle. Many houses (probably including yours) contribute to the environmental issues we're dealing with nowadays because they have a large carbon footprint and use energy inefficiently. Research shows that building a two-bedroom house could produce over eighty tonnes of carbon emissions. And who does count the energy waste it produces during its existence due to poor energy management?
However, off-grid houses require the use of fewer resources and materials, so they have a lower carbon footprint. The techniques used to build these dwellings are also more sustainable than traditional ones because they rely on using renewable and recycled materials.
Types of off-the-grid houses
There are different types of off-grid houses you can choose from.
If you searched off-grid houses on Pinterest, the platform probably suggested images of log cabins hidden in the middle of woods. However, they're not the standard of living remotely, but you could consider them if you plan to move away from the city to live in a sustainable house.
You may think that building a log house requires more wood than building a sustainable dwelling, but this isn't the case. Traditional houses require the use of more wood for their frames than building a log cabin. Because the beams are very thick, the walls of log cabins are more insulated than traditional properties. Suppose you decide to build a log cabin; make sure to hire a professional contractor offering worker insurance because when working with heavy beams, the constructors might get hurt and hold you liable for personal injuries. Read more about what injuries are defined as personal injuries in the UK to protect yourself from dealing with an issue.
Cob buildings
Cob buildings aren't as popular as log cabins, but they're more practical because they're made from clay, mud, dirt and straw. You may wonder if they're last in time, considering the kind of materials used to build them. They're quite durable, with a sound structure and excellent insulation because the mud walls regulate temperature and humidity. Cob is dense and thick and effective at regulating temperatures, so it'll save you money on heating and cooling expenses in the long run.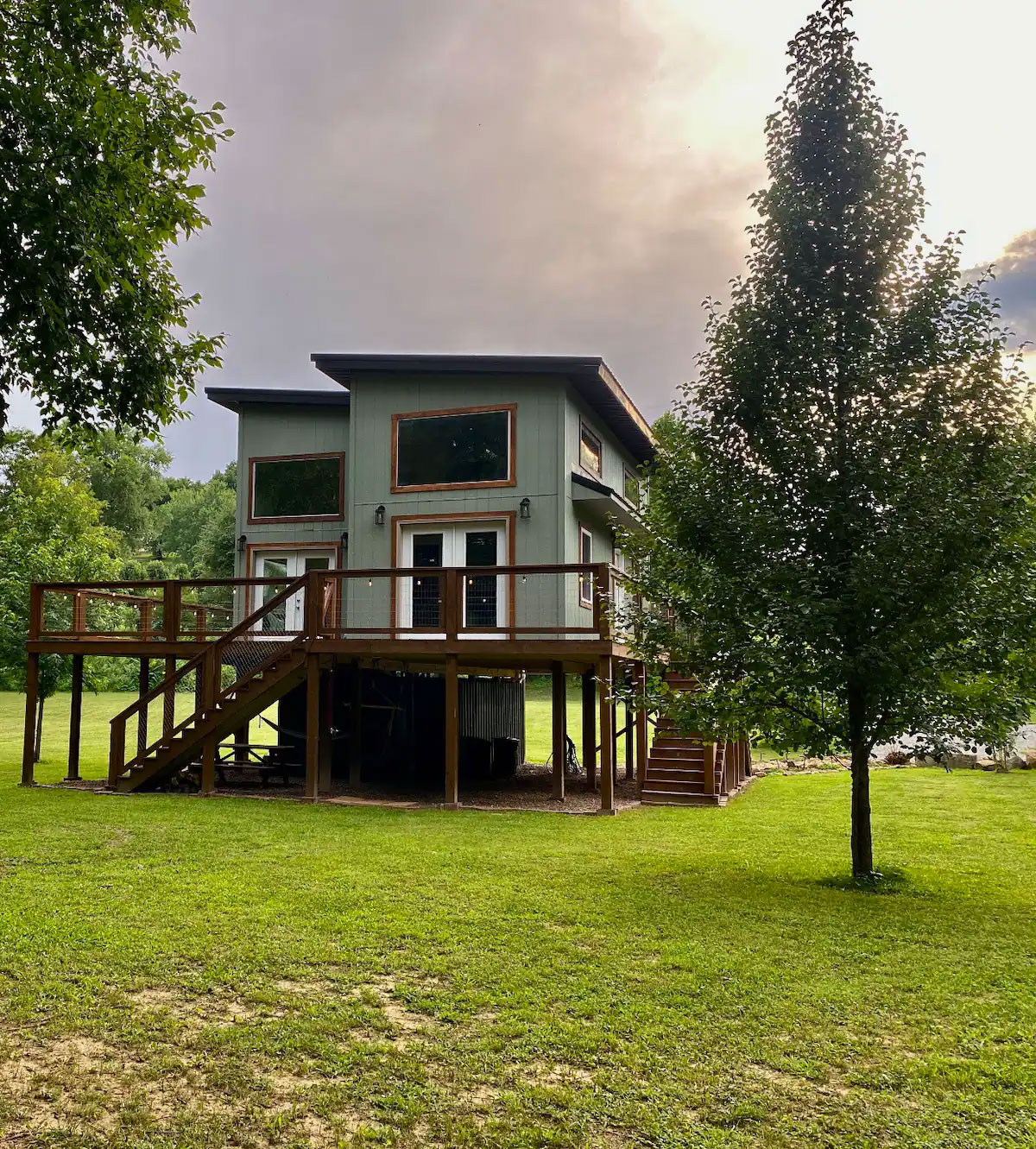 What is an off-grid cabin?
The above two examples of off-grid houses show that the definition of off-grid cabins can vary, depending on who you ask. Homeowners who call themselves off-grid can fall into a large spectrum, but the broad definition implies that off-grid living is not being connected to public utilities. However, it doesn't mean that you must completely cut yourself from the system and source everything yourself. You can still use technology to improve your living conditions.
How to build an off-the-grid cabin
Now that you know what off-the-grid living implies let's talk a little about what building a cabin means. The first step is establishing the budget, so you'll have to decide if you prefer to purchase a piece of land or sign a tenancy contract for a long period.
The budget should include the following:
– Building materials
– Design expenses
– Transport cost
– Machinery and tools
– Contractor costs
– Fixtures and fittings
– Utilities
The next step implies picking the ideal design according to the characteristics of your piece of land. Consult a local constructor to help you identify the type of foundation and materials building a cabin requires. It's crucial that your cabin design fits your needs and allows for extension in case you decide you want more space. The cabin infrastructure should include the rooms (kitchen, bedroom, bathroom) and utilities, heating/cooling systems, sewage system, and other similar details. 
Transporting the materials to your remote piece of land might imply heavy costs, so it's recommended to use local resources to cut down the expenses and build as eco-friendly as possible. Negotiate with local suppliers for lower prices and delivery costs. Before purchasing the materials from a supplier, research the market to identify where it sits price-wise on the essential resources.
Once you solve the material supply issue, you can use your mind's eye to picture the ideal cabin. This is your chance to bring your dreams to life, so work with the architect to sketch it according to your preferences. When designing the dwelling, make sure to check local building codes because they can be very specific.
The building plan should contain the following:
– Position of the cabin
– Measures taken to deal with adverse weather conditions
– Insulation
– Water storage and water harvesting
– Sewage system
– Alternative energy supply
Final words
Living off the grid isn't necessarily cheaper than staying in a busy town, but it allows you to establish your terms and lower your impact on the environment. If the pull to be free is strong, then you'll have no issues embracing this lifestyle.