Weekend Cabin Plans
Timber construction step by step guide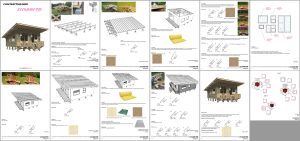 Weekend Cabin Plans, Drawings
Complete set of small house plans (pdf): layouts, details, sections, elevations, material variants, windows, doors.

eBook How to Build a Tiny House Included
Over 1000 illustrations
276 pages
Complete material list + tool list
Complete set of material list + tool list. A very detailed description of everything you need to build your small house.
Weekend Cabin Plans
Weekend cabin plans Elisabeth is a low-cost DIY solution for weekend house enthusiasts. Elisabeth is meant for a couple or as a weekend house for a smaller family. It is a one-bedroom house with one room designed as a living room, kitchen, and a bedroom with creative solutions to save space and add comfort. Plus, for more comfort, Elisabeth has, as most of our tiny houses, a porch sheltered by the roof so you can enjoy the view even when it's raining.  As standard, we equipped Liz with our basic setup – elevated grounds to prevent heat loss, eco-friendly and self-sufficient energy use, and you can also add a water tank to save rainwater for later use. Whether for the weekend or summer camping, Weekend Cabin Plans Elisabeth is designed for comfort and practicality. You, too, can build your own dream! What are you waiting for? Start building today! With our DIY builder step-by-step guide, it has never been easier! See our instructional videos for more info, follow our blog, and start building your own dream today!
Elisabeth Cabin made it to Argentina, thanks to her proud owner Marc!
An Interview with Dianna Greetan, a Proud Owner of one of our Sustainable Cottage Plans