Houseboat floor plans
Sharon is our unique design, cool and modern floating house plans. It is a 342 sq. ft. / 31,7 m2 floating tiny house with a flat roof, glassed front facade, and amazing 77 sq. ft. / 7,2 m2 front porch. Its 21′-4″ x 14′-9″ / 6,5 x 4,5 m interior contains all you need: bathroom with shower, kitchenette, 79 sq. ft. / 7,3 m2 sleeping loft, and enough living room and storage space.
What will you get
Timber construction step-by-step guide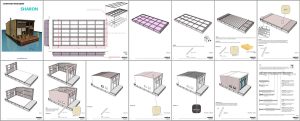 Floating house plans
Complete set of floating house plans (pdf): layouts, details, sections, elevations, material variants, windows, doors.

Complete material list + tool list
Complete set of material list + tool list. A very detailed description of everything you need to build your floating house.

Houseboat floor plans
Sharon is our exclusive product, a modern floating tiny house. The simple and effective design of houseboat floor plans Sharon has all you need! The entrance door on the back opens to a small hall, which provides access to the bathroom with a shower located next to it and the central houseboat place. There you will find enough space for a kitchenette and main dining, socializing, and other daytime activities area, as well as access to the sleeping loft. On one side of this room, a wall with built-in shelves and other storage spaces separates it from the hall. On the other side, a glass wall with windows and a door leads to the front porch. This direct access to the porch creates an enjoyable interior environment with the glass front façade providing a lot of light, fresh air, and amazing views over your surroundings. Just put a table and some chairs on the porch and imagine that lovely evening eating dinner while enjoying the deserved peaceful moment surrounded by water and the fun vacations when you can go swimming or fishing just directly from your floating tiny house.
Construction PDF plans
Sharon, one of our houseboat floor plans, is definitely the unique design we offer. This floating tiny house with a flat roof is a lovely construction with a front façade made of glass connecting the front porch with the interior. Inside, you will find all you need. The kitchenette, living room/dining room space, and a sleeping loft are located in the main room. Wall with incorporated storage spaces divides this room from the entrance hall and bathroom with shower at the back. Floating tiny house Sharon is a timber frame structure standing on a timber frame base with wooden planks forming the walls and roof, then covered with metal sheeting. The DIY houseboat floor plans are detailed construction plans with instructions and dimensions, so once you order this PDF plan, you need to get the materials and start building! Does not this sound great? Well, in case houseboat floor plans are still not exactly what you are looking for, do not go anyway and browse through the rest of our tiny home plans – other tiny house designs, cabin plans, shed plans, in case you need something smaller, and others.