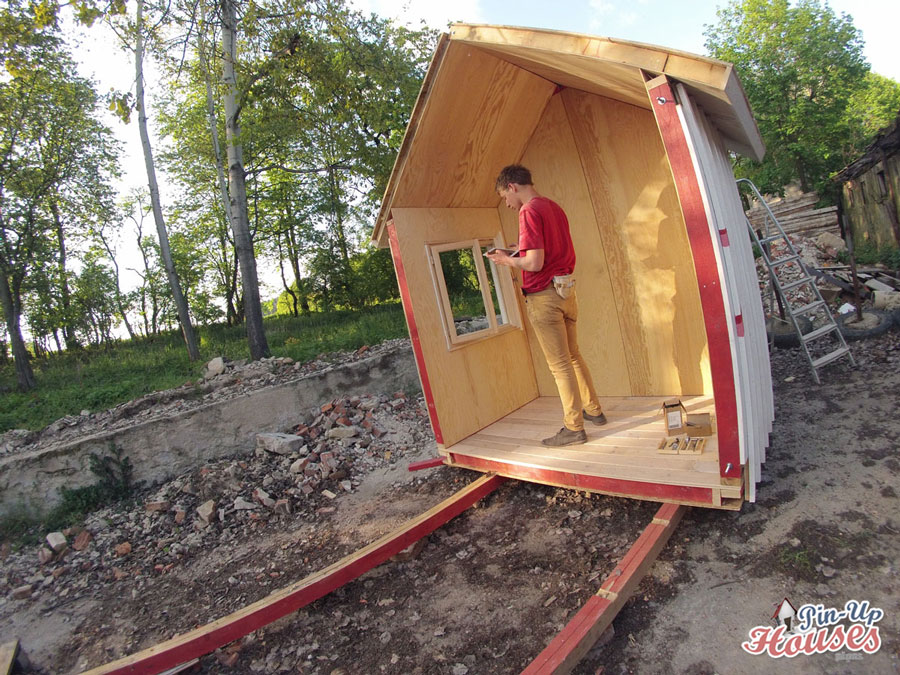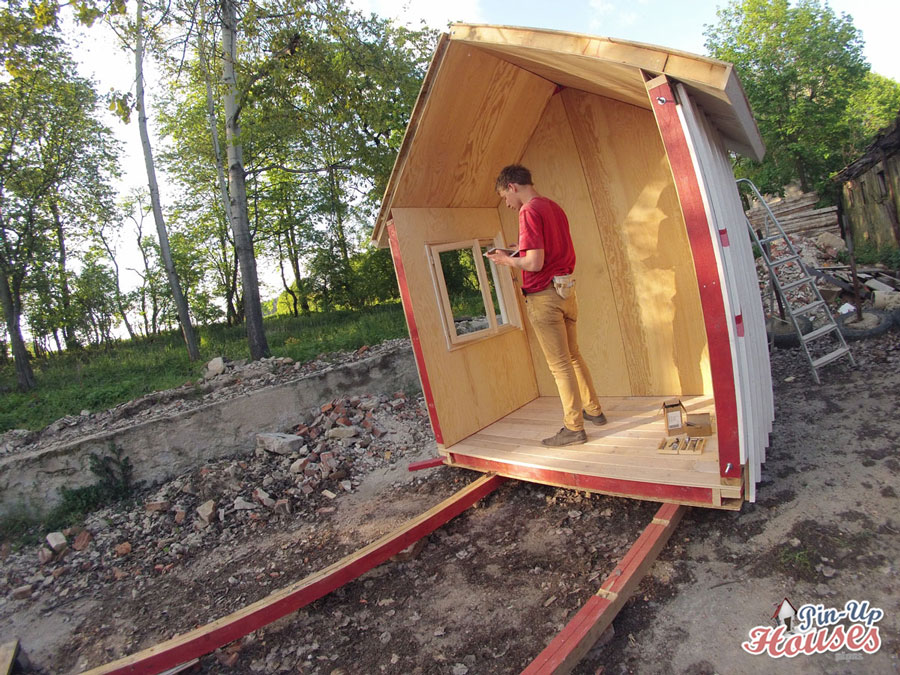 Window types for tiny houses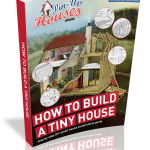 Choice of windows and their installation is another one of the most crucial parts when it comes to building a small house. There are several ways how to differentiate between window types – based on material, glass or window styles. Aspects playing role are the durability, endurance, insulation properties, qualities related to air circulation, breeze or rain and of course the financial costs. In case of tiny homes it is also very important whether you have a house on wheels and travel with it or not. In any case it is crucial to get the precise information from your manufacturer, as window terminology tends to vary.
Window frame materials
One thing to consider is material of the window frames. Vinyl windows may not be very visually pleasing, but provide many advantages. They are very resistant to moisture and great sound and heat insulators, due to their ability to trap air. They are affordable and require very little maintenance, as well as aluminum windows do, which are also strong but light weight, although they are prone to condensation and heat losses. More expensive are aluminum clad, fiberglass or wood windows, which on the other hand are more durable, very good insulators and have much nicer look. The fiberglass windows are becoming more and more popular. They are very strong and able to keep large amount of glass, they resist swelling, rotting and warping and require very low maintenance, unlike the wood windows, which are more demanding in this way and need to be covered in a protective paint regularly. On the other hand, the wood windows are still the most common choice, due to the availability of the material and its beauty, which can be enhanced by leaving a natural finished or painted any color to comply with owners' preferences.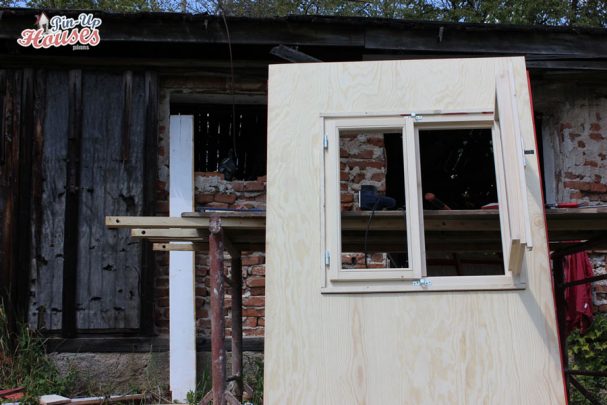 Double glazed windows and tempered glass
Then there is the window pane and glass. One thing to decide is between single and double glazed windows. Single glazed windows are cheaper, however double glazed windows are more efficient regarding noise and thermal insulation. They consist of the glass panes with vacuum or gas in between them, which limits noise and heat transition. To enhance insulating qualities even more, triple glazed windows are available as well, although they are more expansive. Regarding the glass itself, next to the standard option there is a tempered glass, pretreated with chemicals or a special method, whereby it is warmed up and then rapidly cooled down. This makes the glass 4 – 5 times stranger and when it breaks, it splits into round pieces rather than sharp ones, minimizing risk of injury. Tiny homes owners strongly recommend it for travelling tiny houses on wheels to resist bouncing on the road, in some states it is even compulsory, so make sure you check your local regulations if you own a tiny house RV. Although it may mean slightly limited choices as not all window types are available with tempered glass. It is also often used in doors, showers, areas around pools etc., many cases being again defined by regulations.
Types of small house windows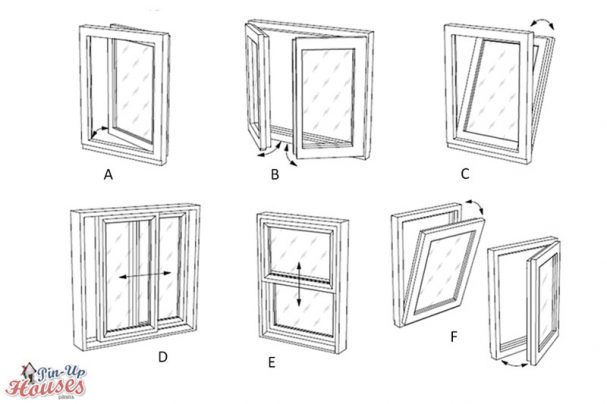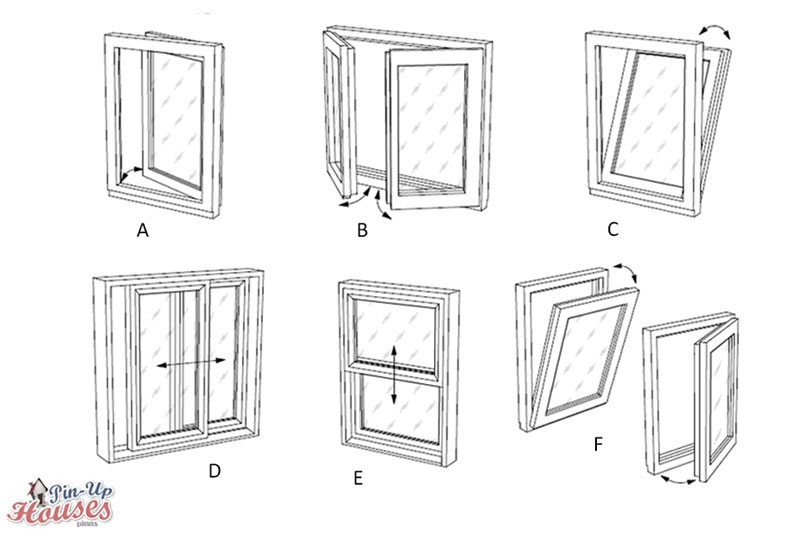 A) Single casement window
B) Double casement window
C) Hopper window
D) Sliding window
E) Hung window
F) Combination of hopper and casement windows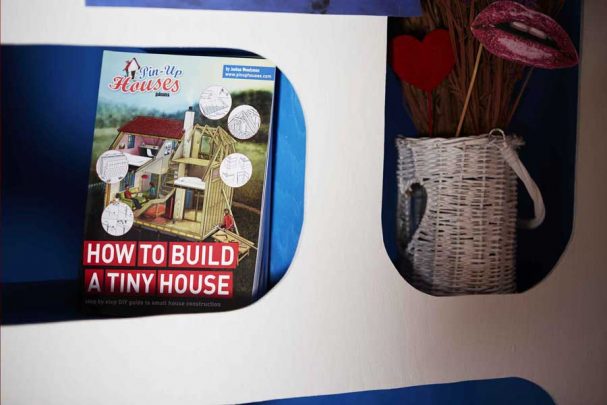 Single or double hung window
Single hung window and double hung window belong among the most affordable. They consist of two window sashes, one on top of the other one. In case of single hung window, it is only the bottom sash that can move up and down, while the double hung window can be open using any of them, as both bottom and top sashes can move and slide behind each other. Single hung windows are cheaper, however the double hung windows are easier to clean and in some cases you can also tilt the sashes, enabling even more accurate setting of the ventilation.
Fixed window
The cheapest among window types is fixed window. Non-operational, its main purpose is to bring light inside. An advantage of fixed window is a firm unit, which is sealed directly into the window form in a wall thus preventing heat losses. They can also behave as a structural element, which can be useful for your micro homes, however it is important to make sure you have other ways of ventilation, as fixed window is not openable. One subcategory of fixed window is a picture window. It has smaller, low profile frame in order to maximize the glass space and support unobstructed view, because it is often large and placed overlooking a nice scenery.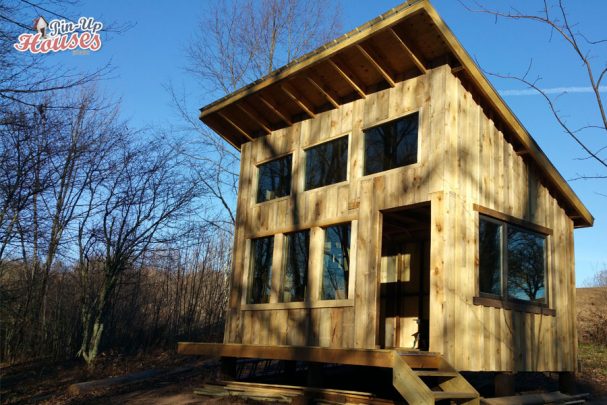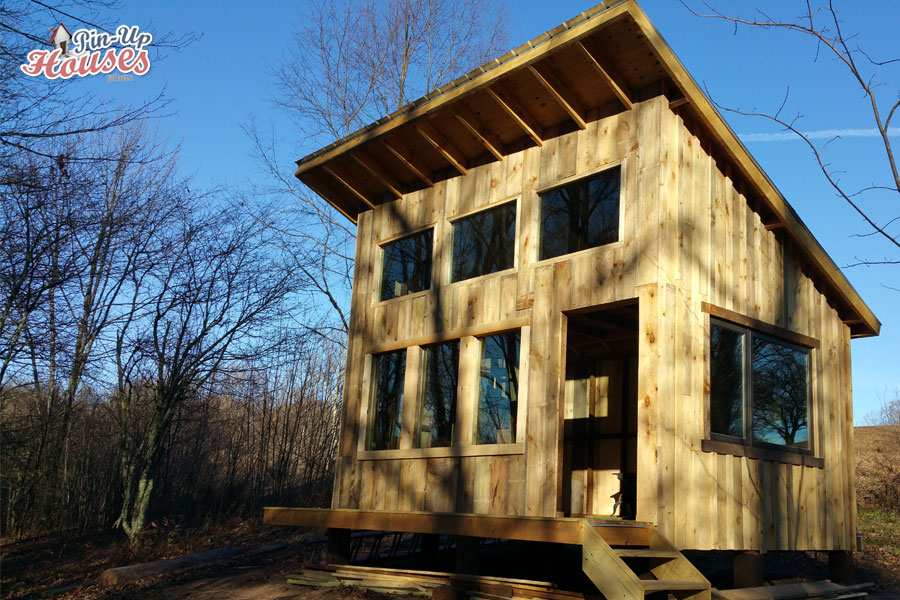 Bay small house window
Bay window projects out of the wall, creating a kind of shell bulging outside and adding more space to the interior. It can be either full height bay increasing the floor area or smaller one, whereby you gain a space to fill in with seating or shelves; this small version of bay window is mostly used on tiny homes, while the bigger size is typical for family houses for example in England. One type of bay window is called bow window. It does not consist of several flat windows but of custom curved windows put together to create a circular shape. It is rare and more expensive option.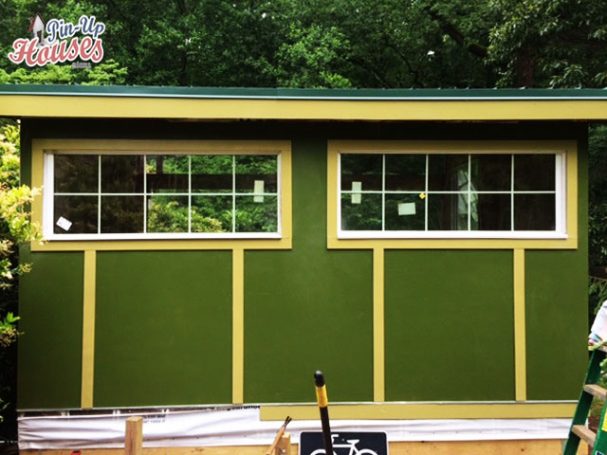 Casement window
Very common in big part of Europe are casement windows, although they are one of the most expansive when it comes the operational windows types. They are attached to the window frame with hinges that swing to the side and enable us to be open it entirely. That can be advantage when it comes to ventilation and fresh air, but you need to be careful with cross breeze appearing when tow casement windows placed opposite each other in one space are open. Also thanks to fewer pieces and breaks in between them, casement windows have good insulating properties.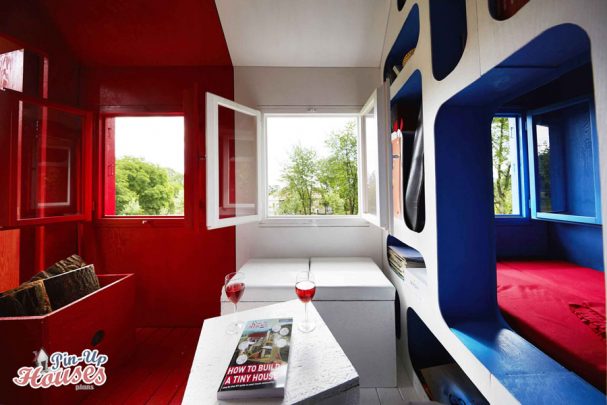 Awning and hopper window
Awning and hopper window could be also considered a subcategory of the casement windows, because they are attached with hinges too, but they usually do not open fully. Both are well suitable for tiny houses or small cabins, they are good insulators thanks to sealing right against the frame and practical for small rooms, as they take none or very little of interior space when opened. Awning windows are attached at the top and lean out at the bottom towards outside, so they can stay open even during rain without having water coming in. Therefore they may be useful for micro house as well. Hopper window on the contrary is connected to the wall on the bottom with the top opens towards the interior and is great for ventilation.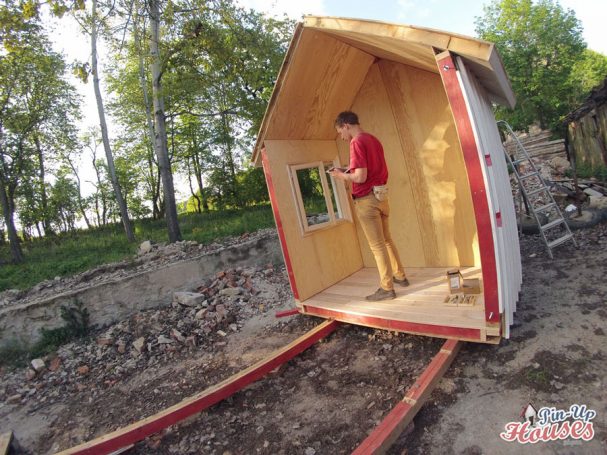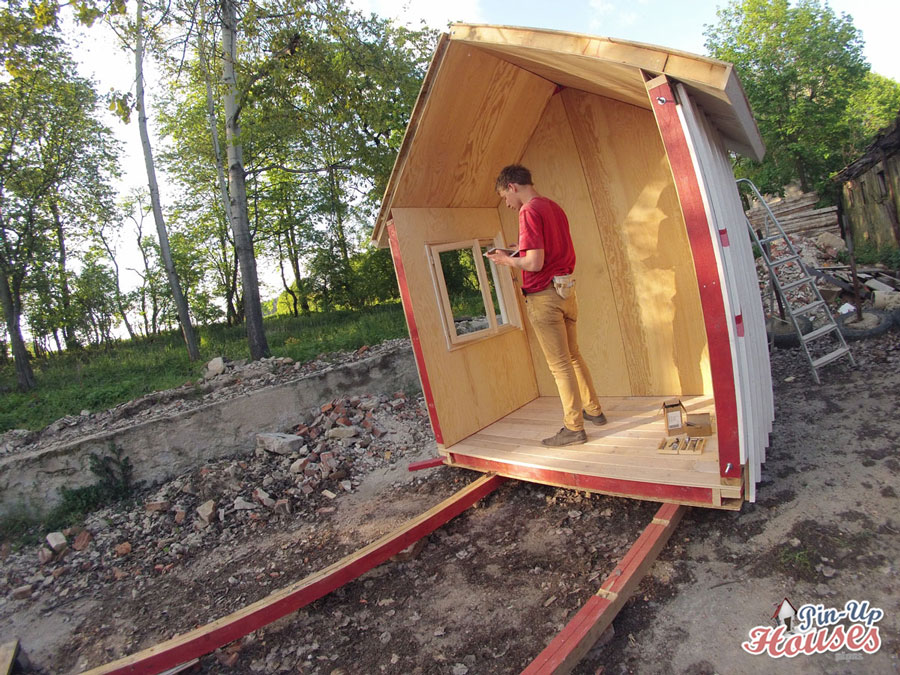 Sliding window
Sliding window consists of two sections of single windows, whereby one slides horizontally behind the other one to open or close, due to which it is not possible to open it entirely. However sliding window does not take up much vertical space and makes the room look taller, while still keeping the same ventilation as a hung window would. This provides more space on the wall beneath it left. Together with the fact that opening it does not require any additional space, as it does not swing inside the room, it makes sliding window very practical for small spaces such as tiny house or wooden cottage.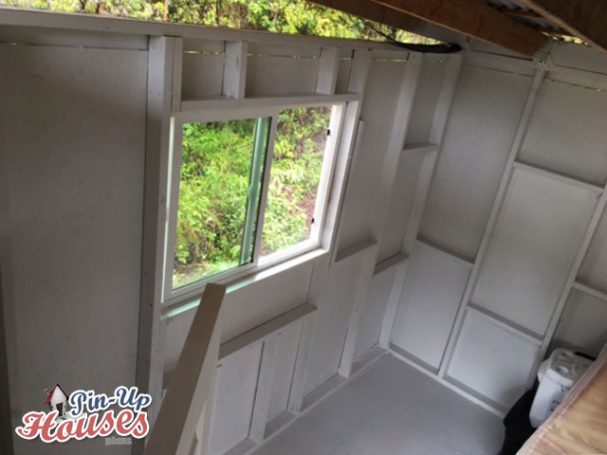 Skylight window
Skylight windows are installed in a roof in similar way as a roof vent. Some are operational, so they can contribute to ventilation and bringing the fresh air inside, while others are fixed and only bring the light in. Skylight windows are useful solution in spaces where there are limited window options on exterior walls and they can provide very nice view over the sky and stars, which makes them popular in modern architecture. However they are among the expensive types of window and their installation is more complicated.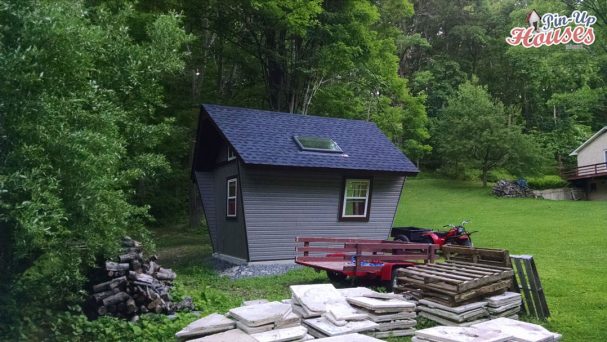 Window shutters
When talking about windows, we should not forget window cover. One possibility are window shutters. Simple wooden window shutters, like pictured, are attached with protruding hinges, which allow the shutters to be fully opened, without creating any barriers, or hidden in a wall thickness when closed, again without protruding into the space. Then there are window blinds, made of horizontal or vertical slats held together by cords, through which they can be pulled up and down (or to the side) and rotated between positions where some lights comes in and where they are entirely closed, slightly overlapping each other.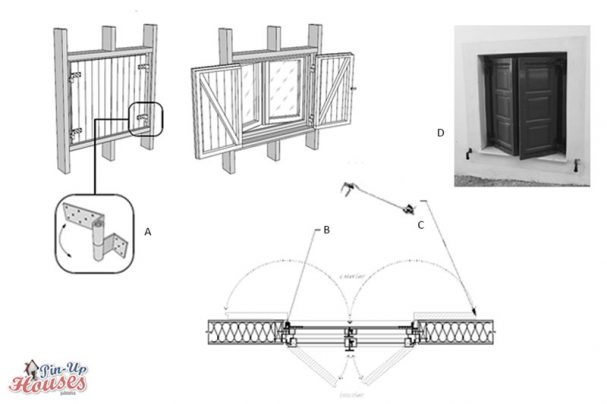 A) Window shutters – Extended hinge details
B) Shutter frame anchored to window frame and wall stud
C) When opened, shutters can be fixed by an eye and hook latch
D) Example of window shutters in Naxos, Greece
Window blinds
These can be controlled manually or with remote control and there are several types of window blinds. The most traditional are venetian blinds or persian blinds, with horizontal slats usually made of metal or plastic, sometimes also wooden, and vertical blinds, common mostly in bigger rooms with larger windows and having the advantage of collecting less dust and being operable more easily. We must not forget window louvres, which are similar to venetian blinds but unlike them louvres are installed on an angle that can be adjustable in some cases, to let the light and air in and keep the rain out, and are sometimes fixed in a way that you cannot pull them up or down.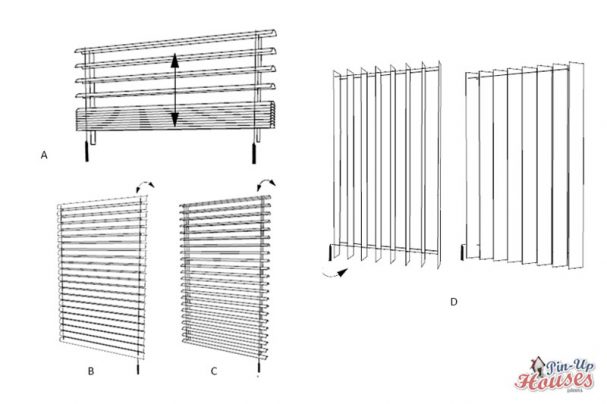 A) Venetian blinds
B) Venetian blinds – covered
C) Venetian blinds – semi covered
D) Vertical blinds
Window coverings
Among the more simple types of window cover are paper blinds, the most cost effective, they are easy to make but look very elegant at the same time, attached to the window by adhesive tape at the top; roll-down blinds (or roller blinds) one piece of shading that can be made of various materials, such as for example textile, reed, etc. and roll on the top around a cord; or roman blinds, similar to the roll down blinds, except they stack up evenly when being pulled up in the same way as horizontal blinds do. These last three could be actually referred to as window coverings, which are defined as shades using only one piece of soft material to cover the window and keep the light out – as well as window curtains, another of the traditional window shades.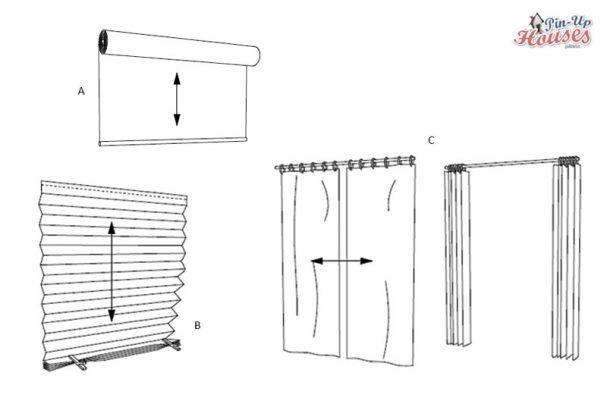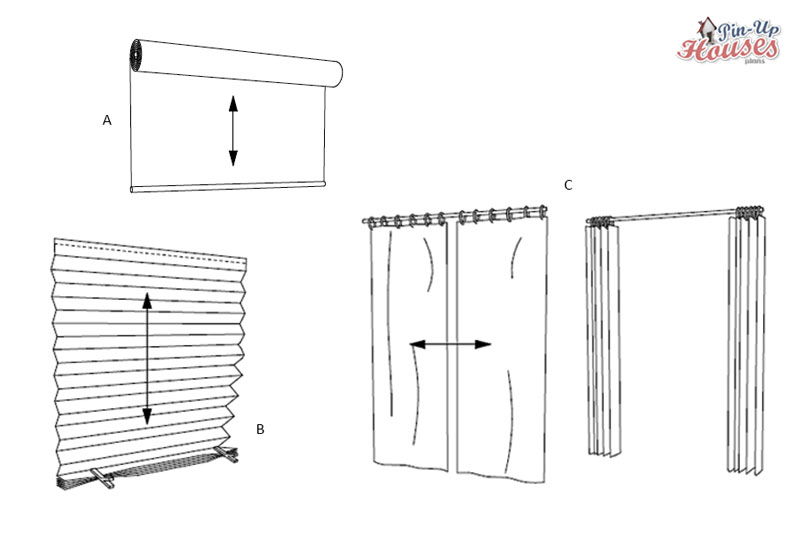 A) Roll-down blinds
B) Paper blinds
C) Window curtains
How to build a tiny house
Did this get you excited about tiny houses, small cabins or wooden cottages? Or are you generally interested in DIY timber construction? Well we have a book for you! Our step by step guide How to build a tiny house covers it all from the foundations to the roof, full of useful information, photos and illustrations. You can order it straight away in printed version or as an electric book right here.