Garden Cottage Plans
What will you get
Timber construction step by step guide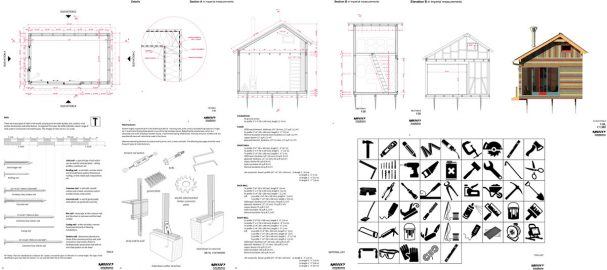 Small Garden Cottage Plans
Complete set of garden shed plans (pdf): layouts, details, sections, elevations, material variants, windows, doors

eBook How to Build a Tiny House Included
Over 1000 illustrations
276 pages
Complete material list + tool list
Complete set of material list + tool list. Very detailed description of everything you need to build your small house.

Garden Cottage Plans Shelley
Imagine you can build your own small house. Imagine it's not a huge house, but comfortable, spacious, yet space-economical solution for your garden. It is self-sufficient because it saves water from rain and prevents heat loss thanks to a unique flooring system. Imagine yourself building it. Imagine yourself relaxing in the living room, enjoying the view through the glass door. What if you could build all this with just a few days' work?
Garden cottage plans Shelley is a single-bedroom house plan with economic solutions to save you money on water and heating. Self-sufficient and comfortable, garden cottage plans Shelley is a solution for owners of smaller properties. Shelley can serve either as a weekend house, or a house plan for a small family or a couple. Like all our one-bedroom houses such as Thelma, Marlene or Veronica, Shelley is a DIY house plan which you can build easily with our simple house plan building step-by-step guide. Order now and get access to all the necessary information to build your own dream living.