Japanese Small House Plans
Step by Step Guide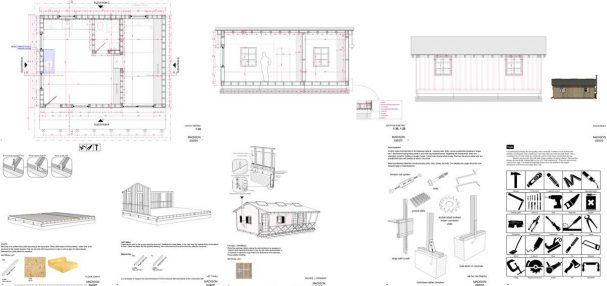 Japanese Small House Plans
Complete set of the Japanese small house plans (pdf): layouts, details, sections, elevations, material variants, windows, doors.

Complete Material List + Tool List
Complete set of material list + tool list. A very detailed description of everything you need to build your small house.

Japanese Small House Plans
This tiny house plan belongs to our family of holiday cottage plans with a gable roof. Japanese small house plans combine minimalistic modern design and traditional Japanese style like our other design, Japanese Tea House plans. The house plan provides two floors with four rooms, a bathroom, and an extra room for a kitchen. The first floor provides enough room for three bedrooms, a kitchen, and a bathroom with a shower and toilet. The second floor has enough space for another room that can be used either as a bedroom, living room, or office. This DIY house plan also comes with a small porch where you can sit and meditate over the beauty of (you're very own wooden) all creation. The design is aimed to provide the exact amount of ZEN you need for your life. This house is suitable for a family for the all-year living – the walls, although aimed to be decorated in Japanese style, are fully durable and wintered walls that provide enough safety and shelter, but most importantly, insulation to keep you warm throughout the whole year. What are you waiting for? Get your DIY wooden house plan now and build your ZEN! Become the master of DIY ZEN building with our book, the sacred inscription written by our grandmaster – Joshua Woodsman – HOW TO BUILD A TINY HOUSE.
Arigato!