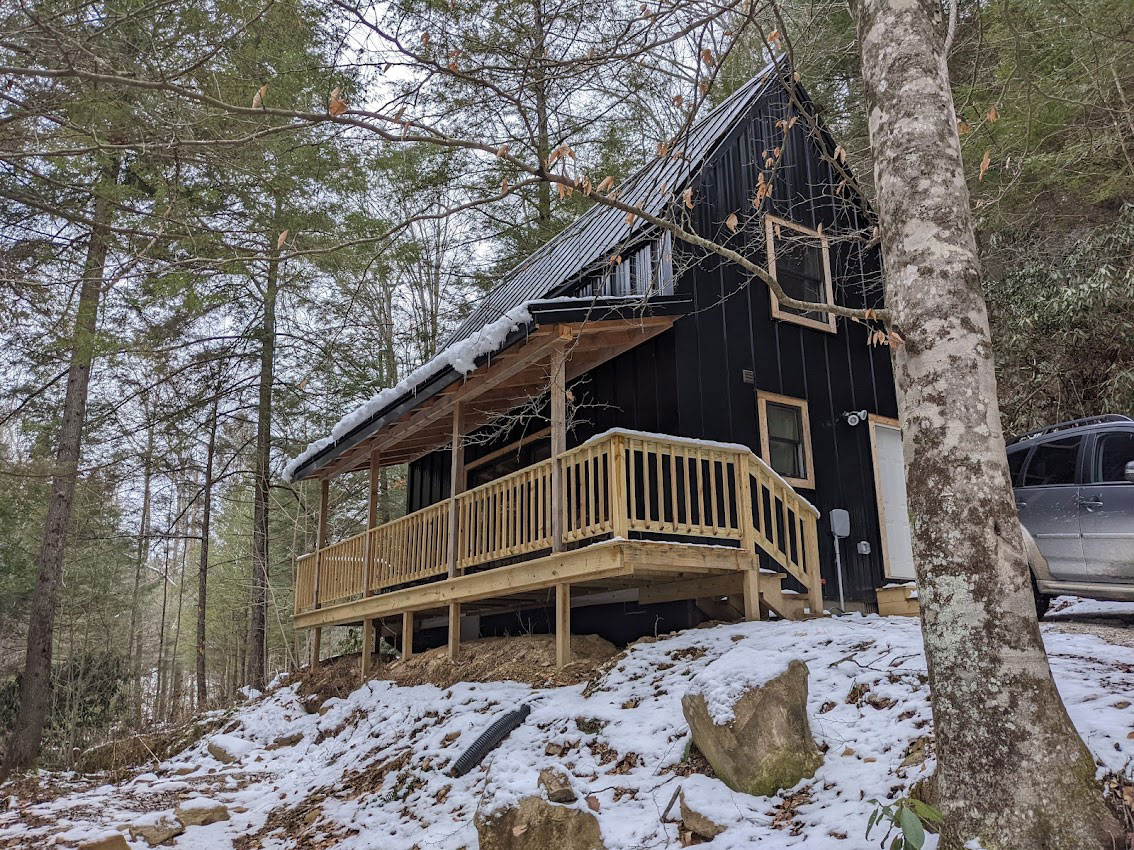 We have discussed this construction in this article. We have now received updated photos of the completed building and so we asked the builder a few questions.
The carpentry work in the interior looks very professional. Did you do it yourself, or did you use the services of an experienced craftsman?
I hired someone to do the wood working for the deck/terrace as well as the custom stairs. They were made with rough sawn oak from a nearby saw mill.
Based on the photos, I conclude that a large amount of snow may have fallen in the area. Did you take that into account in your design? The dimensions of the roof and the roofing of the terrace look very solid.
The roof pitch is very steep to avoid accumulation of leaves as well as snow. Winter produces a few snow falls up to a foot each year, but it usually melts fast and doesn't yield a tremendous snowpack such as in bigger mountains. Since the deck/terrace roofing is not as steep it was designed to withstand extra weight.
What was the most challenging part of the process, and why?
Access to the build site was a challenge being at the end of a very rural and steep unpaved road. I managed to make it work, but it was critical to have an access plan to get materials on site. Delivering roofing, lumber, and other supplies required education of those making the delivery.
How did you deal with the building permit restrictions in Eastern Kentucky?
Surprisingly, there are no building permits required for residential housing in this area. I know that may come as a shock or unbelievable to many. As long as the structure can pass electrical and plumbing inspections and there is an approved and inspected septic wastewater system, there are no issues with the structure itself. That being said, the structure adhered to current popular building standards in terms of framing and insulation.
The front porch looks very romantic and cozy. Are you planning to equip it with some outdoor furniture?
While not featured in the picture(s) I shared there is outdoor furniture now on the porch to enjoy nature and create more usable space.
The house is in the heart of the beautiful countryside, do deer walk right up to your windows?
There are deer around, but one has yet to pay me a visit that closely. They usually stay in the surrounding lush forest. There are also beavers, bobcats, and numerous turkeys which are always nearby.