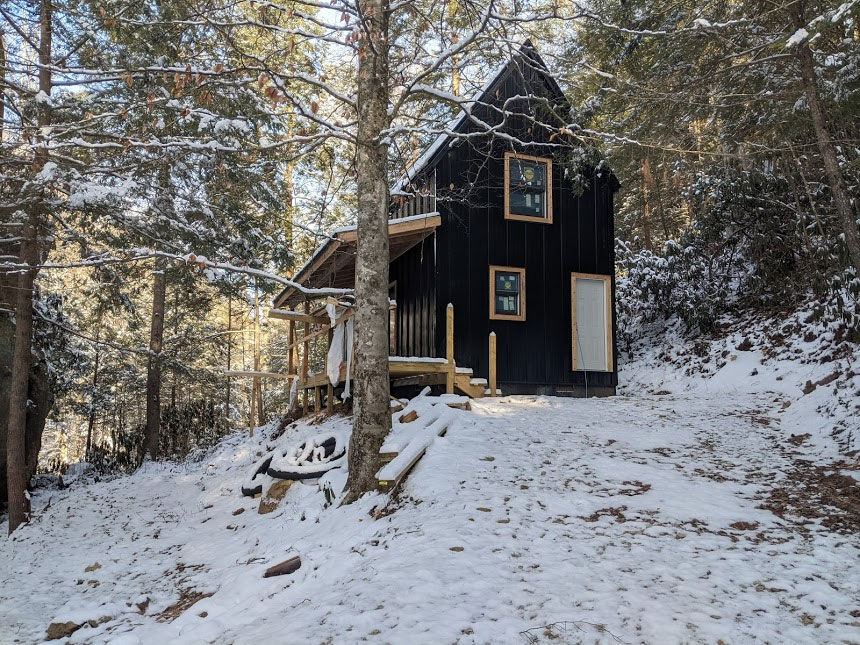 "Originally I was going to use it as a weekend and vacation home, but with the global COVID-19 pandemic the work situation has changed such that I may spend more time there."
Where are you building your cabin "Sandra"? (a type of building site- sloping/forest/meadow, not address, just country if you want)
"Sandra" is being built in a wooded valley filled with rock cliffs and waterfalls in Eastern Kentucky in the United States. The terrain is very steep so it was necessary to grade out a spot for the foundation.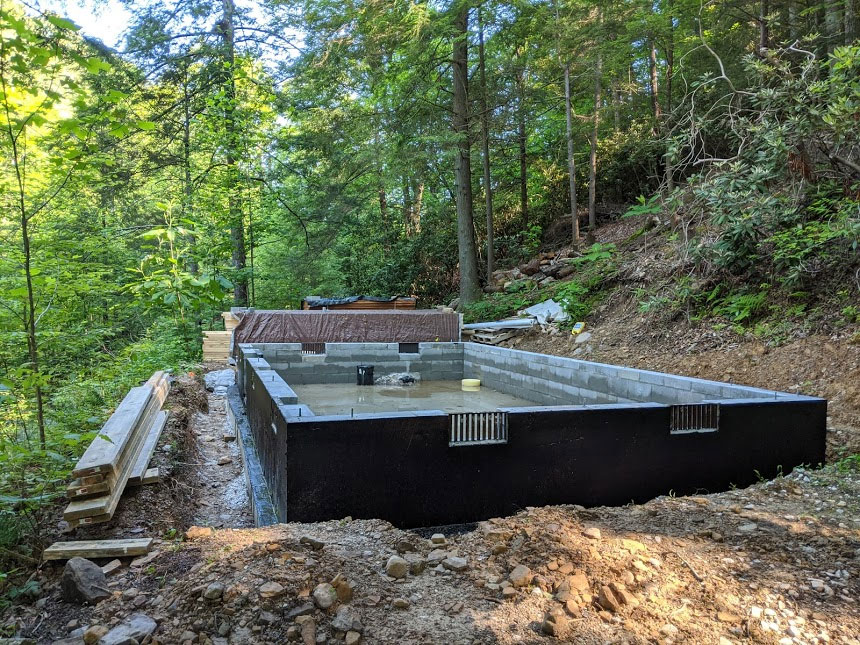 The dark facade looks modern and elegant, which type of exterior paneling did you use?
The roofing and siding is all standing seam metal siding. I chose the color so that the structure would blend in to the area more and stand in less contrast to the environment around it. For some flair the windows and doors are accented with cedar trim which will weather to be a light gray color over the years.
According to the photos, is the house in the wild, is it accessible by car, or did you have to bring the building material in another way?
There is a two mile (3.2km) road that goes back to the property. To get up onto the property there is a very, very steep driveway but it allowed the delivery of lumber and materials to the site by trucks. There was even a well drilling rig which was brought back there to drill a well for water.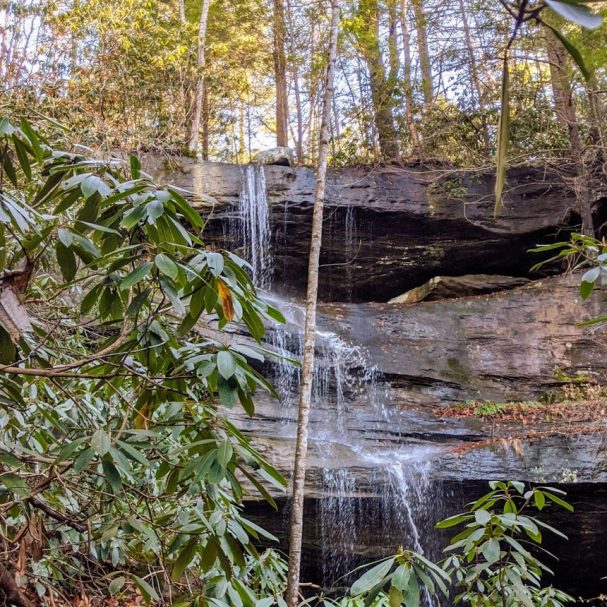 Are you planning to live in the cabin permanently or it´s the vacation house?
Originally I was going to use it as a weekend and vacation home, but with the global COVID-19 pandemic the work situation has changed such that I may spend more time there. The pandemic has made employers far more open to having employees work remotely and by leveraging that I may end up residing in the completed structure up to half of the time rather than just on weekends.
Did you make some changes in comparison with our original plans?
The plans were changed slightly, though not dramatically. The footprint of the structure is still the same. I shortened a wall that sectioned off the kitchen a bit more and added a large covered deck to be able to enjoy time outside and to make things feel more spacious. Other than that there were only minor changes like the direction of doors opening.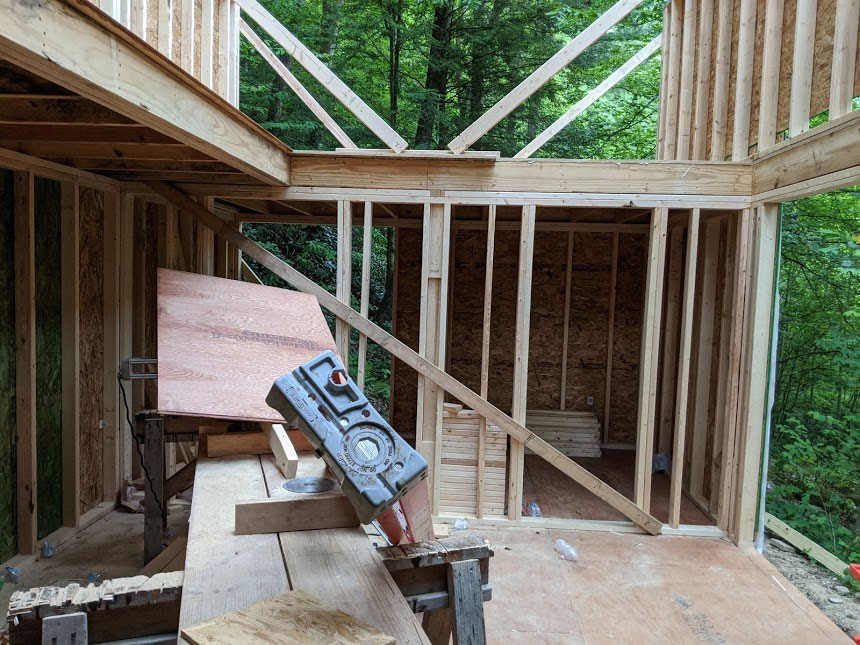 Have you consider equipping the cabin with grids? (Water installation, electricity, …)
Water will be provided by an on site well and pump. Electricity will be connected from the local power provider. A heat pump will provide heating and cooling throughout the year as the climate is generally mild with only a few very hot and very cool weeks a year.
Have you been building it for yourself (DIY) or with some professional help?
The construction is being done by a builder who lives nearby to the site (I live two hours away). He builds cabins in the woods professionally and thanks to his experience and skills the start to finish timeline for the build will likely slot in at just around one year. There have been challenges getting paperwork for approval that I have needed to deal with as well as delays in getting outside contractors to install things like septic systems and HVAC. I was lucky in that most of my lumber was delivered prior to the COVID-19 pandemic causing a large spike in raw materials prices.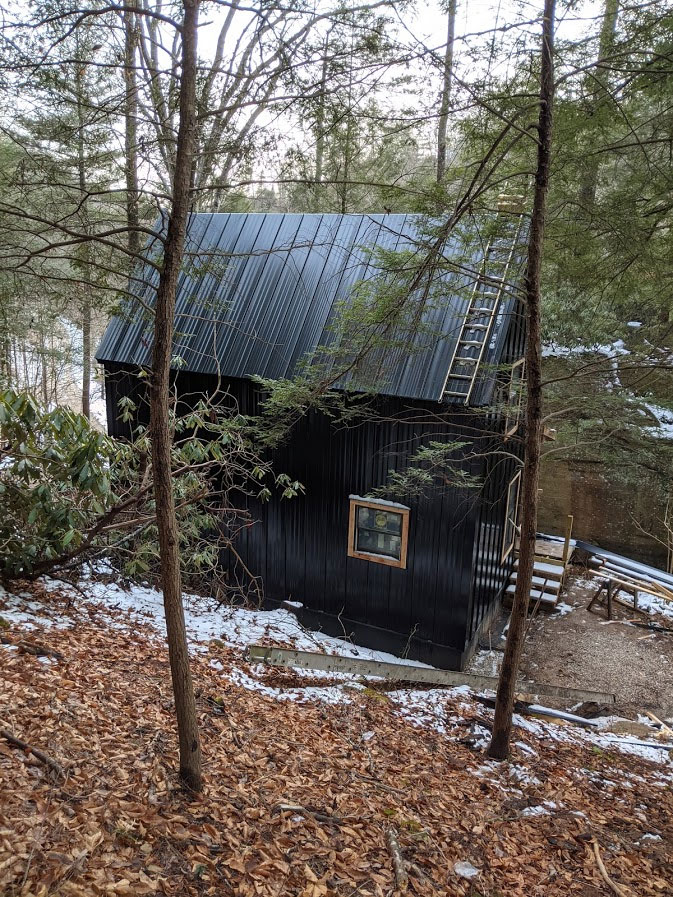 Any recommendations for the potential builders?
My advice is likely repetitive and shared by many who have come before me: prepare for things to take longer than you anticipated. Don't be afraid to make changes as things progress and you see things take shape. Be honest with your needs in terms of space.
What made you choose Pin-Up Houses? How did you find us?
A friend of mine sent me some examples from PinUp Houses when I was first starting to think about building. After going back and forth, I decided that the Sandra base plan was a good spot to start from as it was very close to the size I was planning and saved me the time and effort of drawing up my own plans.
Thank you for sharing your experiences and pictures, good luck with a final workcs!