Round House Plans
Timber construction step by step guide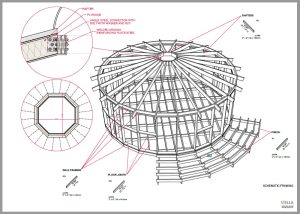 Round House Plans, Drawings
Complete set of Roundhouse Plans – how to build a roundhouse  (pdf): layouts, details, sections, elevations, material variants, windows, doors.

Complete Material List + Tool List
Complete set of material list + tool list. A very detailed description of everything you need to build your small roundhouse.

Round House Plans Stella
Round House Plans Stella is a unique tiny house plan with a porch. Round House Plans Stella belongs to our family of atypical house plans, alongside with A-Frame Houses, Japanese Small House Plan, Teepee Plans, or with our craziest idea ever – Magenta Tiny House. Round House Plans Stella is a single-story wooden house of a circular shape that makes for a great holiday cabin, a beach house, a multifunctional gazebo, or better yet, a beach bar with a porch! Even though this design is aimed for a single-story building, it can still function as a two-bedroom house with an additional multifunctional room that serves as a kitchen and a living room combined. The multifunctional room is furthermore an entrance to the porch. Just orientate the room towards the west, and you will get the chance to see the most beautiful sunsets. The unique design furthermore provides the possibility of expanding the storage by creating a loft under the roof. Round House Plans Stella is a unique design for families or individuals, whether as a weekend house or an alternative living.