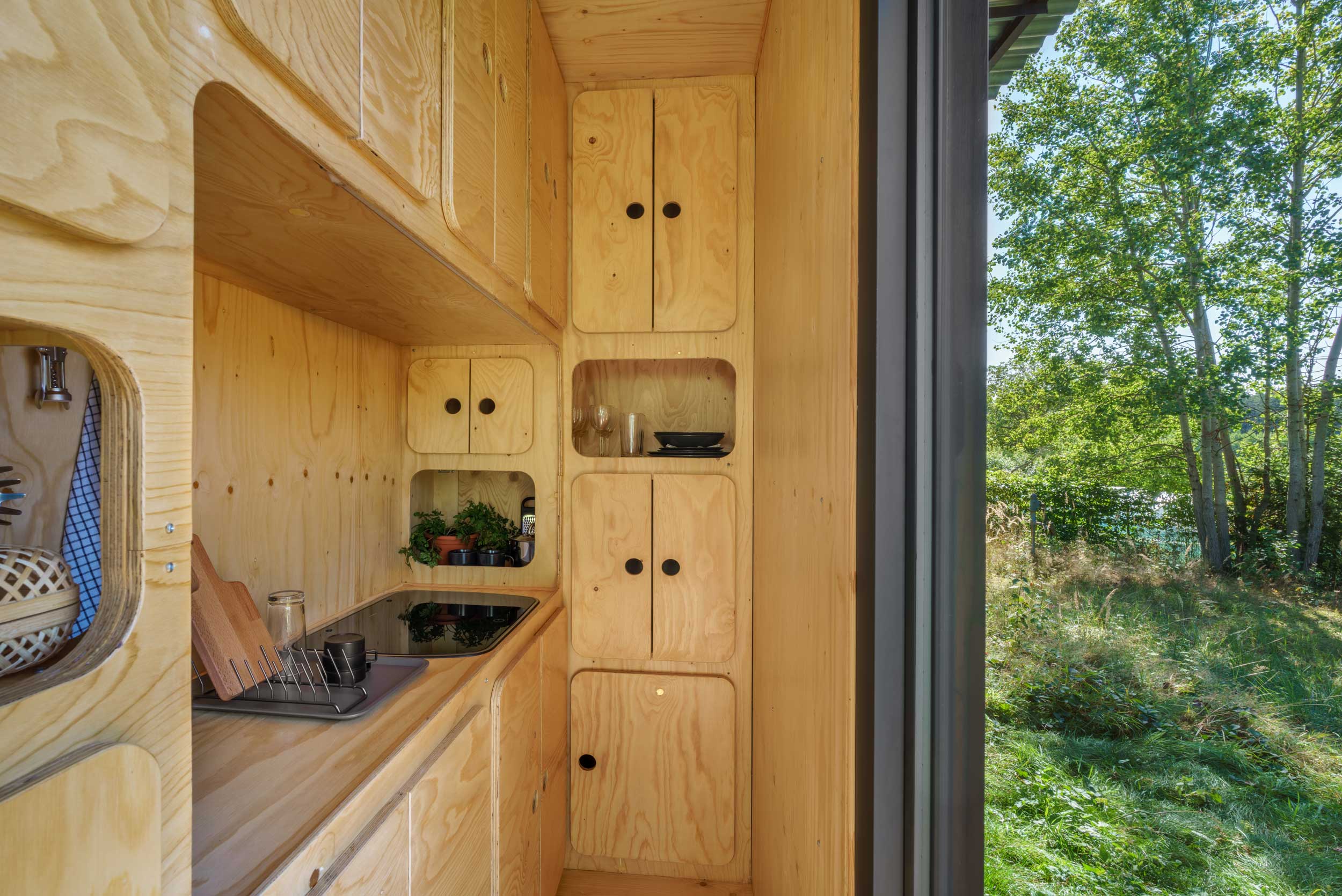 Even big things can happen in a small kitchen. Wondering how to furnish a small kitchen? If you have very limited space for your kitchen, don't despair. With thoughtful design, even a small kitchen can be effectively enlarged and solutions can be designed for small spaces.
How to design a small kitchen

The key is to use all the space on offer for your new kitchen. A good design makes use of every inch and even unusual solutions. For example, you can gain valuable storage space by stretching wall cabinets all the way to the ceiling. It is also advisable to use the plinth space underneath the lower cabinets, where you can store, for example, non-perishable food, baking supplies, cleaning tools, bottles, etc. It is advisable to reach for atypical solutions and novel ideas. If you don't know what to do yourself, don't hesitate to contact an architect, designer, or kitchen studio for a bespoke design or project. In our design studio, we also deal with individual kitchen and interior design.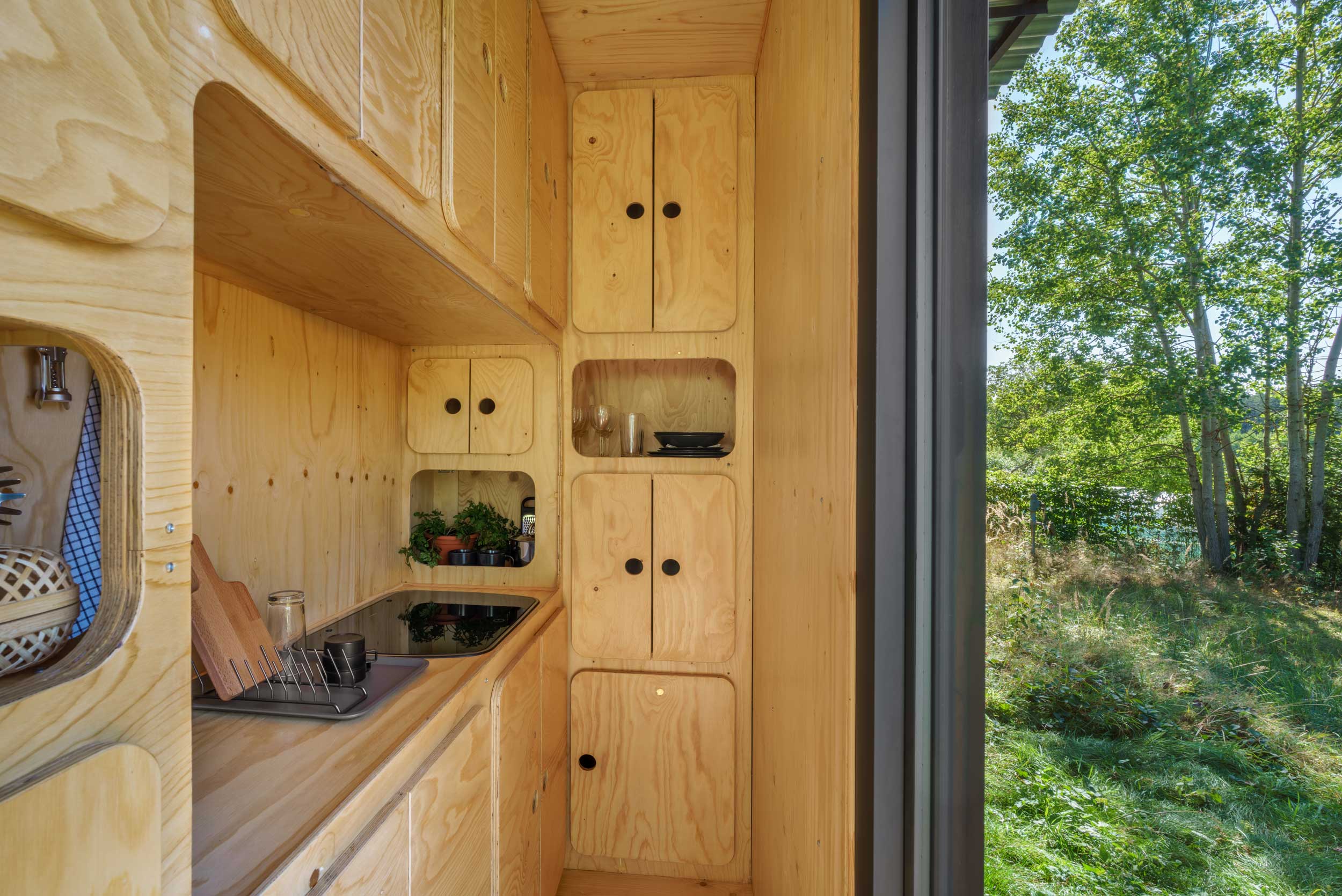 If you look at the range on the market there are also several sophisticated interior systems, wire systems, pull-out or folding worktops available. You can also make use of hinge systems, hooks or compartments. Prefer simple and practical solutions for storing kitchen utensils or food.
Solutions for small kitchens

A small modern kitchen can be visually enlarged with a few tricks. For small spaces in general, work with light, restrained shades, use as few different decors as possible, and eliminate visual fragmentation. Even the furniture materials used should be in a light, understated decor without garish colours and bold textures. Smooth surfaces will help visually enlarge the space rather than profiled doors. Bespoke kitchen design and workmanship will help you make the most of the potential of the space. It is also advisable to unify the view of the kitchen as much as possible with built-in appliances or closed cabinets to avoid unnecessary fragmentation of the view. There is also the option of opening top shelves, but in this case, it is necessary to pay particular attention to their organization and storage of objects so that they do not look chaotic and lose their lightness.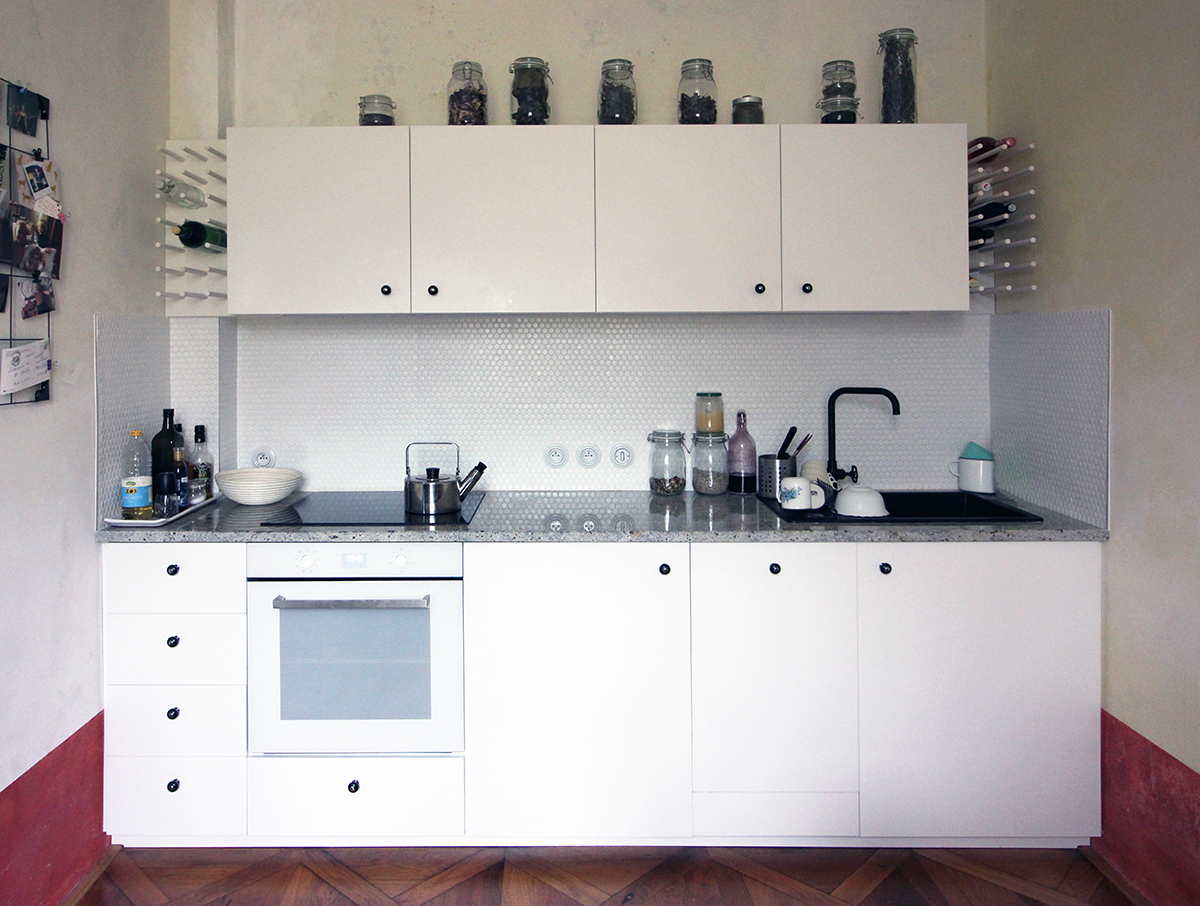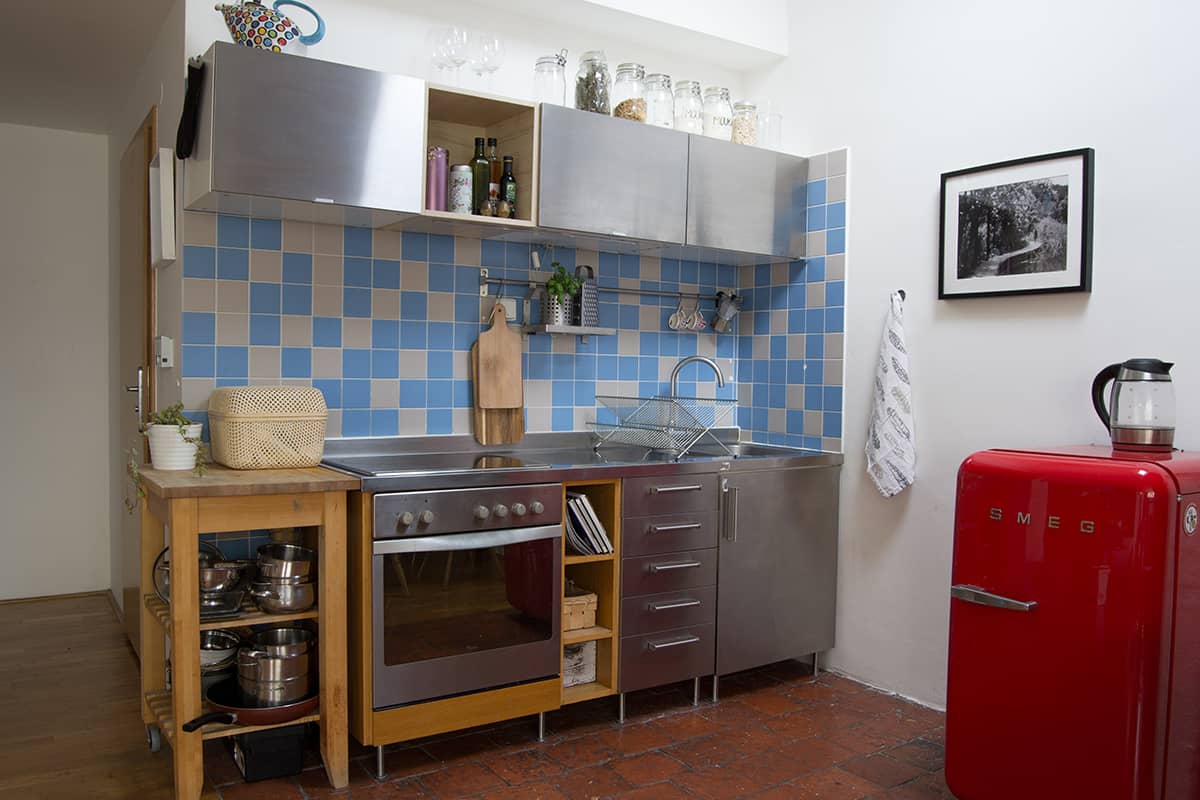 Another essential step to visually enlarge your kitchen is to keep the work area as clear as possible. To keep the space looking fresh, stow as many appliances and utensils as possible in the interior cabinets. Not only will this make your kitchen feel more airy, it will also give you a free working area, which is usually kept to a minimum in small kitchens. Even here, in a small space, the general rule – less is more – applies all the more. Choose your kitchen appliances and tools carefully. Follow the small-space principle that it is better to buy fewer and better quality pieces. It is also a good idea to think about the frequency of use of tools, equipment or appliances to achieve the optimum of user comfort and small space.
Appliances for a small kitchen

The size of our kitchen cabinets is largely influenced by the size of the kitchen equipment we use as standard. The basis of a mini kitchen is a fridge, hob, sink and storage space. In the case of a larger space, we can also consider an oven, dishwasher, etc. Nowadays, we can easily find solutions for mini kitchens, and we often find kitchen sinks with minimal dimensions suitable for cabinets with a depth of 16″ / 400 mm. The hobs can be two or one hob only, or even portable hobs that can be stowed away in the cupboard after use. Stand-alone refrigerators are also available today in very compact designs. The same applies to the dishwasher, which is often available in a narrower 18″ / 450 mm version. Table-top versions of the dishwasher, or dishwashers with a single pull-out basket in half the size, are also on the market. These can also be built-in. If you're equipping a really small kitchen, it's also worth looking at the range of equipment for motorhomes. Their range of minimalist products is very wide and well thought out.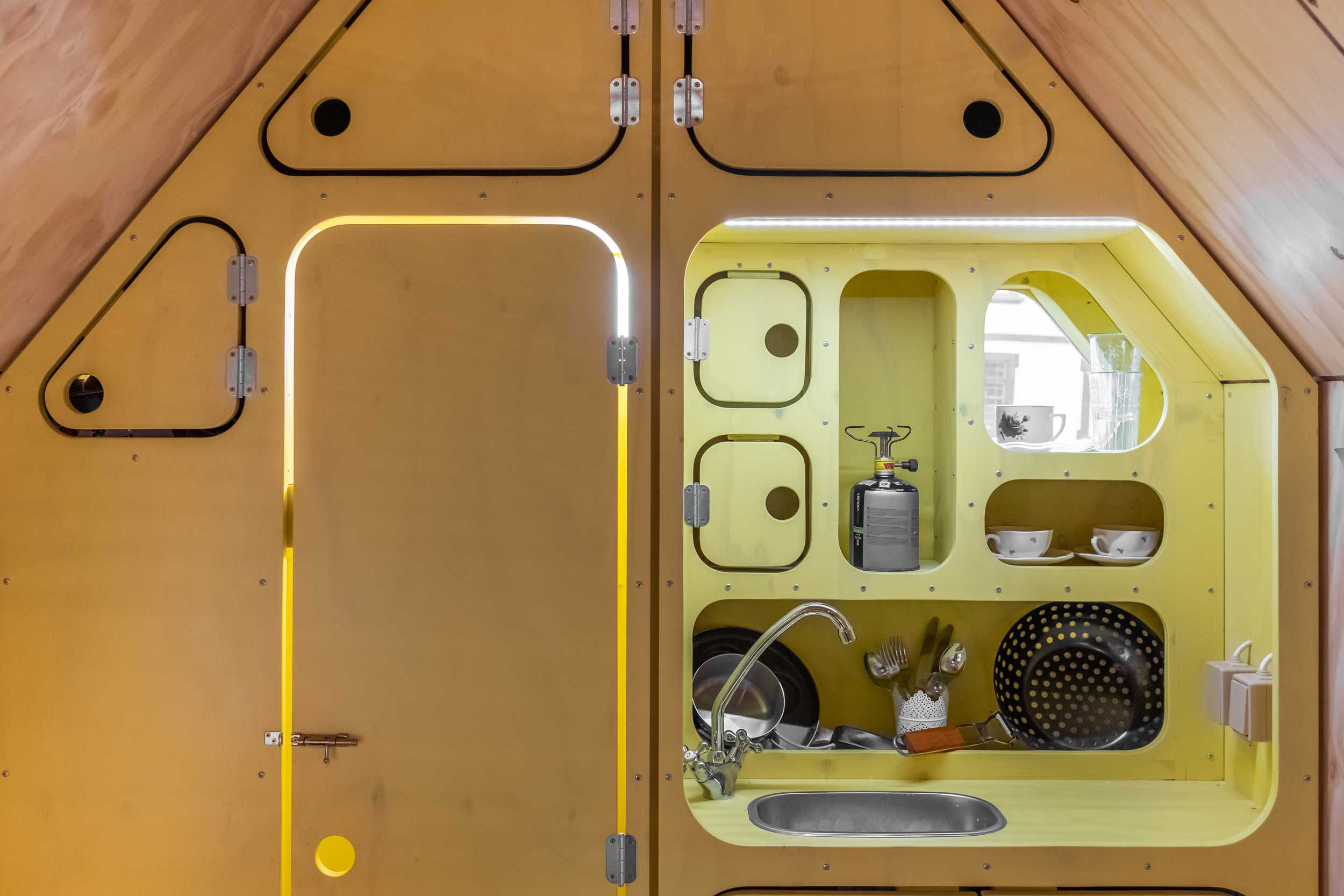 As for the layout of the kitchen within the space of the apartment, most often we encounter small kitchens in the shape of "I", so-called, parallel. They have the advantage of direct access to all cabinets and shelves and can act as built-in furniture in the space, which can make the room a little bigger again. If space permits, we can also use the arrangement of smaller kitchens in an "L" shape, the so-called corner kitchens. In this layout, maximum use can be made of the corner of the cabinets. However, it is important to consider their maximum use by using different systems of rotating shelves, pull-out corner drawers, or boxes for storing less-used items or appliances. The most inaccessible and underused corner cabinets are those with fixed shelves, where the extra space often cannot be properly utilized. Small U-shaped kitchens are rarely seen. The space between opposing cabinets must be at least 1200 mm. This distance guarantees comfortable use of the kitchen area when opening cabinets or appliances. Due to their space requirements, we classify them as medium or large kitchen cabinets. The same is true for a small kitchen with an island. In order to avoid collision between the cabinets being opened, the space between the unit and the island is again 1200 mm. In addition to this, the minimum dimensions of the island itself must be taken into account so that it is also functionally usable. This is why we rarely see an island in small kitchens. A better solution is the possibility to place only a smaller mobile workbench.
Modular mini kitchens

Manufacturers have been working on the phenomenon of mini kitchens for many years. In their offers we can find ready-made kitchens in the size of a wardrobe or movable solitary furniture. These are often based on the principle of openable boxes, which we encounter in everyday life in the form of, for example, closable trays. A fitted kitchen with smaller appliances for standard cooking may be only 48″ / 120 cm or 60″ / 150 cm long. Comfortable small kitchens with appliances of normal dimensions are about 2oo cm long, Medium and large kitchens are about 4 – 6 m long.
Modular kitchens can also be taken into account. These are made up of individual elements that can be freely assembled or rearranged. They can also be extended or reduced by additional segments. However, it is necessary to have the wiring of the plumbing thought out beforehand. First of all, it is necessary to acquire a cooking and washing centre, without which no functional kitchen can do without. It is also important to take into account the work surface space. Often these are flexible, open and lightweight solutions, preferred in catering operations. In this type of kitchen, everything is easier to keep to hand and there tends to be more clarity, but beware of the challenge of keeping things tidy to avoid clutter and chaos.
Minimising work surfaces and safety distances will also save space. In a small kitchen, it may be possible to leave only 400 mm of work surface between the sink and hob and a safety distance of perhaps 100 mm from the walls.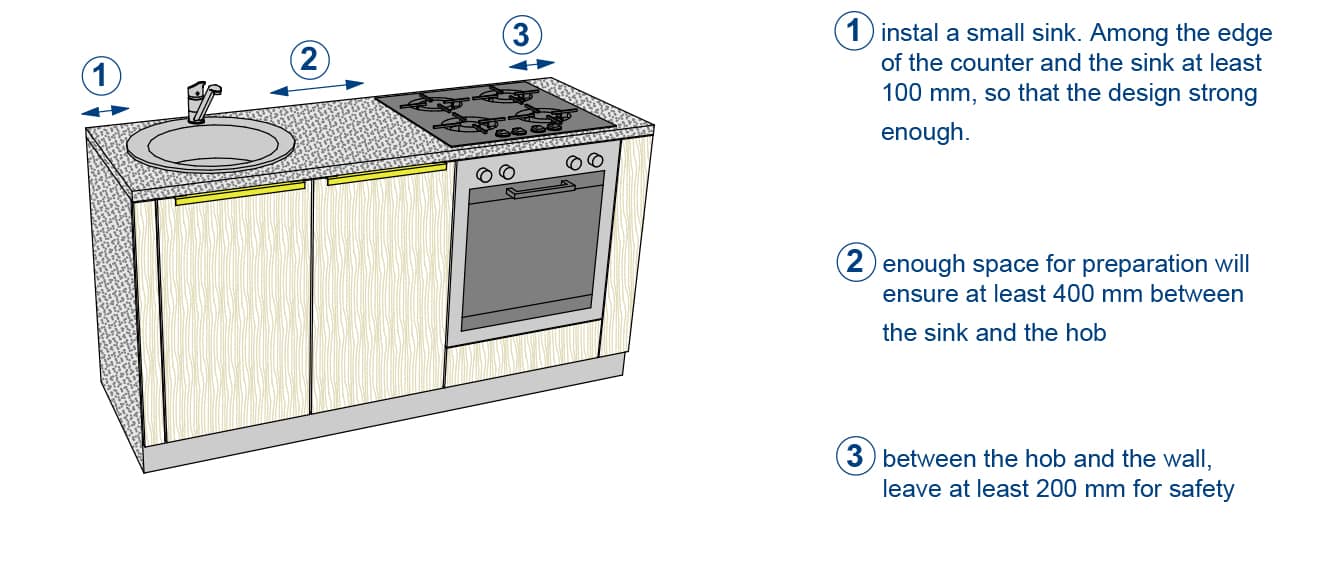 Top tips for mini kitchens
– Unify individual cabinets and make the most of the potential of built-in appliances
– Choose light and subtle decors, in a plain finish, preferably with minimal use of multiple materials
– Make the most of the space, both in full height and with atypical solutions
– Focus on the interior fittings of cabinets to make the most of their space
– Keep surfaces free of extra objects, the space will feel more airy
– Take advantage of the potential of the small appliances and equipment on offer
– Minimise unused items in a small space

If you're faced with designing a kitchen in a small space, don't despair, there's always an optimal solution for your particular case. Use the tips above to make your kitchen the largest mini kitchen around.
Are you building or planning to build a small house?
We have written a book for you, which you can order here. Buy a new book that will make the many steps on the way to your new house much easier.