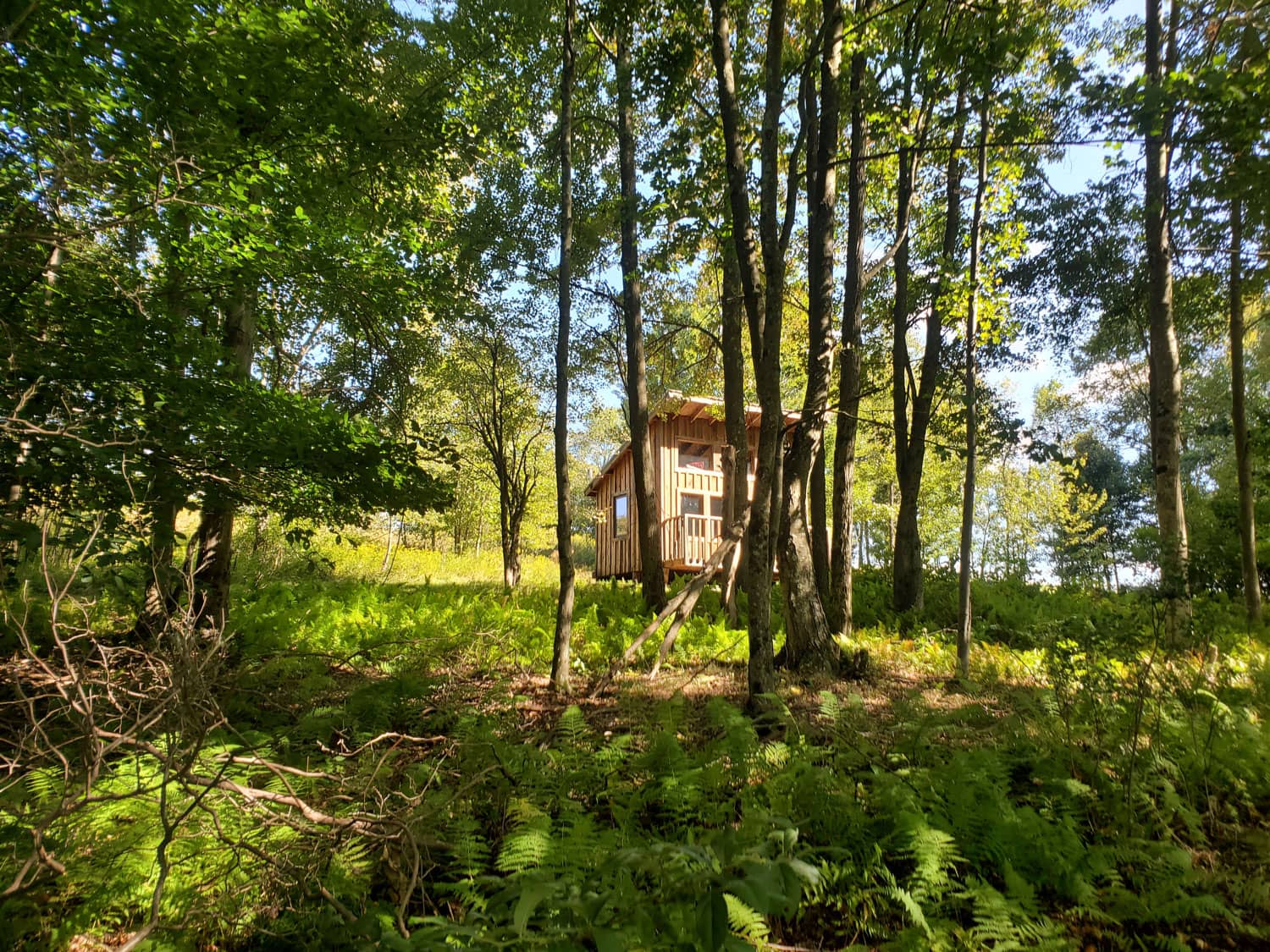 Where are you building your cabin?
The property is a vineyard located in upstate Pennsylvania (www.seconddistrictvineyard.com) on the New York Border. (Milanville, PA) The Tiny House Virginia was built on a slope behind a pond on the property looking down onto a stream and a beaver dam.
Do you have a special tool for removing nails or using a carpenter's hammer?
Just a good old fashioned hammer.
Have you been building it DIY, or you found some professional builder?
I own and operate a real estate development company (www.LPMGcompanies.com). We build everything from Leed platinum single family to large scale multi-unit residential to office buildings to breweries and restaurants.
The cabin windows have no frames, and it looks very modern and contemporary. Did you make it yourselves? Are some of these windows openable?
The cabin was constructed primarily of recycled materials left over from other jobs. For example, the windows you are referencing came from a 20 house Leed community we built in Philadelphia. These were windows that were sent from the manufacture in Canada. The windows were not the size we ordered, so the manufacture told us to keep them as it would cost too much to send back. These windows are triple pane insulated windows and are not operable. The side windows were left over from traditional house construction projects and are operable. They are Anderson windows. You will see the interior framing is constructed of dark 3 x 3's. These were recycles from South Philadelphia row homes we renovated. The posts are extremely light as they have been inside plaster walls for over a century and are extremely dry. They mill up beautifully as a result although we chose to leave them in their natural state. You can see the old nail holes everywhere. The rest of the material was left over from barn construction and consists mainly of saw cut pine.
The recycled material in the interior looks interesting. Did you use any transparent surface treatment?
I used a water based satin poly.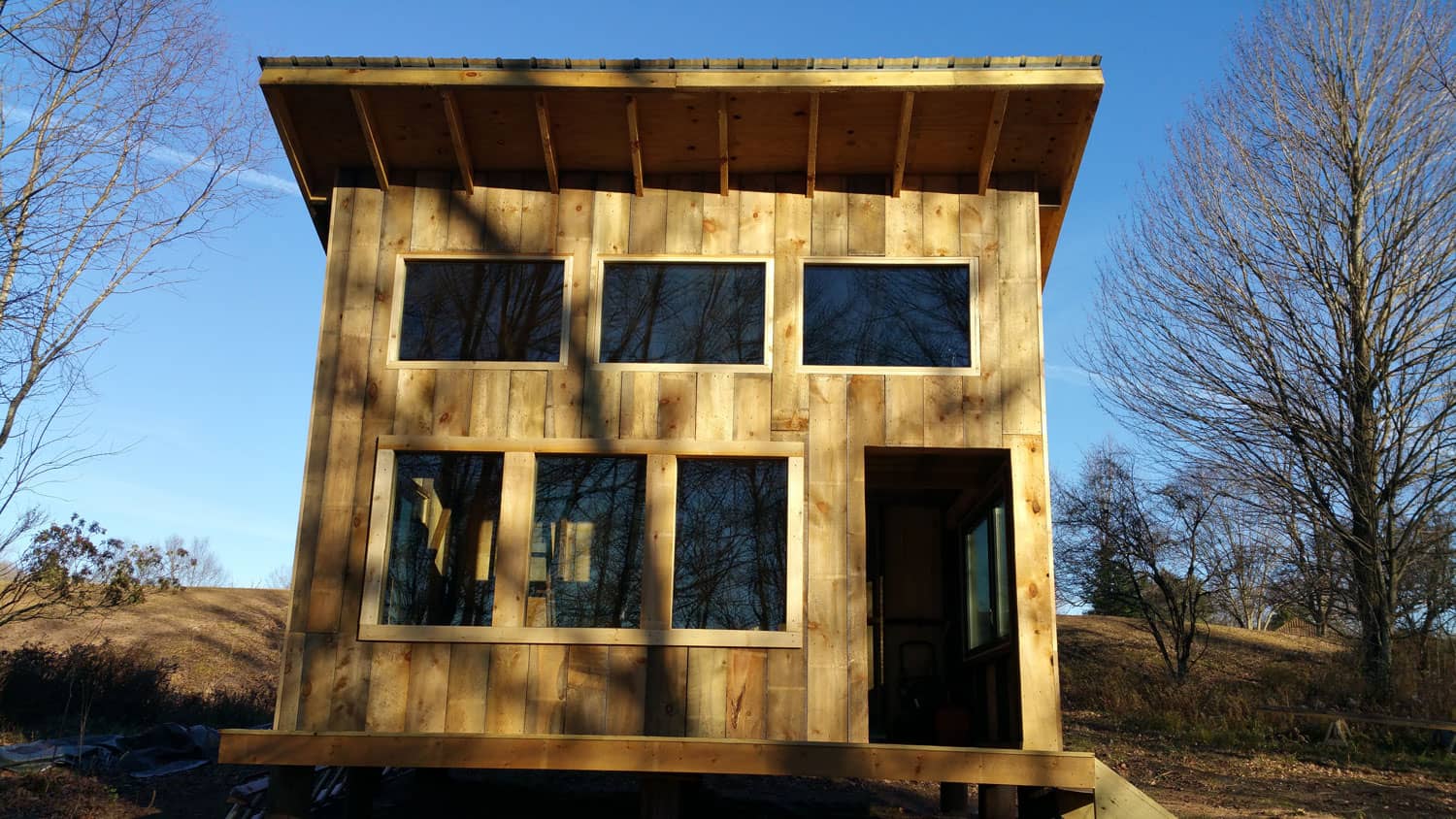 How did you solve the detail of the chimney through the roof structure?
We brought the chimney out of the roof like any chimney. We used a chimney escutcheon on the interior and exterior.
You assembled the basic skeleton in the hall; how did it make your work easier?
I assembled the frame in a tractor barn. I did this because it was easier to modify the scale. Most people are not used to building tiny houses so scale is an issue. By building the skeleton in the garage it was easier to identify the scale of the structure and make modifications where I saw fit.
How much did the whole building cost you?
I'm not sure. I suspect with additional labor costs about 5k.

What was the most difficult part of the process, and why?
I should have used your advice and just used post screws to hold the foundation, but for whatever reason we decided to pound old telephone posts in the ground using a hydraulic post pounder.  It took too long and cost too much for very little additional utility. 
It looks like the cottage is not insulated; have you already insulated it?
We insulated the floor but not the walls or ceiling. With the amount of heat generated from that little wood burning stove, there was no need to insulate further. Additionally, we wanted to maintain the character of the recycled beams and rough cut lumber.
Any recommendations for future potential builders?
We struggle with things like solar lighting, rain fall showers and compositing toilets. I do not have any experience in these areas, so adding these to the project was a real pain. If you could provide recommendations on these kinds of things I would gladly pay for it. Ultimately we settled on a composting toilet and some basic camper solar for lighting, but if we had some real concrete recommendations on how to set these things up and perhaps a small propane oven and refrigerator, that would make these units far more viable for people to build and actually use. Ultimately we use the cabin as a place to get changed during pond use, occasional nature happy hours and the ultimate meditation habitat on a snowy day.

John, Thank you very much for sharing your experience with the readers of this blog.