Clerestory Cabin Plans Anita
Clerestory cabin plans step by step guide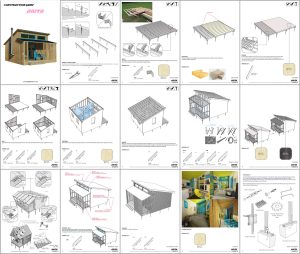 Clerestory cabin plans, drawings
Complete set of small house plans (pdf): layouts, details, sections, elevations, material variants, windows, doors.

Complete material list + tool list
Complete set of material list + tool list. A very detailed description of everything you need to build your small house.
Clerestory Cabin Plans
Clerestory cabin plans are a new project among the prefab cabins we have to offer. Anita, our clerestory cabin plan, is a brand-new one-bedroom house with several practical advantages to normal cabins. Standard, as with our other products, is energy efficient and has a unique water-saving system. Another advantage is that our projects are all-DIY. All you need is our step-by-step guide and materials; then, you can start building your own clerestory cabin today. Clerestory cabin plans like Anita are meant for those who fancy modern living and wooden houses. Like all our products, the clerestory cabin plan Anita is designed for utility, spaciousness, and comfort. The indoors are specifically designed for comfort and spaciousness, with enough room for storing your favorite belongings. Start living your pinup life today with Anita!