Coastal Cottage Plans
Emily is one of our cottage blueprints. It is 518 sq. ft. / 49 m2 2 bedroom small wooden cottage with a gable / A-frame roof and 54 sq. ft. / 5,5 m2 front porch. The 23′-3″ x 17′-6″ / 7,1 x 5,3 m ground floor space provides access to the 410 sq. ft. / 38 m2 sleeping loft with 2 bedrooms.
Step by Step Guide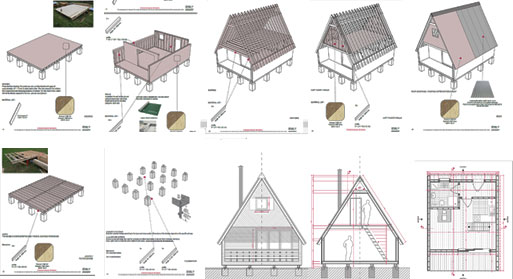 Coastal Cottage Plans
Complete set of the coastal cottage plans (pdf): layouts, details, sections, elevations, material variants, windows, doors.

Complete Material List + Tool List
Complete set of material list + tool list. A very detailed description of everything you need to build your small house.

For living not just on the coast. Emily is a two-story, two-bedroom house with a gable roof that you can build within a few weeks. The lower floor has a porch and can sleep up to 3 people. Thanks to unique space-saving solutions (about which you can read more in our blog entry here) Moreover, the lower floor can serve as a dining room, living room, and an office at the very same time. The second-floor reserves enough space for another two rooms to be used either for an office or a small studio or two bedrooms that can sleep up to four people. This tiny house plan combines minimalism and efficiency created to suit your need for comfort, space, and freedom from all the annoying paperwork. With our step-by-step guidebook HOW TO BUILD A TINY HOUSE, you can also turn your house into one big energy-saving and even energy-producing household. Coastal cottage plans Emily belongs to a group of our cottage plans and small house plans.