Product Description
Lookout playhouse is one of our kids playhouse blueprints. It is a lovely 8′ x 7′ (2,4 m x 2,1 m) elevated wooden playhouse with pitched roof and little staircase.
What will you get
Timber construction step by step guide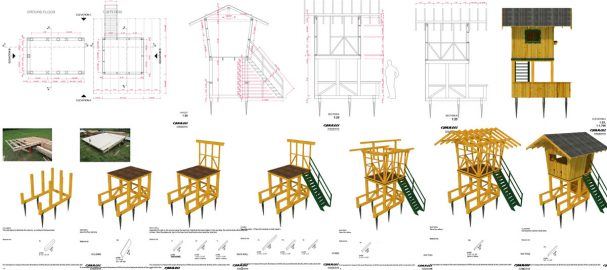 Lookout playhouse plans
Complete set of kids playhouse plans (pdf): layouts, details, sections, elevations, material variants, windows, doors

Complete material list + tool list
Complete set of material list + tool list. Very detailed description of everything you need to build your kids playhouse.

Lookout playhouse blueprints
Our kids playhouse blueprints are one of the popular categories, lookout playhouse among them. This charming wooden lookout playhouse for children, elevated with pitched roof, will definitely become a loved place for your kids! They can climb in through mildly steep wooden staircase and enjoy their space on top of everything. Two opposite walls in the playhouse room are tilted slightly towards outside to create more spacious interior, so your kids and their friends can all play in comfortably. There is one wide window opening on front and another on the side, providing them with a great view over everything that is going on around. The overhanging pitched roof and usage of timber create a look of very sweet little wooden house.
Construction PDF plans
Our playhouse blueprints are not difficult to understand at all. The playhouse is a simple timber frame structure and the PDF plan comes with all the dimensions, detailed instructions and step by step illustrations to make the construction as easy as possible for you. You can follow DIY kids playhouse plans strictly or you can add any adjustment or invention you wish. You can play around with the color scheme, decorate in various ways just as your children like, you can have a proper window or leave only an opening in the wall, you can use the space beneath for a swing, you can add a slide next to the stairs coming down or anything else that your or your childrens' imagination will come up with. We promise, they will love it! If you feel like elevated playhouse is not the right one out of our playhouse blueprints, have a look at our Crooked Playhouse.