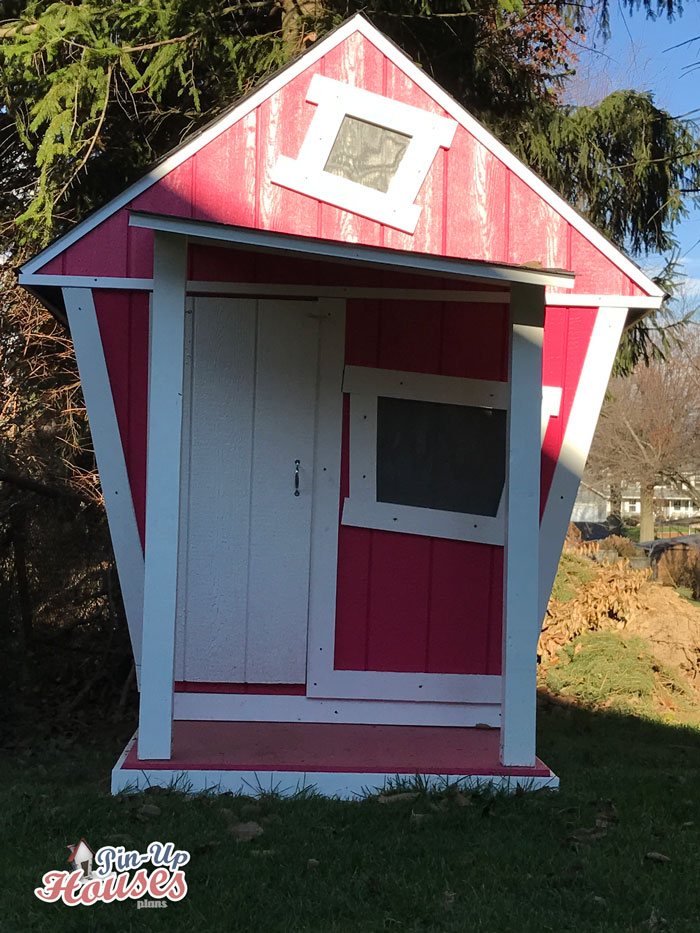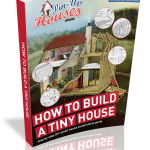 Today we would like to introduce to you another of our products built in Pennsylvania. It seems like we are popular in Pennsylvania, as we already looked at cabin Ann or cabin Virginia from there as well. This time our story comes from Pittsburgh and it goes smaller on scale. We would like to present you crooked playhouse built by Ron following our playhouse blueprints – thank you very much for the photos Ron!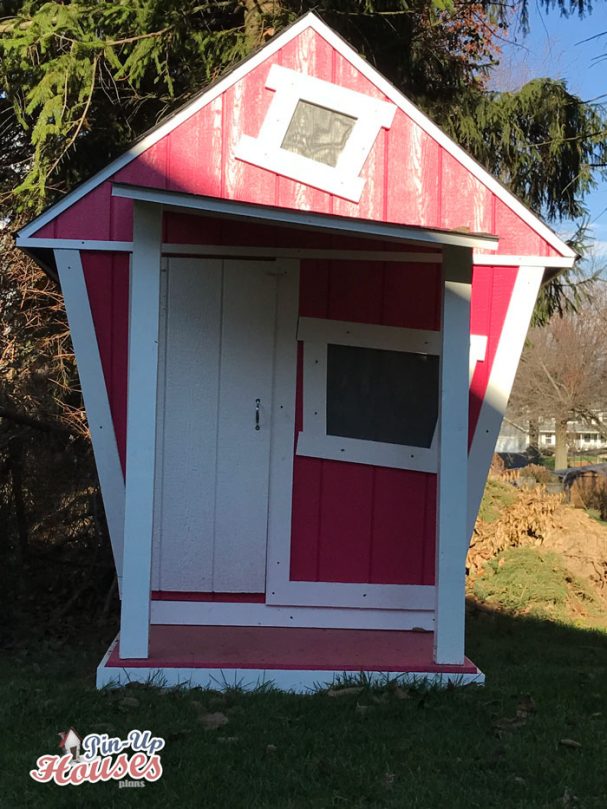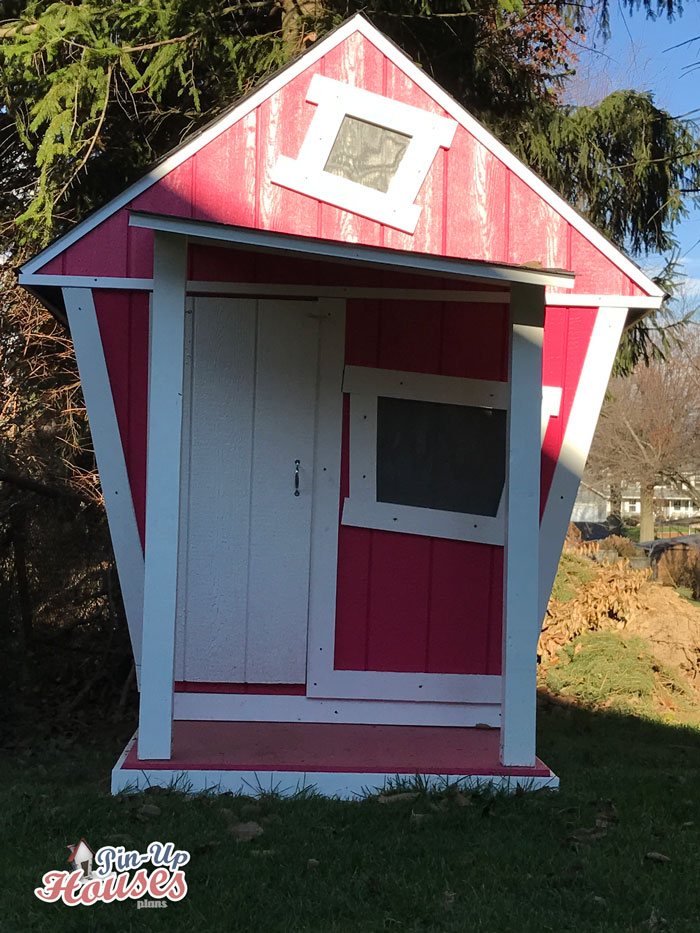 Our crooked kids playhouse plans have a rectangular layout with cross gable roof and with walls tilted slightly towards outside, which creates more interior space for you children and also adds a playful touch to the design. That is further supported by windows, which are on all four sides and some of which are similarly tilted too.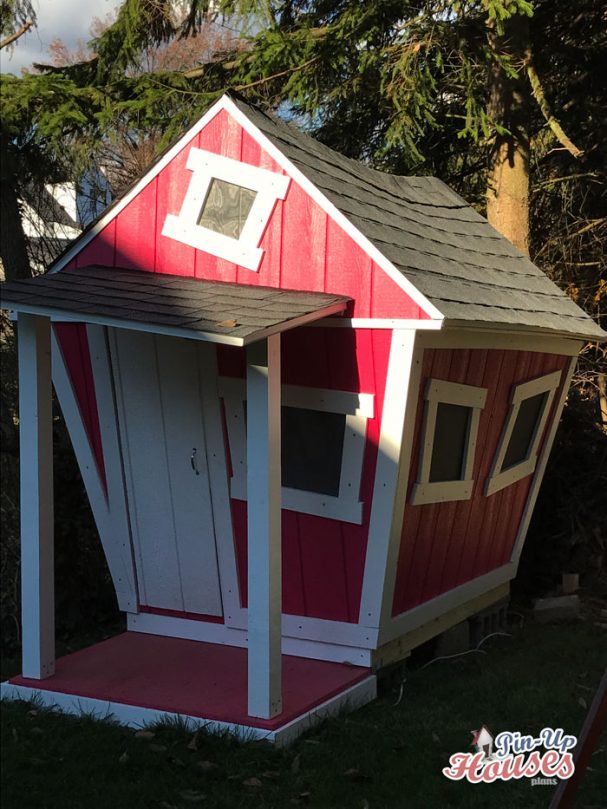 This playhouse is for Ron's children. As he says:
"I'm not completely done but winter is here, so I'll be finishing next summer. But the kids love it. My daughter asked where her bedroom is, perhaps on my next build I'll be asking you for a two story."
So it seems like a success so far. As you can see, Ron chose pink color to use for his crooked playhouse and it looks just lovely with the white window frames and doors! The roof shingles add a traditional feeling to entire structure, at least in our opinion. And we love the porch! Especially that it is covered – very practical – and how the roof is also tilted, to match with rest of the design.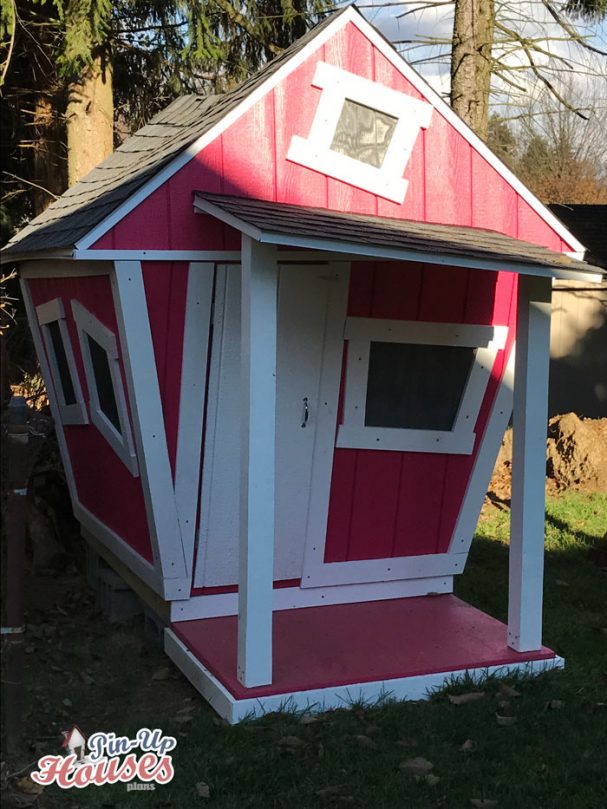 The crooked playhouse for kids from Pittsburgh is a simple timber frame structure cladded with wooden planks painted pink and white in case of the window frames and the door. It follows our kids playhouse plans – has door at the front, two windows on each of the longer walls and one on the shorter ones and another pair of windows on the gable ends of the roof, in the upper area of the interior.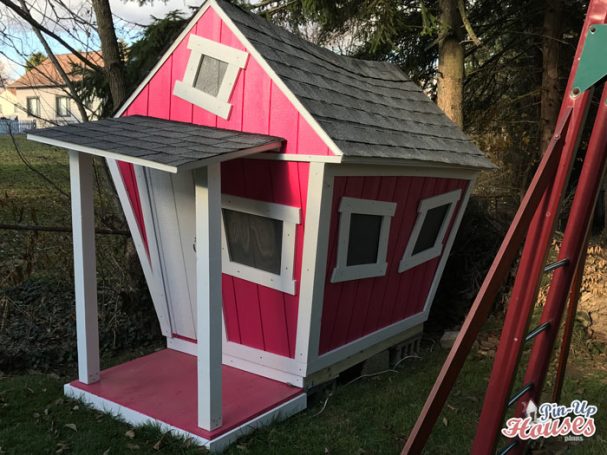 The front porch is Ron's own initiative and addition to our design. We love it! We always like our customers being creative and support whatever ideas they want to explore or implement. So any adjustments and changes to our small house plans are welcome. And actually in case of kids playhouse plans, they often vary in many things as colors, window frames or other details and it is always lovely to see them. Have a look here. Or if someone wishes to use our plans only as an inspiration for their own design, we support that too.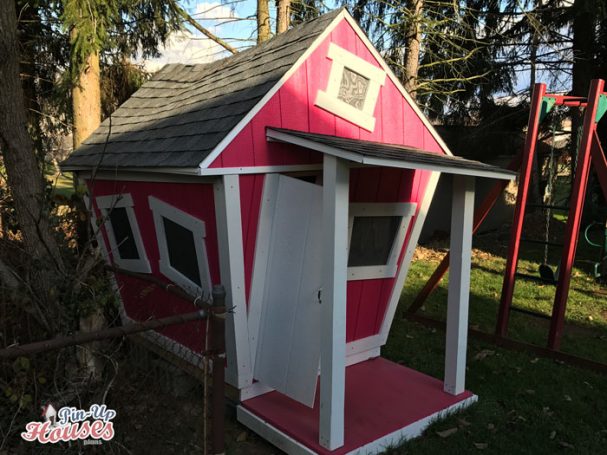 Lovely crooked playhouse, isn't it? Would you like one too? Well nothing is easier than going to our micro homes plans and order your crooked playhouse blueprints! They are detailed and come with building instructions and all the dimensions, to make the construction process as easy as possible. So even you could do it! Or you still don't feel certain enough? Well in that case we have a timber construction step by step book guide for you. Our How to build a tiny house book is full of useful information, illustrations, photographs and manuals on various parts of DIY timber construction. It is available to be ordered as electronic or printed version here, have a look.