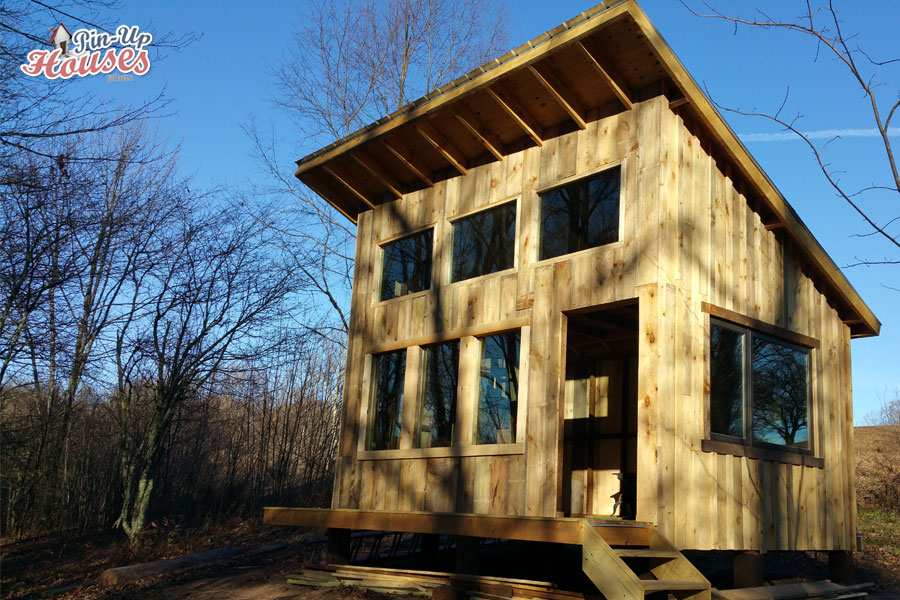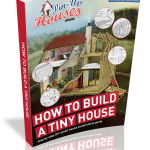 Have you met Virginia? She is one of our small house plans, a cabin with front porch, shed roof and loft. We don't think you did, so we would like to change that today and introduce you Virginia from Milanville, Pennsylvania. She is still under construction process, but nearing completion and it is exciting to have a look. Thank you John for sharing your photos with us!
Our cabin plans for Virginia start with a timber frame construction of the whole wood cabin, with door and window openings and shed roof. The timber used looks like a solid hard wood, making the framework firm and strong. We are big fans of its natural rough look with no polished or fancy finishes.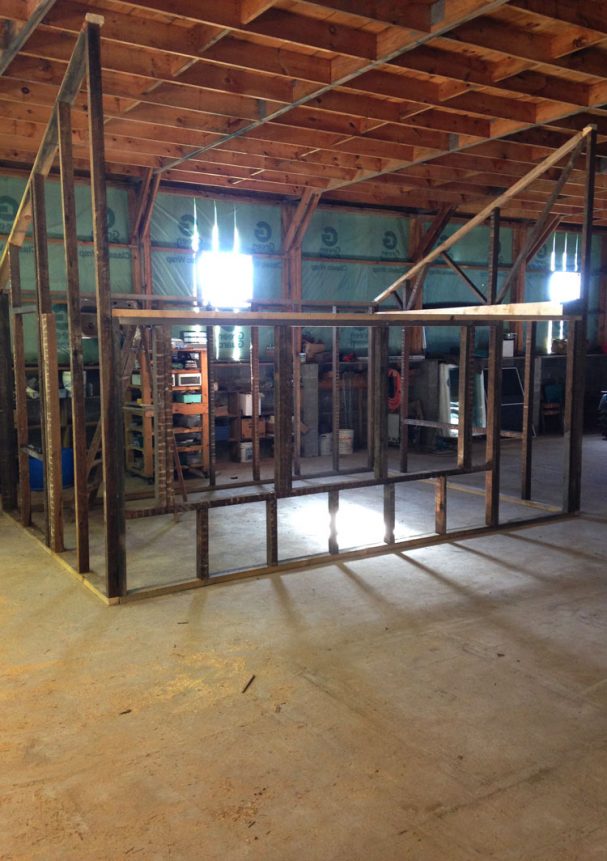 Plus have a look how nice it is in the interior in combination with those light wooden planks used for walls and loft floor! Yes, that is a loft-to-be, what you are looking at, we are guessing probably place to sleep? It would be a practical solution leaving the entire ground floor free for a social space and using the part of interior closer to roof, which will always be the warmer one, as a sleeping area. Also the windows are in places now, beautiful! Very nicely done wooden window frames! We have to admit, we are not exactly sure what types of windows are these, but on the photos it looks like fixed windows to us.
Well the window on side wall, on the contrary seems, to be operable (judging from the other picture taken from outside; and btw, what a lovely window frame again). And this is a view from the loft over the interior, nicely showing not only the wall but part of the shed roof construction and floor as well, all in naturally looking wood.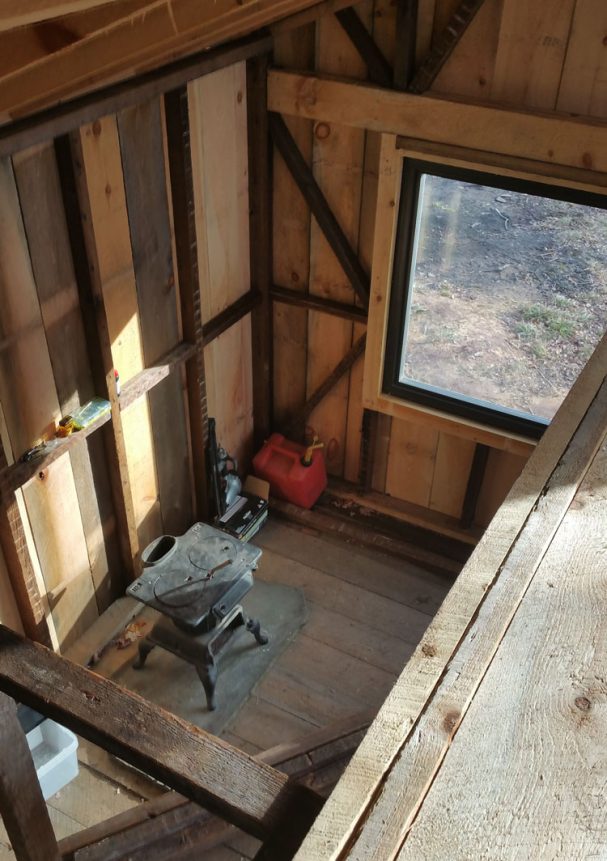 Here we have the front façade of cabin with front porch, doors and all windows – ones in the main interior space and ones in the loft, which makes us little bit jealous, because imagine the view you have while falling asleep! That is if it ends up being a sleeping area. But even if not, the view from those three loft windows will always be great. Also, we can see the foundations! In this case it is timber pillar foundation.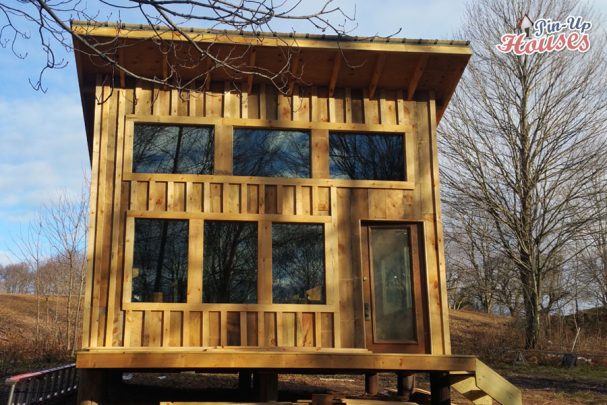 And finally, allow us introduce you our timber structure – wood cabin Virginia from Pennsylvania in all its beauty! Well almost, as we feel there will is still some little work to be carried out, for example with the porch or interior. We shall see, hopefully John will share more photos of the construction progress, because we love it so far and are very excited!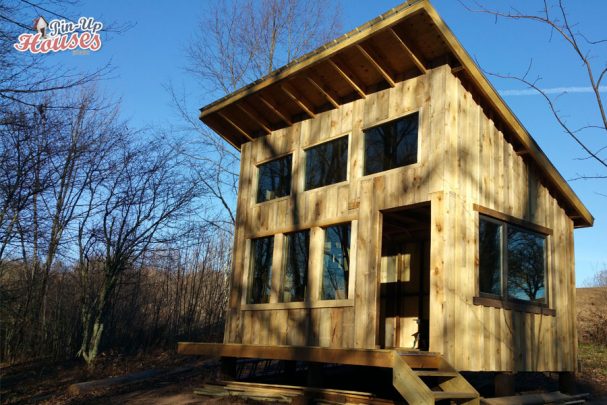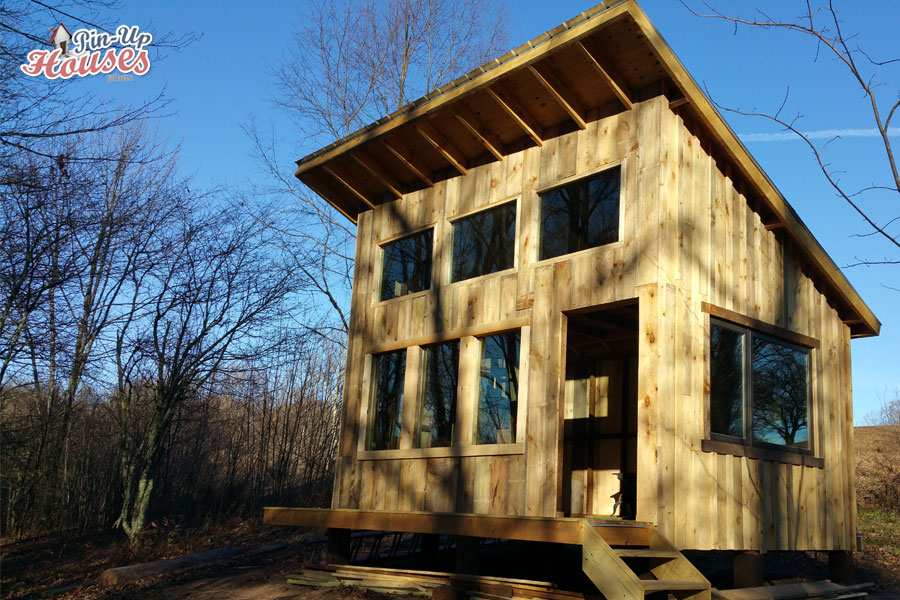 Sooo did you find yourself fantasizing building a cabin in some beautiful place surrounded by nature too? Well check out our cabin plans offer! We have wide range of sizes and designs, apart from the small cabins also different types of small house plans. Or if you feel like you would use more information about DIY construction and timber structures first, have a look at our building guide How to build a tiny house, full of useful advices, illustrations and step by step manuals, available to order here.