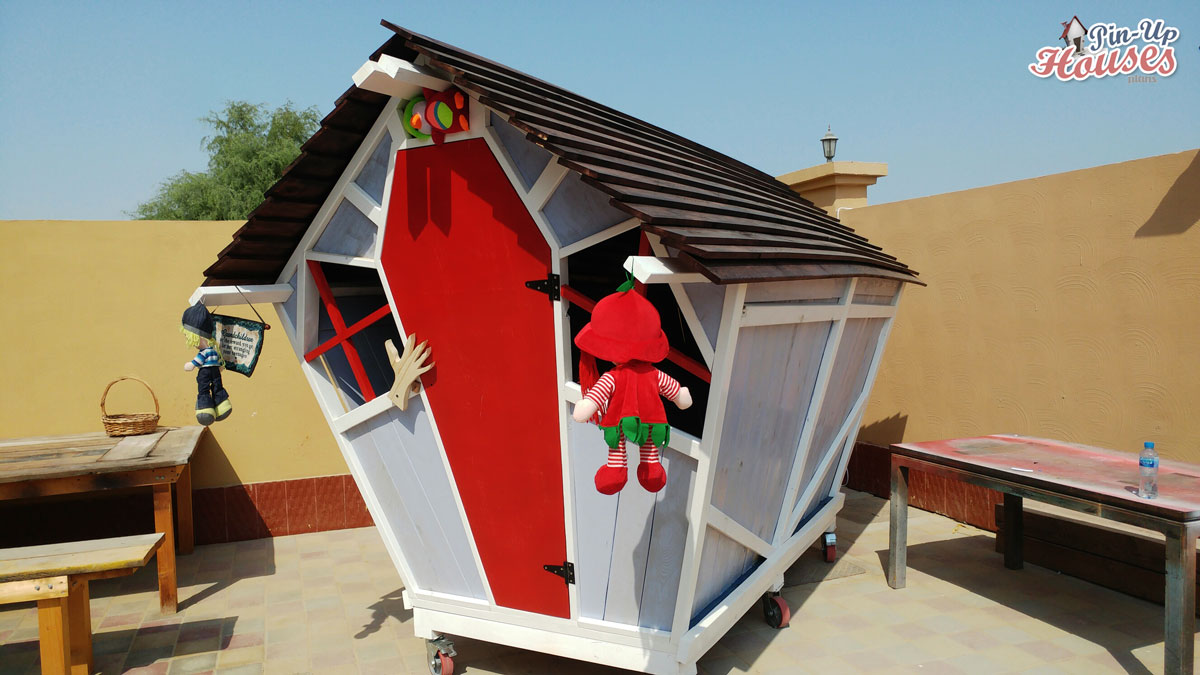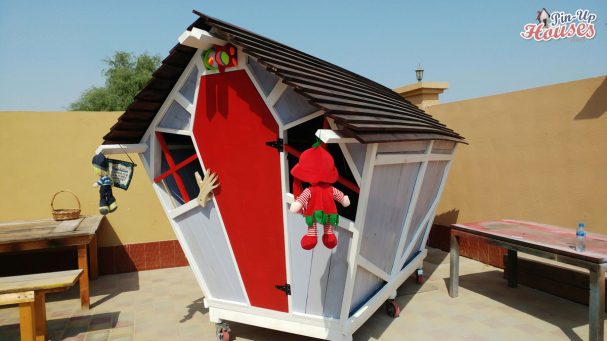 We have already introduced lot of versions of our crooked kids playhouse, but we can't help it, people like them, buy the playhouse plans and they all look so adorable! So today, yes you've guessed it right, we would like you to meet another one. This time, it is very special destination! If we remember it right, this is first time we received photos of product built based on our DIY building plans from Dubai! Yes, today we would like to present to you outdoor playhouse for children from Dubai. Its creator is Atef Ali, who sent us the photos. Thank you Atef Ali very much!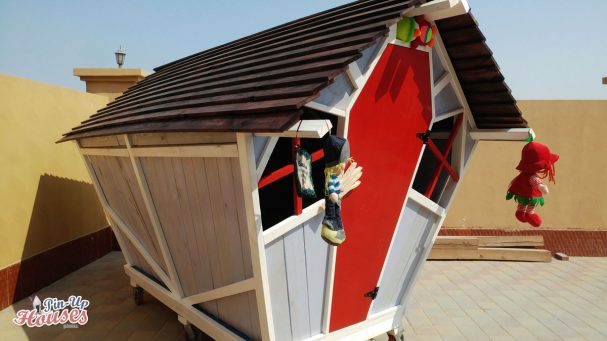 So what do we have here? Not only kids playhouse from United Arab Emirates, but also very spooky! But first things first, let's start with having a look at the structure. The timber frame is very simple, with few battens used for each wall frames and a minimalistic timber roof truss as well. Can you even call it roof truss, when it is basically three pairs of roof rafters, connected at the top with ridge board and wall beams on side? That doesn't matter, it is nice to see that our playhouse plans are not difficult to build at all and almost anyone could do it.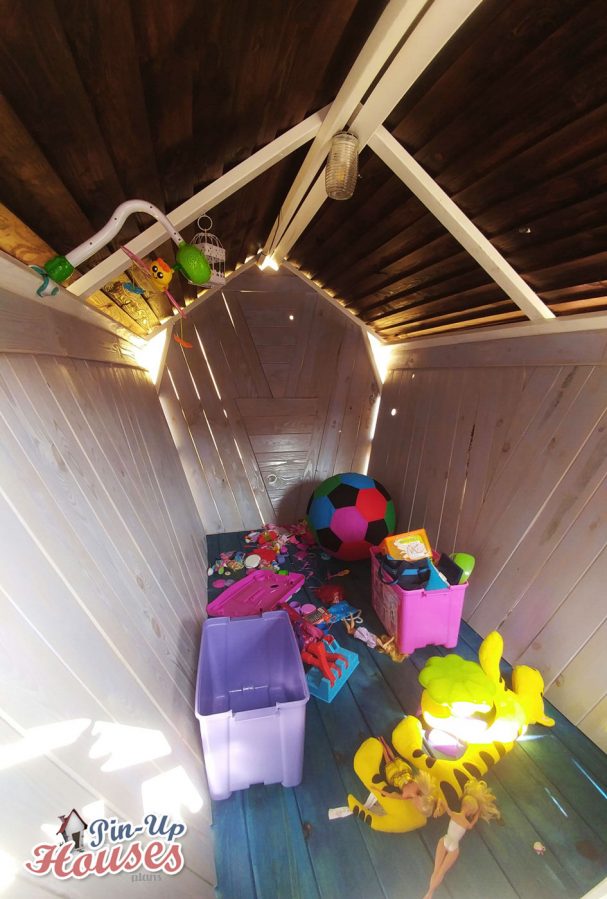 The wall frames are "filled-in" with vertically positioned wooden planks. And that's it, that's how easily you can get your playhouse walls. It's fair to say that in Dubai's weather you probably really do not need to worry about things like insulation etc. when it comes to small outdoor playhouse. Anyway, very neat job with the walls we must say! And the light blue paint matches really nicely with the white structural frame. Actually, we love the overall color combination on this one! Idealistic light blue and white and the red highlight of window frame and the doors, it's great! Not talking about how cool the door is and also the roof, that one is very nice with roof sheathing done in very neat and simple way of dark wooden horizontal planks positioned slightly overlapping each other. We don't want to be repeating ourselves but we are really very fond of this clear and simple design, symmetry and precisely done work. What a beauty!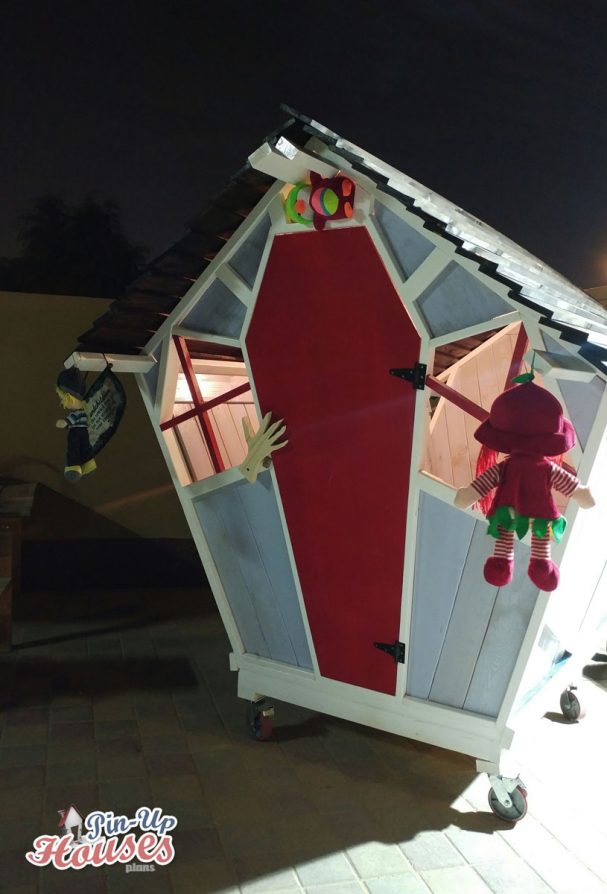 Two more things we shall not forget. It's on little wheels! How cool! Practical solution thanks to which you can have your outdoor playhouse anywhere you wish and you don't need to worry about foundations of any kind. And then of course there's the decoration. That's what we meant by spooky. Super spooky! And easy to make ready for Halloween. Oh and notice, it has a light inside too! See why we love this kids playhouse so much?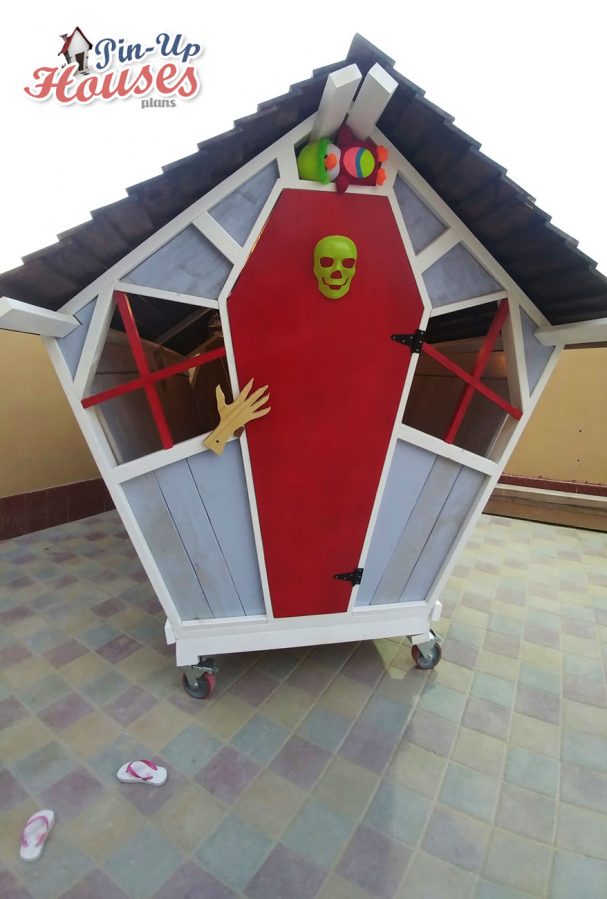 Do you love it too? And would you like one yourself? We mean it, if you don't have children but would love something like this, you can use it as a working space, shelter, garden shed or anything in the world you wish! Just purchase our playhouse plans with detailed instructions, gather the materials and get going. Or if you feel like getting bigger, we have tiny houses or small cabin plans as well, just browse through our offer here. For those who may not feel the most comfortable about DIY construction, we didn't forget you, don't worry. There is a book for you! It's called How to build a tiny house, where you will find many useful information, illustrations and photographs about timber structures, have a look here.