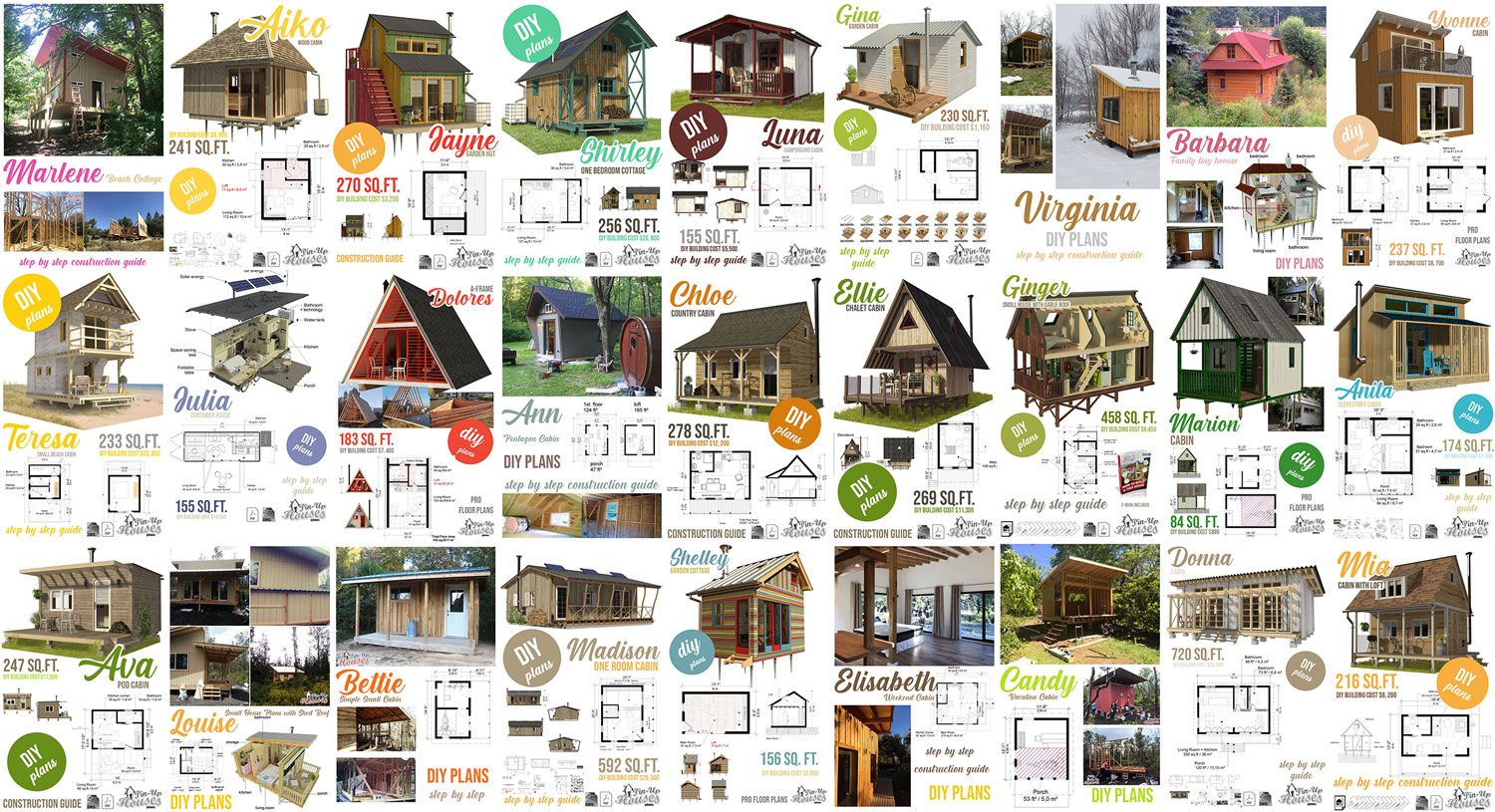 The time went crazy and many people take mortgages and build large houses that they don't need. We go upstream, we are here for those who prefer freedom rather than debt. Do not take promotional texts at cottages very seriously, pictures are more important, but the most important thing is always your decision to act!
In the following article, we present to you the 27 best small cabins, whose construction plans have been offered for many years. Some of you will be inspired by these cottages to build your own specific cottages, some of you will buy plans and build on them. We are very pleased to inspire your buildings, we are happy to answer any questions, just contact us via email.
We are always working to improve our Building Cabin Plans based on your feedback. If you have any questions or concerns, we are always ready to work with you at least remotely.
We love our work and are pleased to receive a lot of positive news and support from people all around the world. We greatly appreciate the freedom, responsibility, human work and beauty of useful and affordable design.
Cabin Plans with Loft Bedroom Mia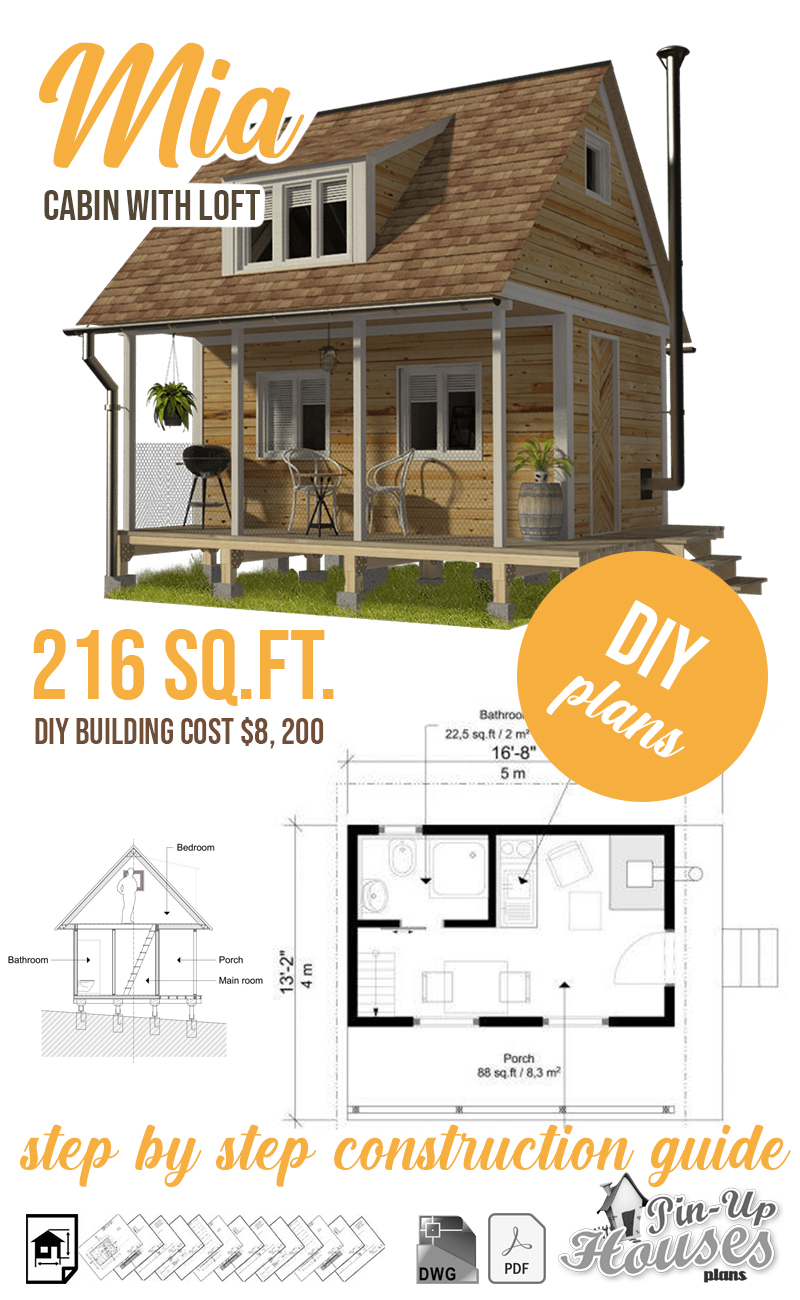 Cabin Mia is one of many small cottages with a loft sleeping area. Cabin Plans for the construction are understandable for both a professional craftsman and a handy amateur builder. The generously covered terrace will protect you against the weather and allow you to enjoy moments of complete relaxation alone or when having a barbecue with friends.
Mia combines traditional look with modern design. The generous dormers provide a wonderful view of the surroundings directly from your bedroom. In short, Mia is a great design for those who prefer spending leisure time in nature.
Vacation Cabin Plans Candy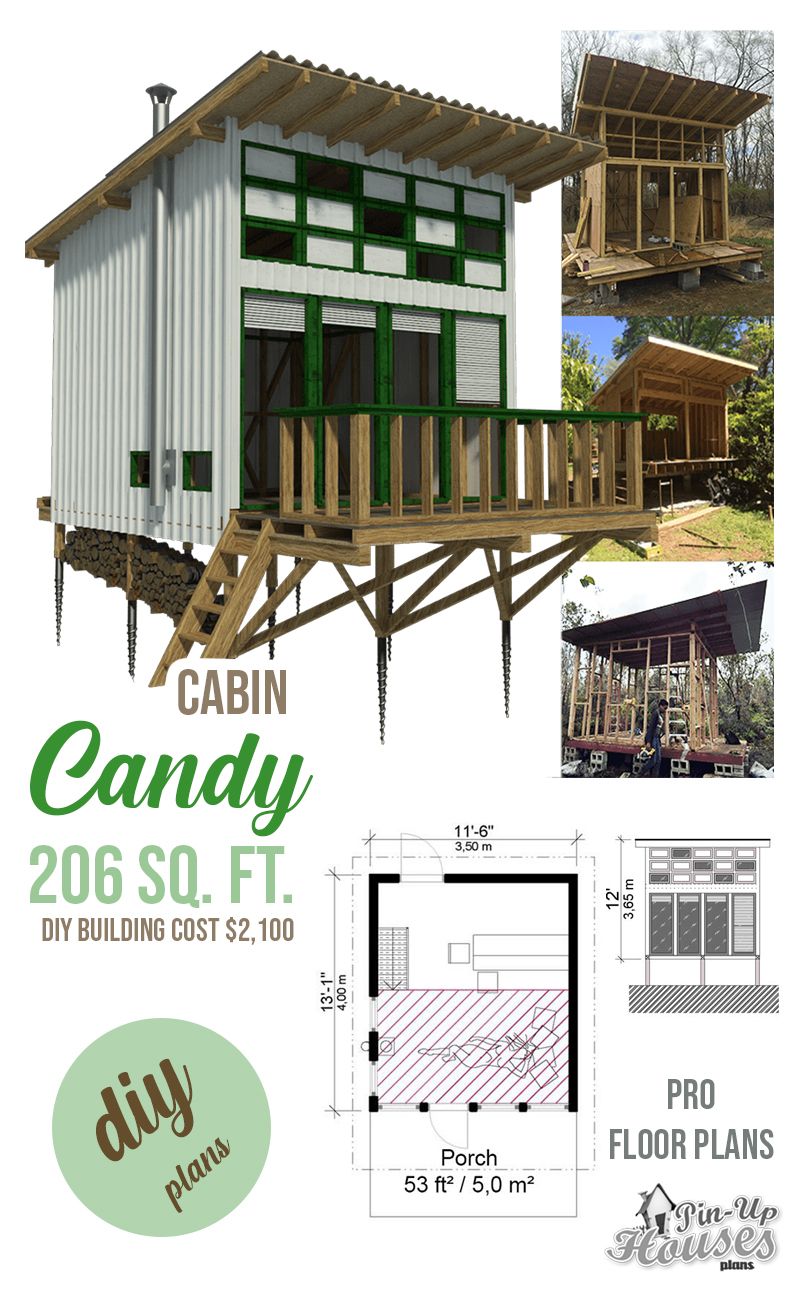 Candy is one of our most built cottages. It is built, for example, in Florida, the UK or on the Hawaiian Islands. The basic design is prepared for the slope, so the cottage is partially raised on stilts. The front facade is generously glazed, so it is necessary to ensure careful wall-bracing, but even so the cottage is suitable for novice builders.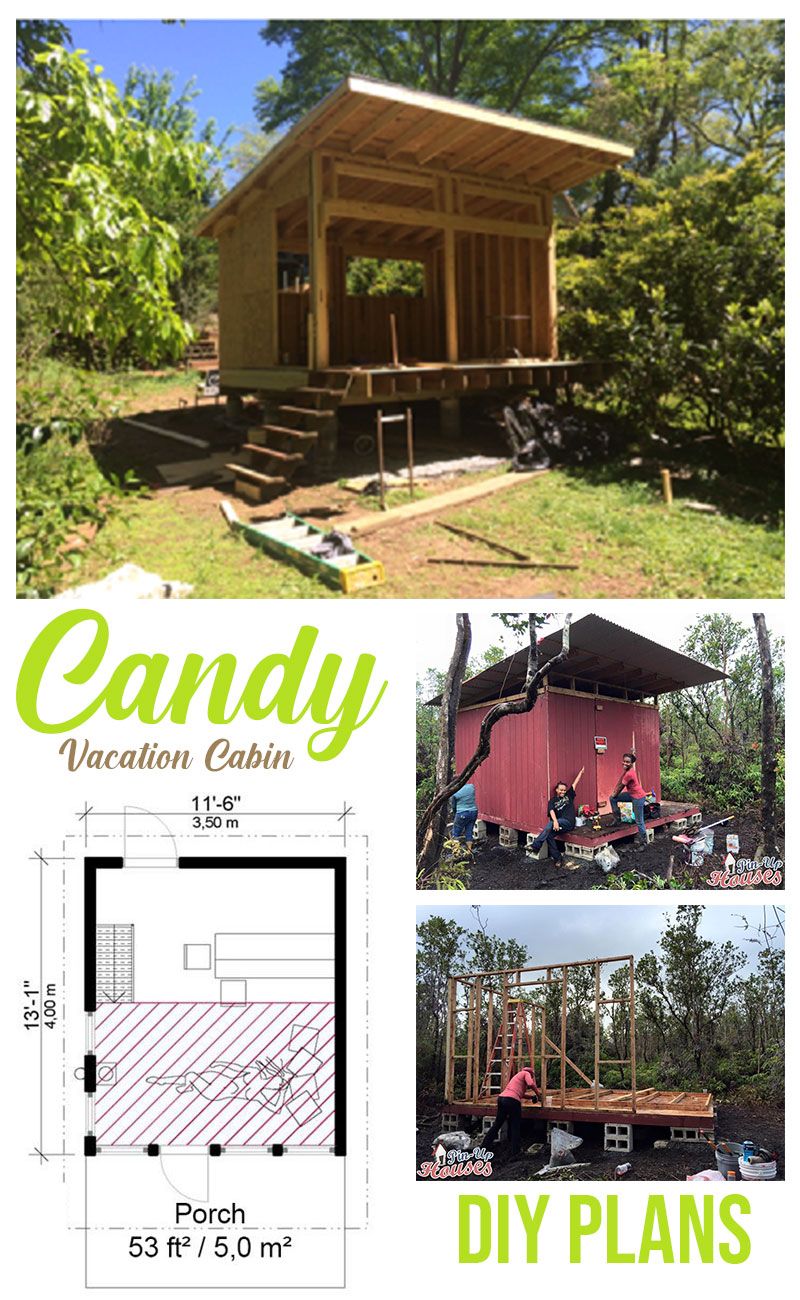 Candy Cabin has a sleeping area, so you save space on the first floor for daily activities. We count on a small kitchenette, stove, and entrance to the partially covered terrace. For lovers of evening fun we placed a small bar in the interior. Cheers!
Wood Cabin Plans Aiko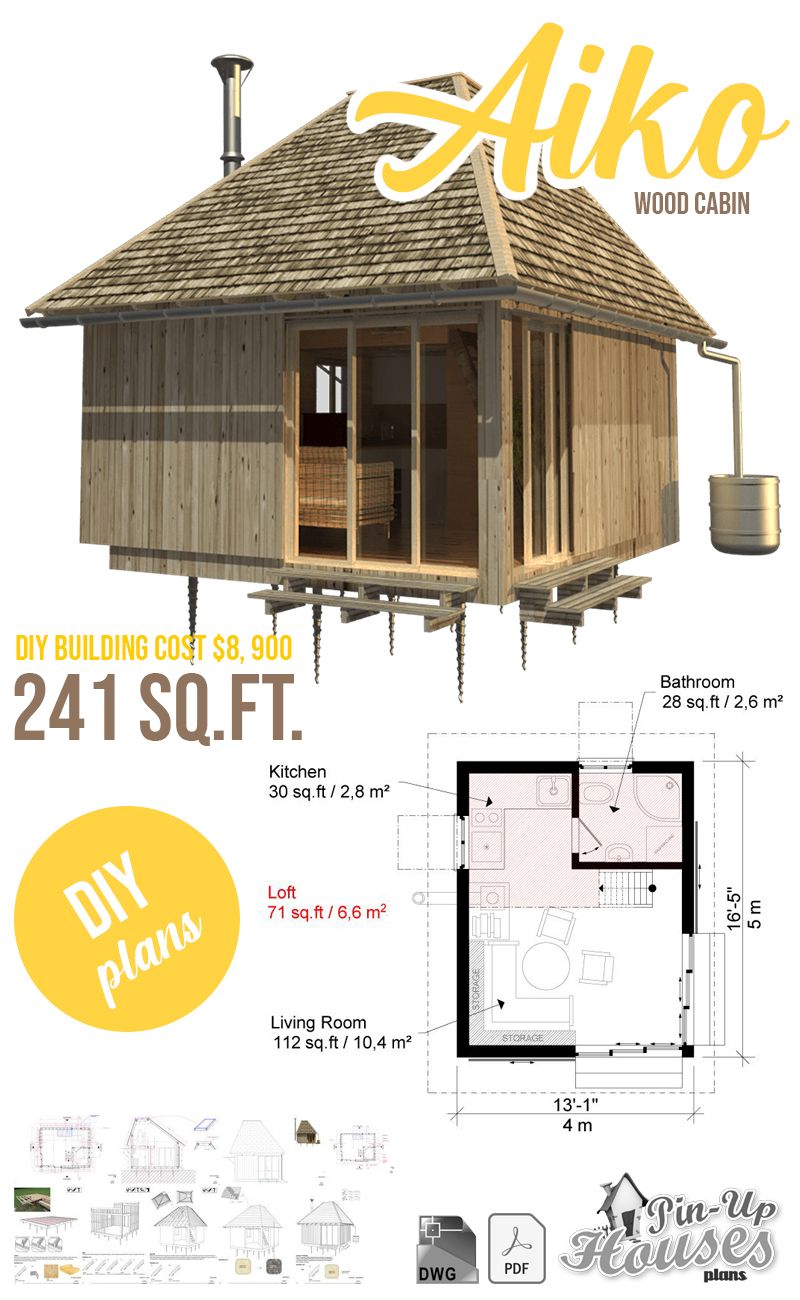 This stylish cottage is inspired by Japanese tea house architecture. Inside you will find a magnificent skylight that illuminates the interior of the house on a principle similar to that of a medieval cathedral. The cabin plans are very illustrative and include a detailed construction process. With a wooden shingle roof, this cottage will dazzle directly with its beauty.
Simple Small Cabin Plans Bettie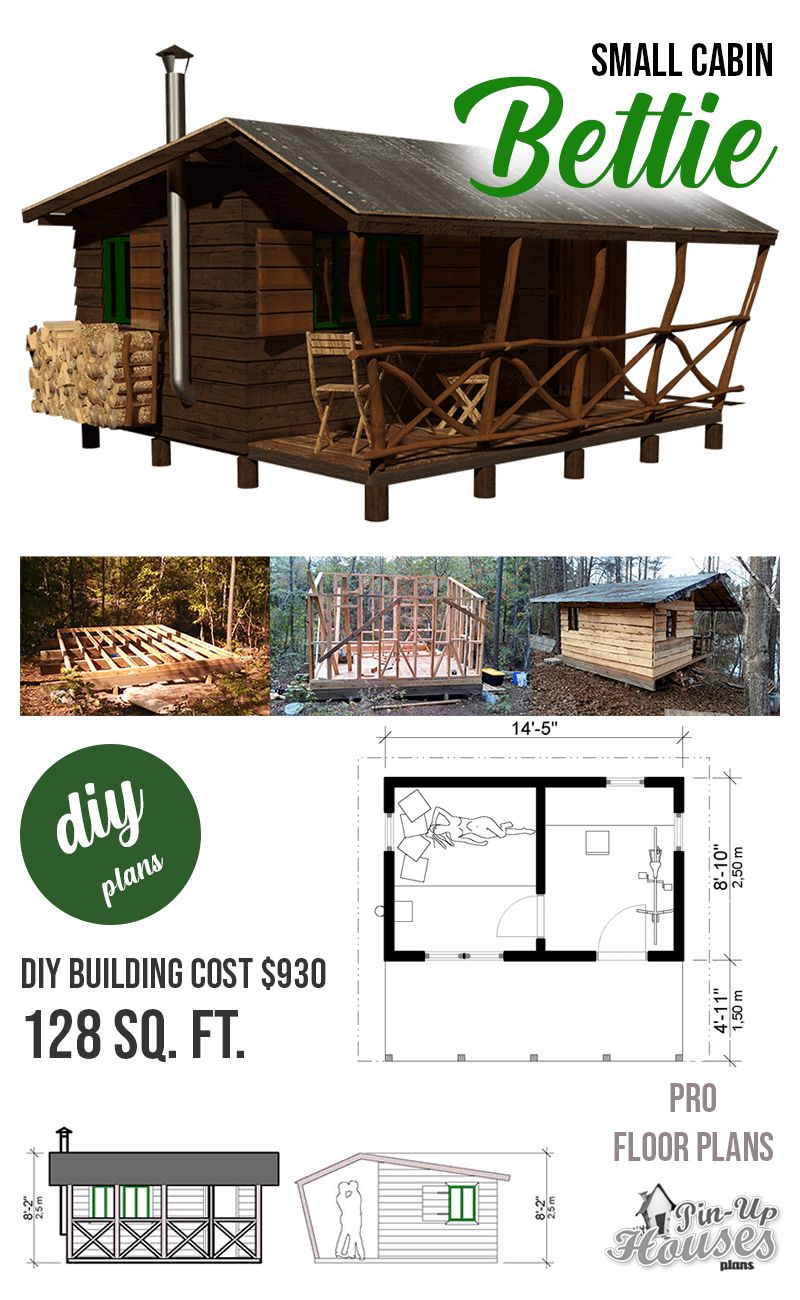 Small Cabin Bettie was built in various forms in many places around the world. It is the embodiment of an ideal cottage for moments of relaxation in nature, far from the hustle and bustle of the city. Buy our DIY small cabin plans and in a few holiday days, you can create a perfect oasis of peace and freedom.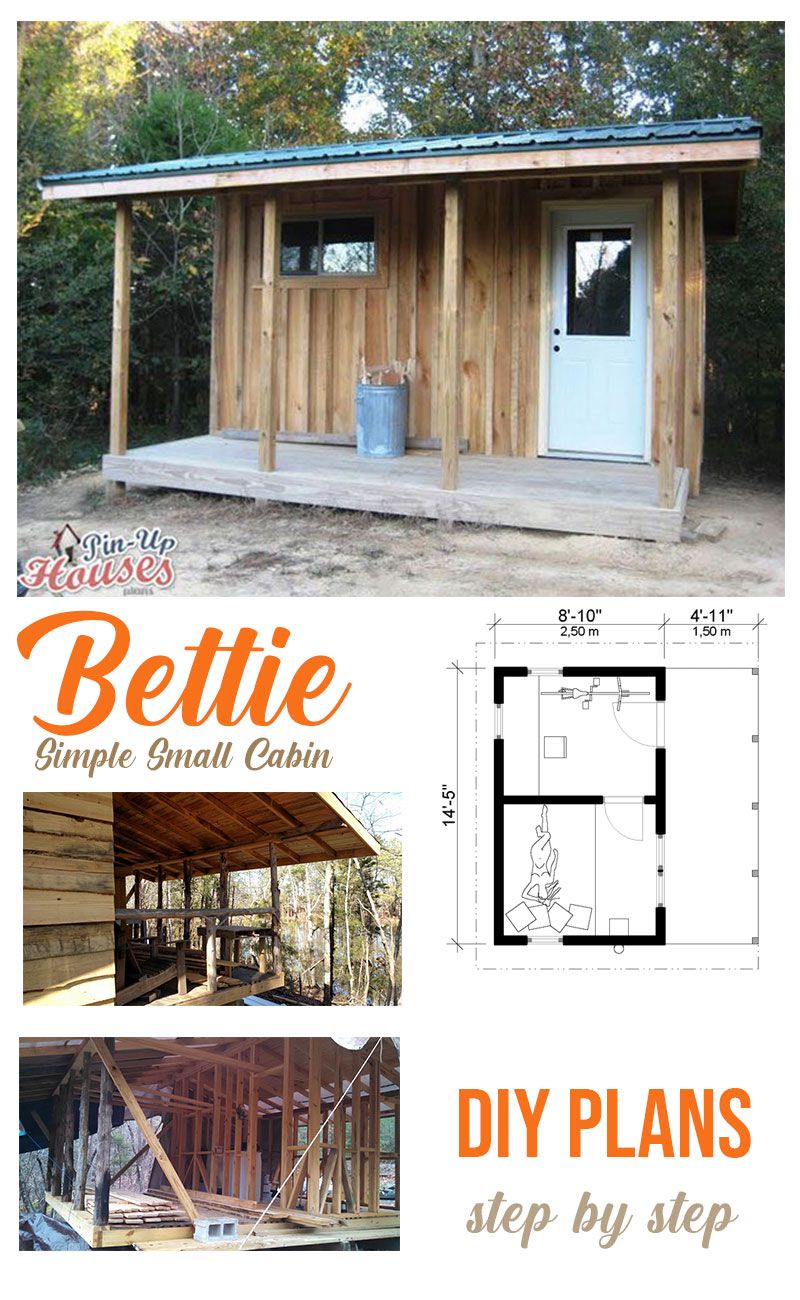 Small House Plans with Gable Roof Ginger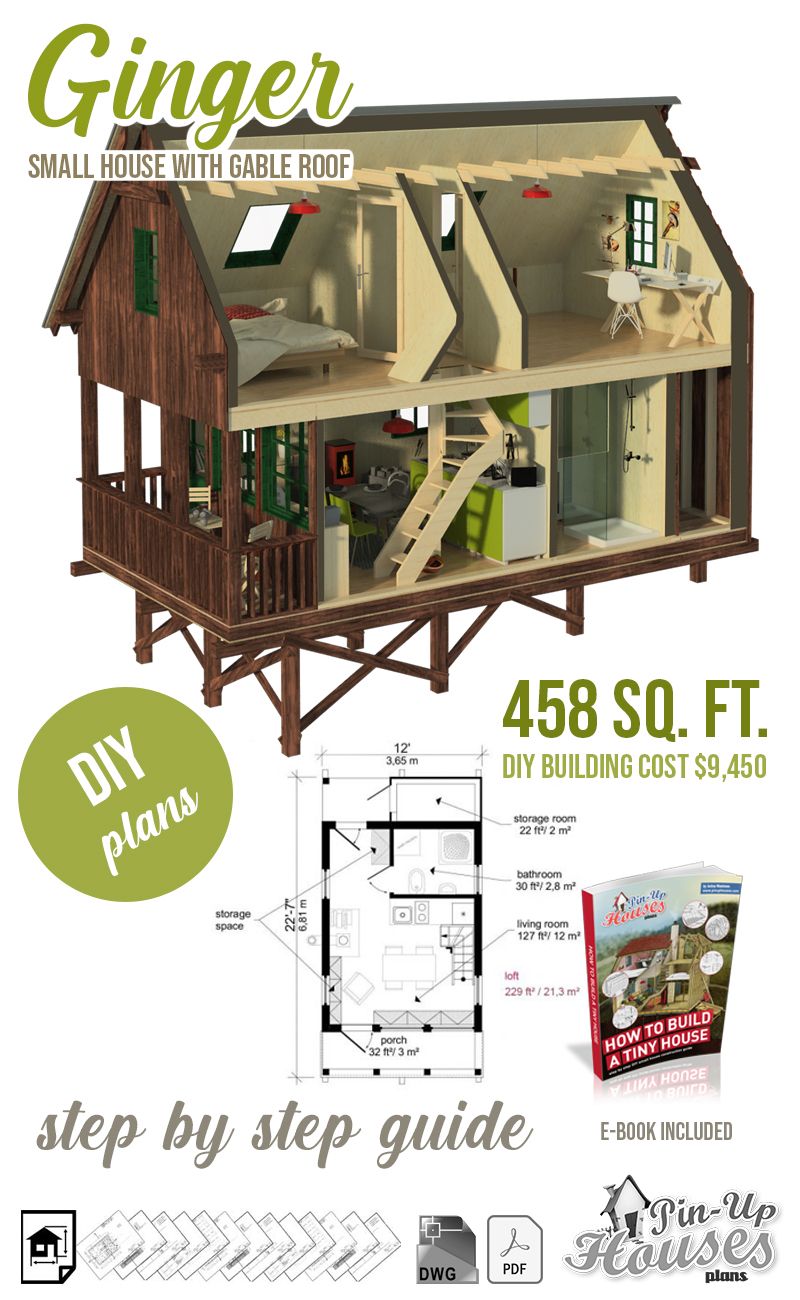 For some, this cottage may be rather a small house, but its romantic appearance makes it more suitable for remote forest sites. Even so, its classic design is easy and understandable to any enthusiastic amateur builder with a bunch of good friends. The construction will certainly take a few weeks to months, but in a group of three to four people will work pretty fast and you will be done in one season!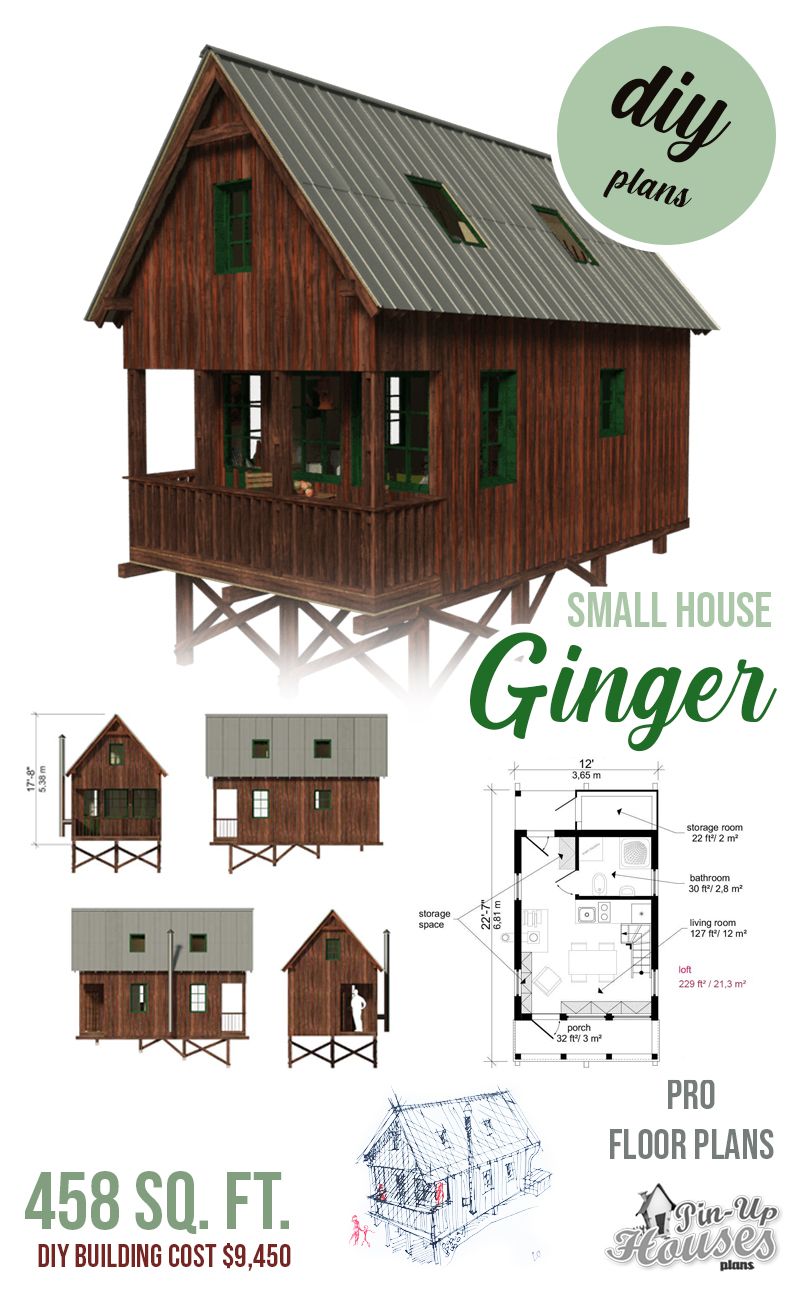 Have you decided that this cottage is your heart business? Feel free to buy a project for this small house right now! We will also send you an e-book How to build a tiny house for free.
Camping Cabin Plans Marion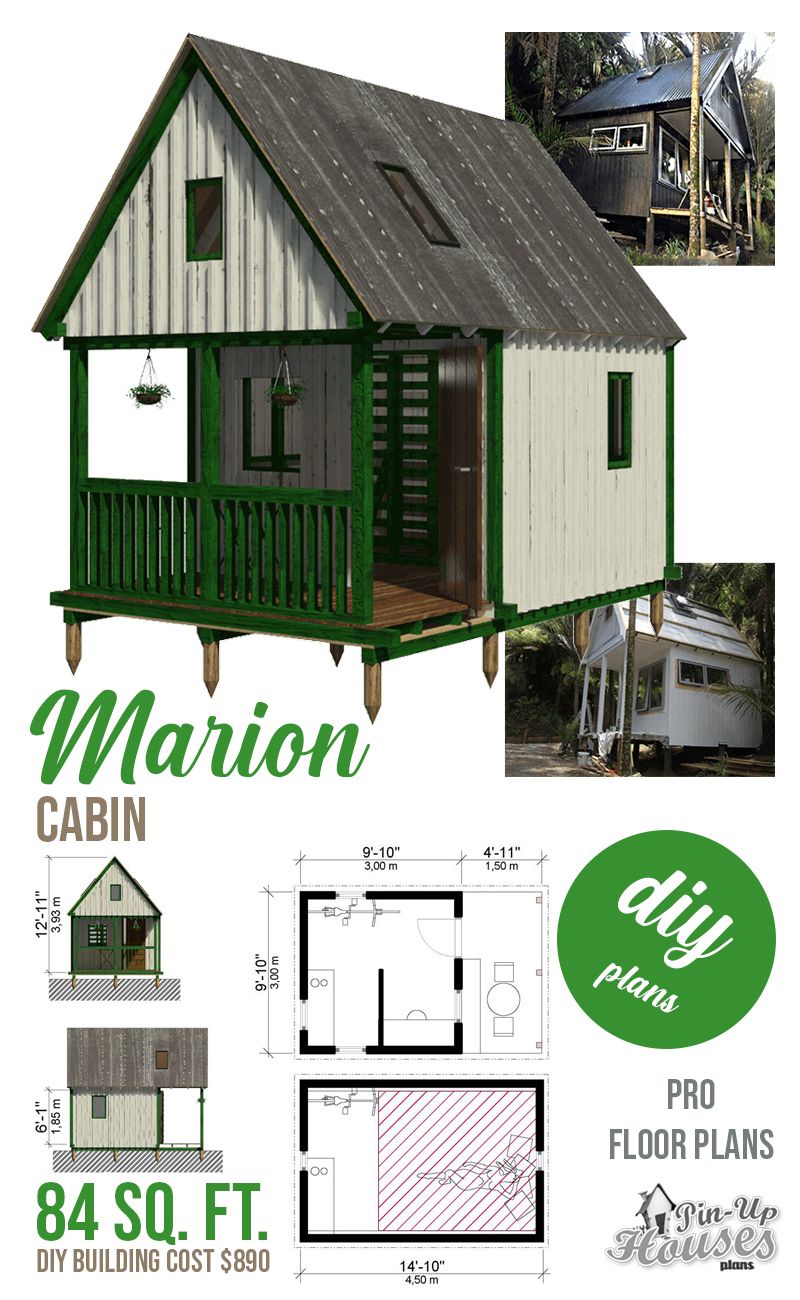 Marion is a classic small building with a gable roof. It does not have a bathroom, but it is a suitable retreat for occasional weekend visitors. Sleeping loft, covered terrace and plenty of ground floor space allow you to spend moments of peace and relaxation without any problems.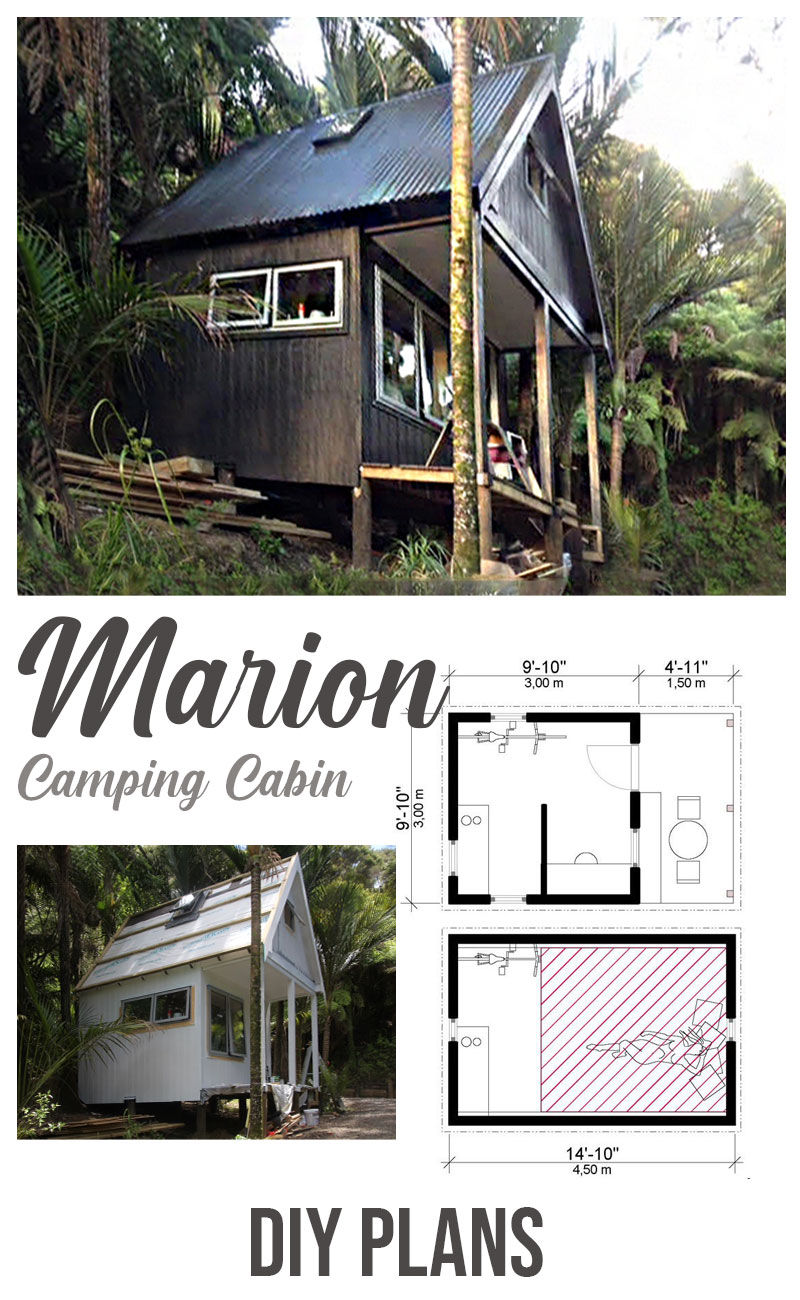 Cozy sleeping loft is just for two adults who are ready to spend beautiful romantic moments of mutual harmony. Buy plans, build a cottage and enjoy your wonderful life! 🙂
A-Frame Cabin Plans Dolores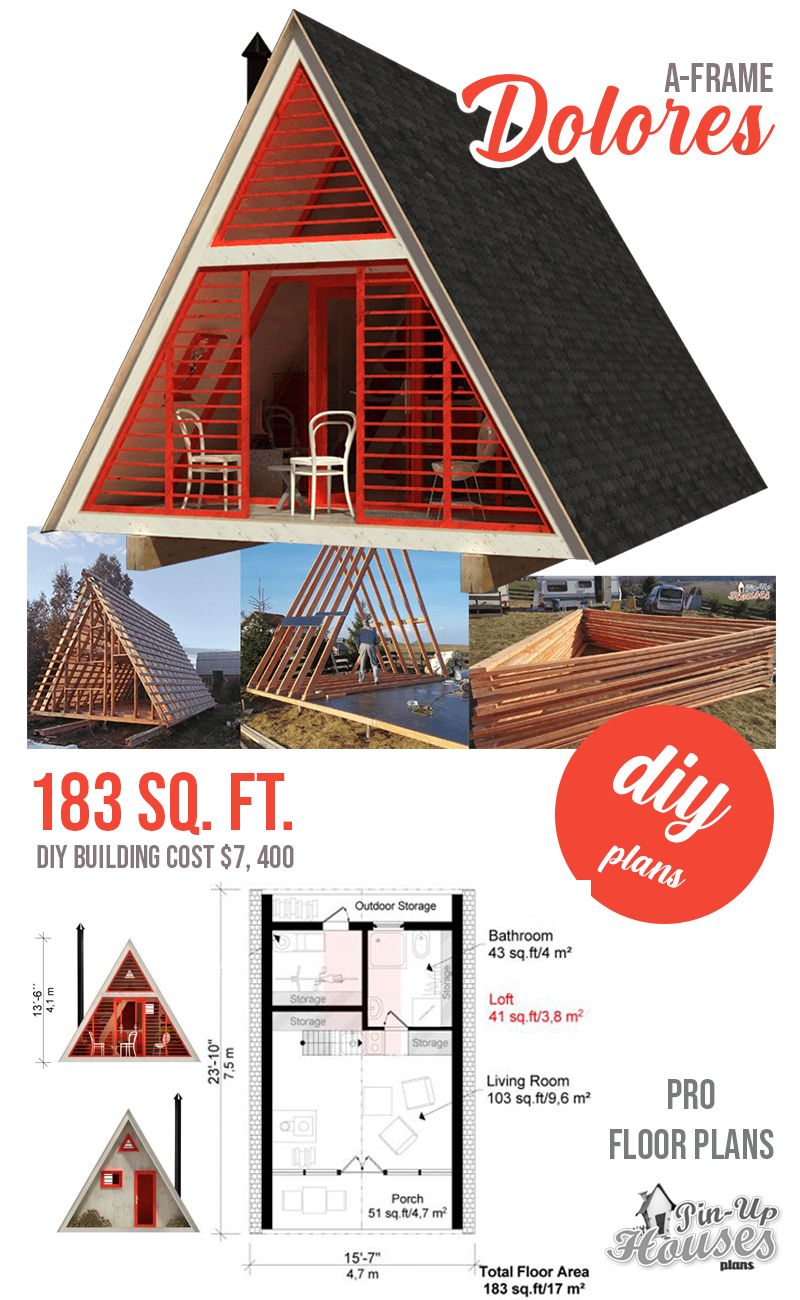 A-Frame cabin Dolores is a medium-size a-frame design that can comfortably accommodate two people. As you can see in the interior pictures, the storage solution is smart and sophisticated. There is a kitchenette under the stairs to the attic. After a beautiful evening in the main living room with a stove, you can reach the sleeping loft immediately by the steps. A-Frame cabin Dolores offers affordable solutions for recreational or temporary housing. Buy our A-Frame Dolores Cabin plans and we will also send you an e-book How to build a tiny house for free.
Small Beach Cabin Plans Teresa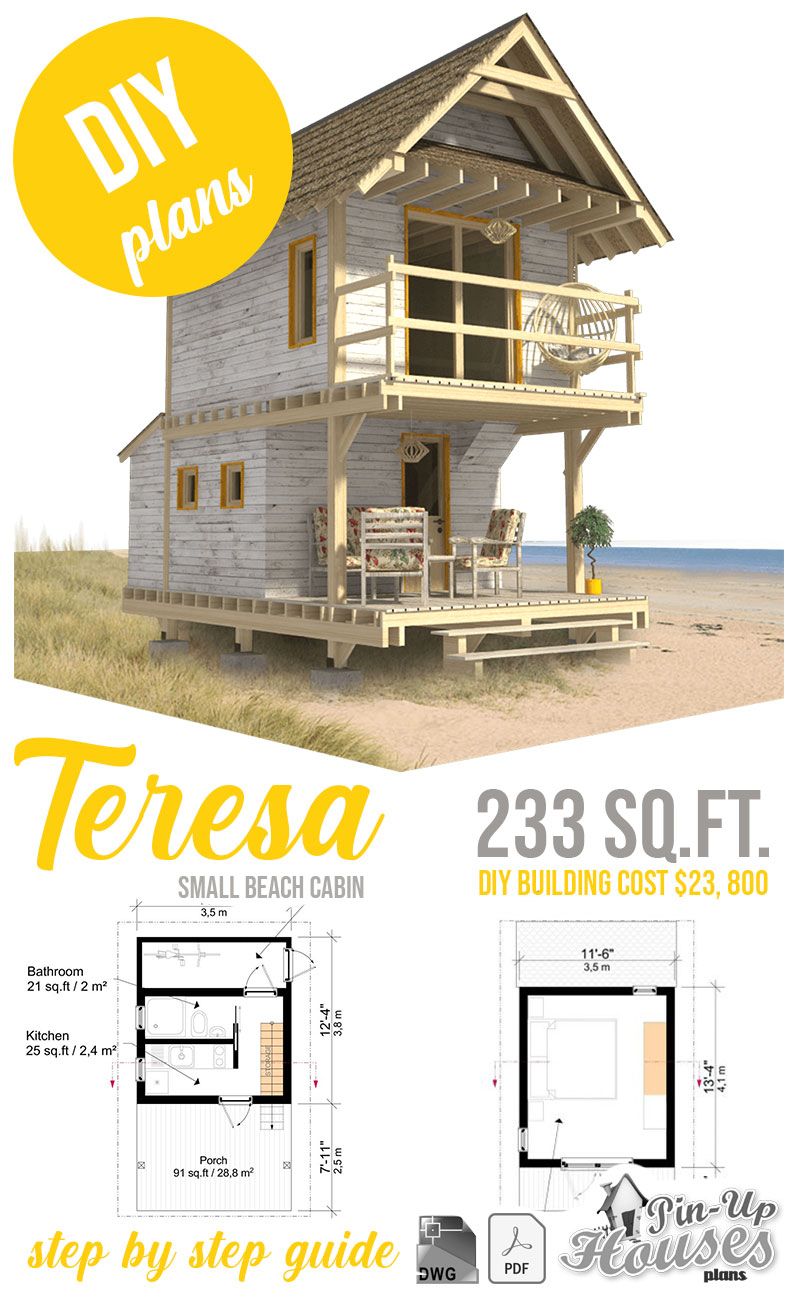 On the ground floor, you will find a spacious outdoor covered terrace, kitchenette, storage, and a small bathroom. Upstairs is a generous living area with a bedroom. Relax on the terrace in a hammock with coffee and views of the wide ocean, in the shade of the small beach cabin Teresa. Buy cabin plans, materials and tools and start to build your beach dream.
Garden Cabin Plans Gina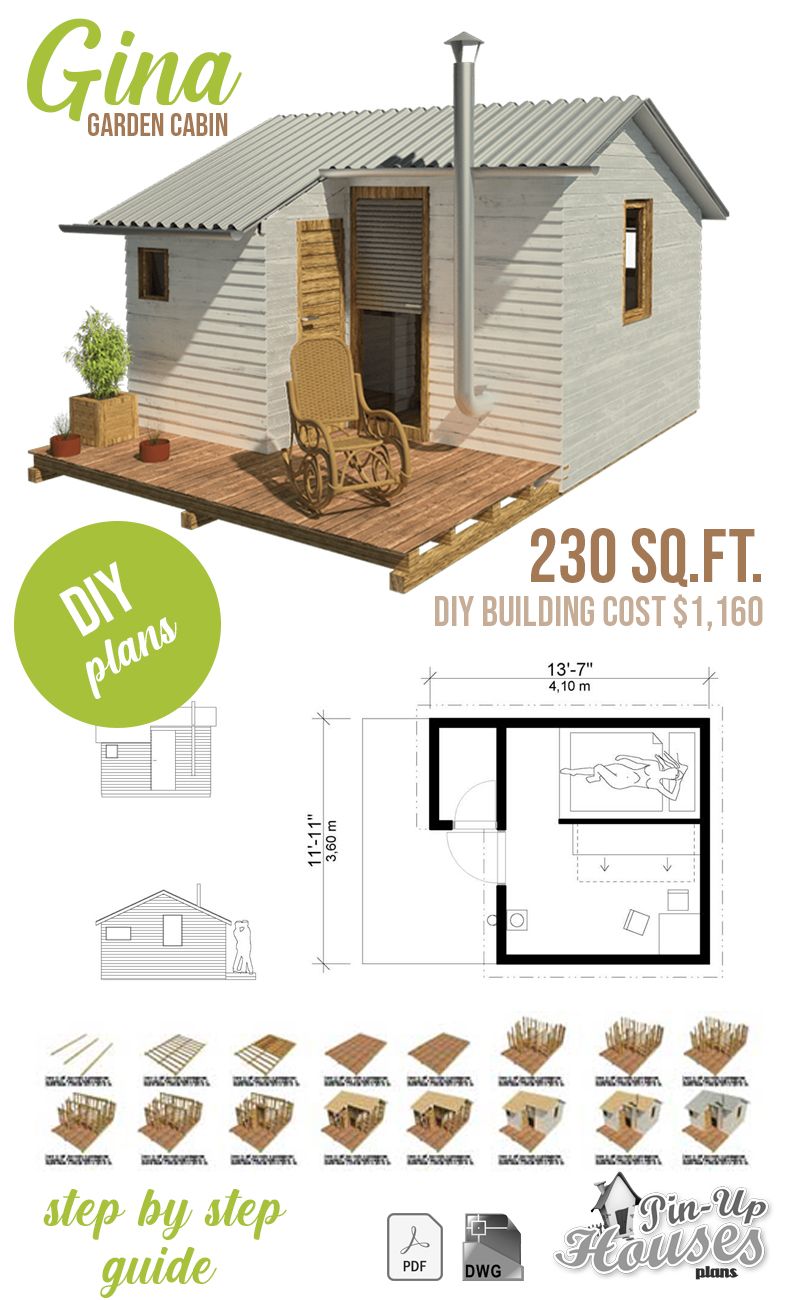 Gina is a small garden building. It can store garden furniture and tools. You can also use it as a garden cabin for your guests. There is space for sleeping and for rest and relaxation. If necessary, you can make a fire in the stove, open the wine and a beautiful evening can begin. Buy our Garden Cabin Plans Gina and we will also send you an e-book How to build a tiny house for free.
Beach Cottage Plans Marlene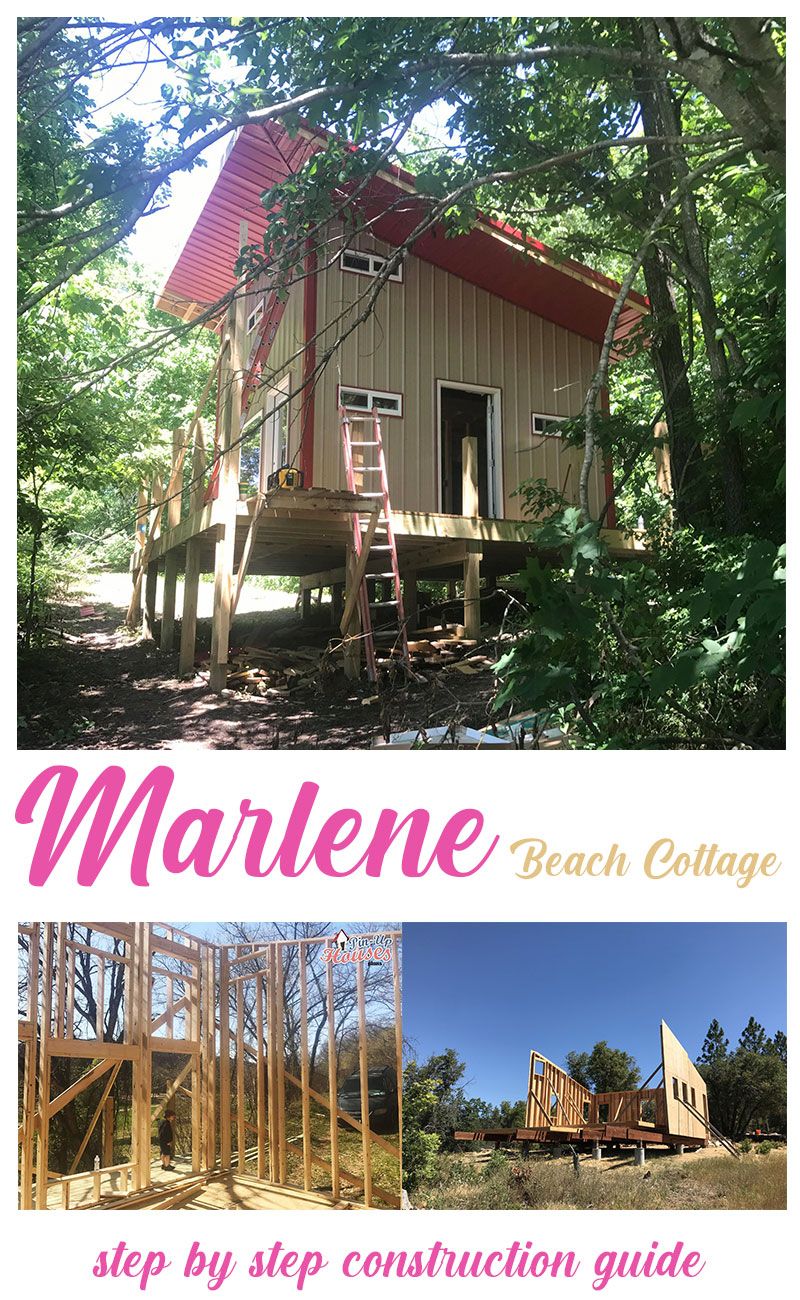 Marlene is perhaps our favorite cottage. On the ground floor, you will find a kitchen, bathroom and especially a smart partition with plenty of storage space. The large spacious French window provides a beautiful view of the surroundings and is also the entrance to the terrace.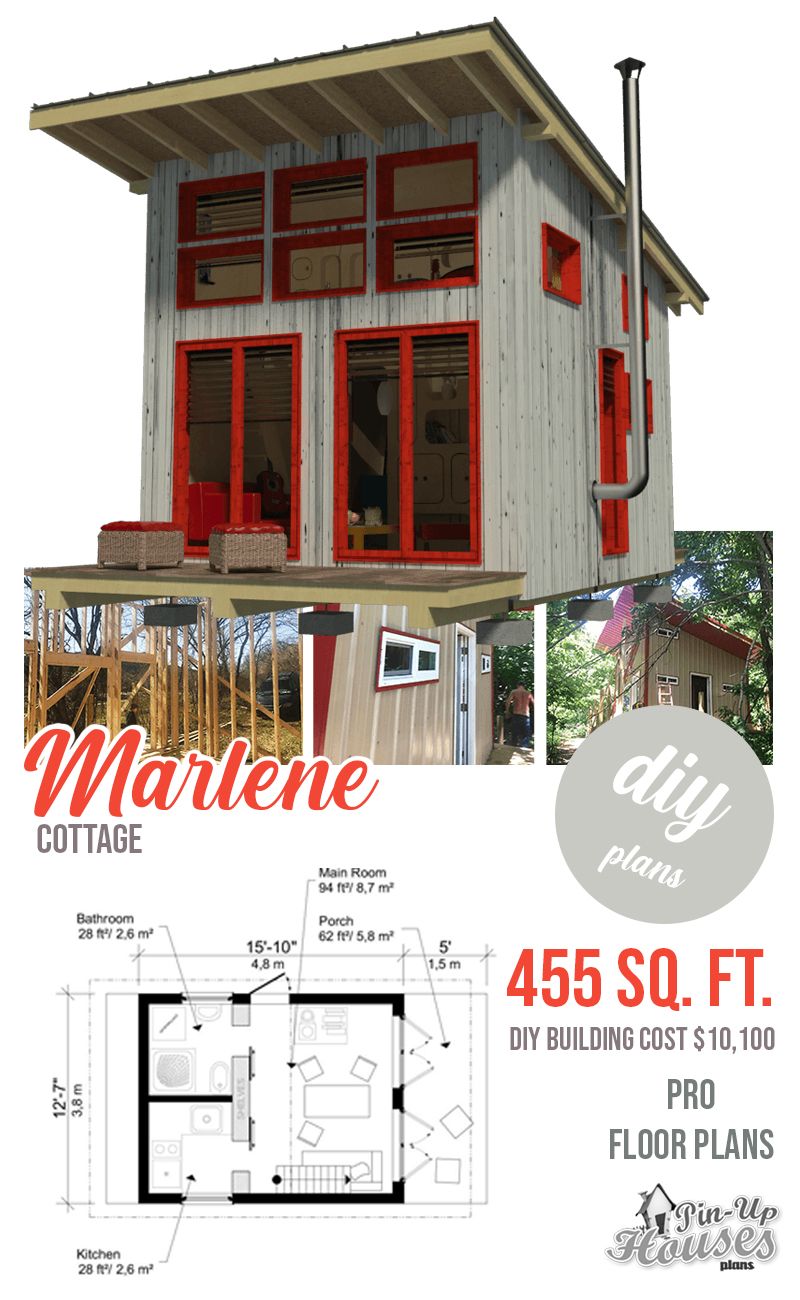 On the small steps, you get to the attic where the sleeping area is located. The proportions of windows, roofs and partially covered terraces are what make Marlene a favorite design worldwide.
Family Tiny House Plans Barbara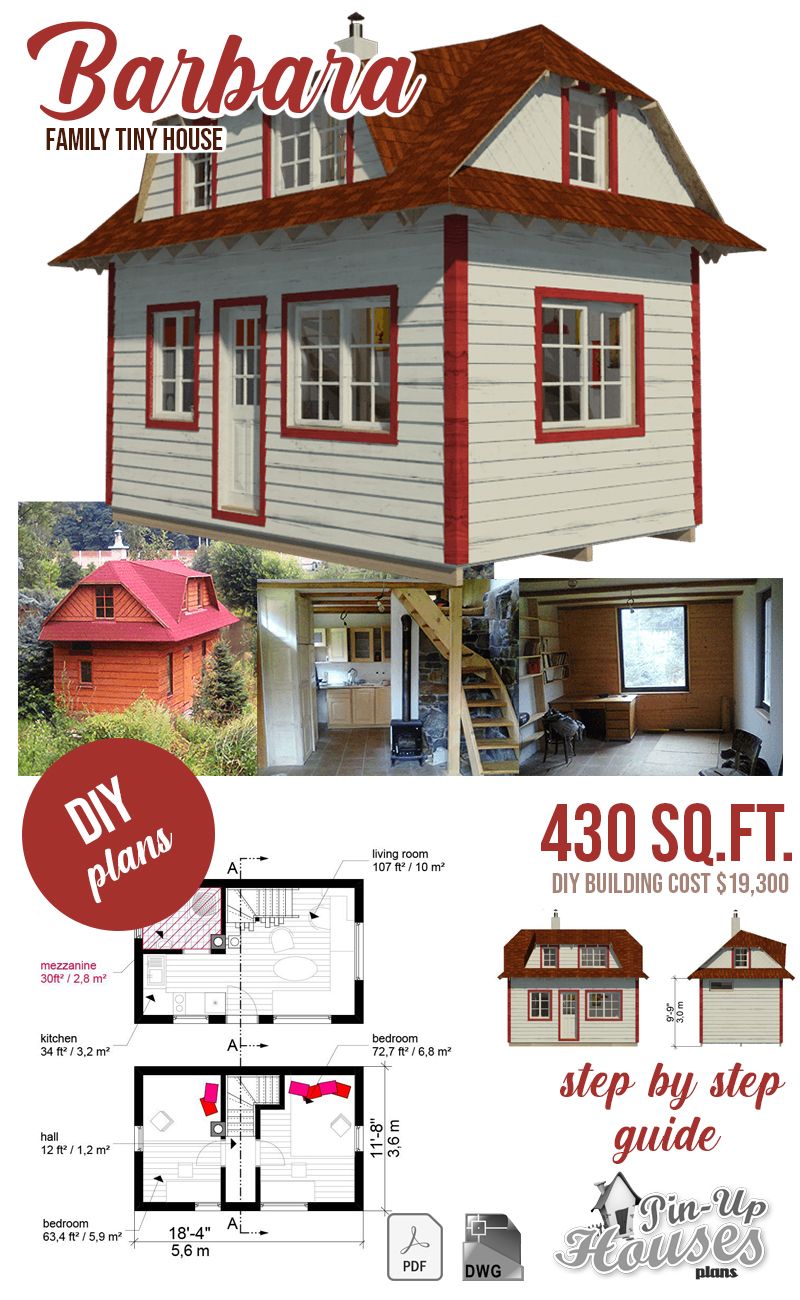 Barbara is a very space-saving house. As you can see in the picture, we managed to fit two bedrooms and one sleeping mezzanine for the child into it. On the first floor kitchen, bathroom and living room and on the second-floor sleeping area.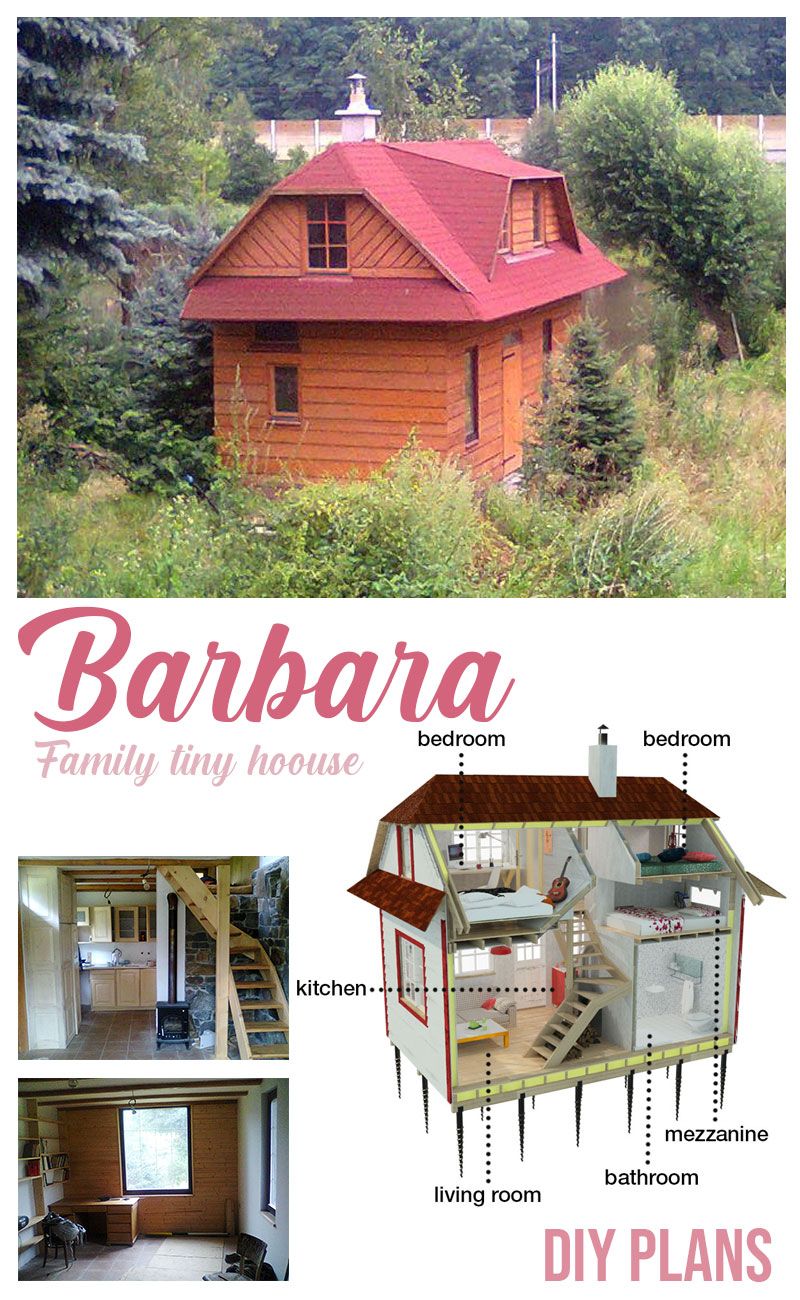 Do you find such a house small? With a bit of enthusiasm you can build such a house yourself and there is no need to take a mortgage. Buy building plans, get material and building site and you can live on your own in a few months. Buy our Family Tiny House Plans Barbara and we will also send you an e-book How to build a tiny house for free.
Contemporary Cabin Plans Yvonne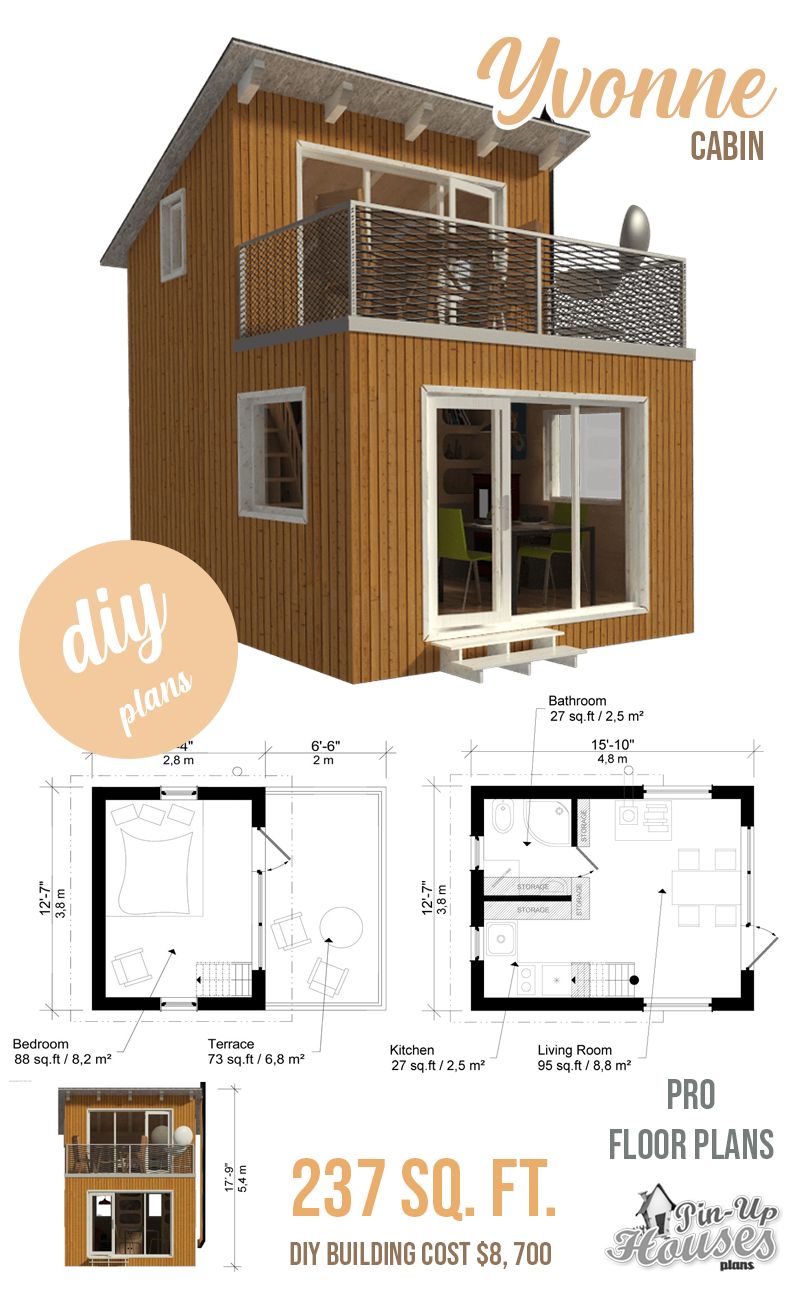 The biggest advantage of this cottage is the raised terrace, which can be accessed from the bedroom on the second floor. But it is also its disadvantage because it is a more complicated technical solution. In the case of a badly constructed terrace, it can leak into your house! But don't worry, with an experienced craftsman everything will surely turn out well in the end. This cottage has beautiful outdoor proportions that create harmony and charm.
Cabin Building Plans Donna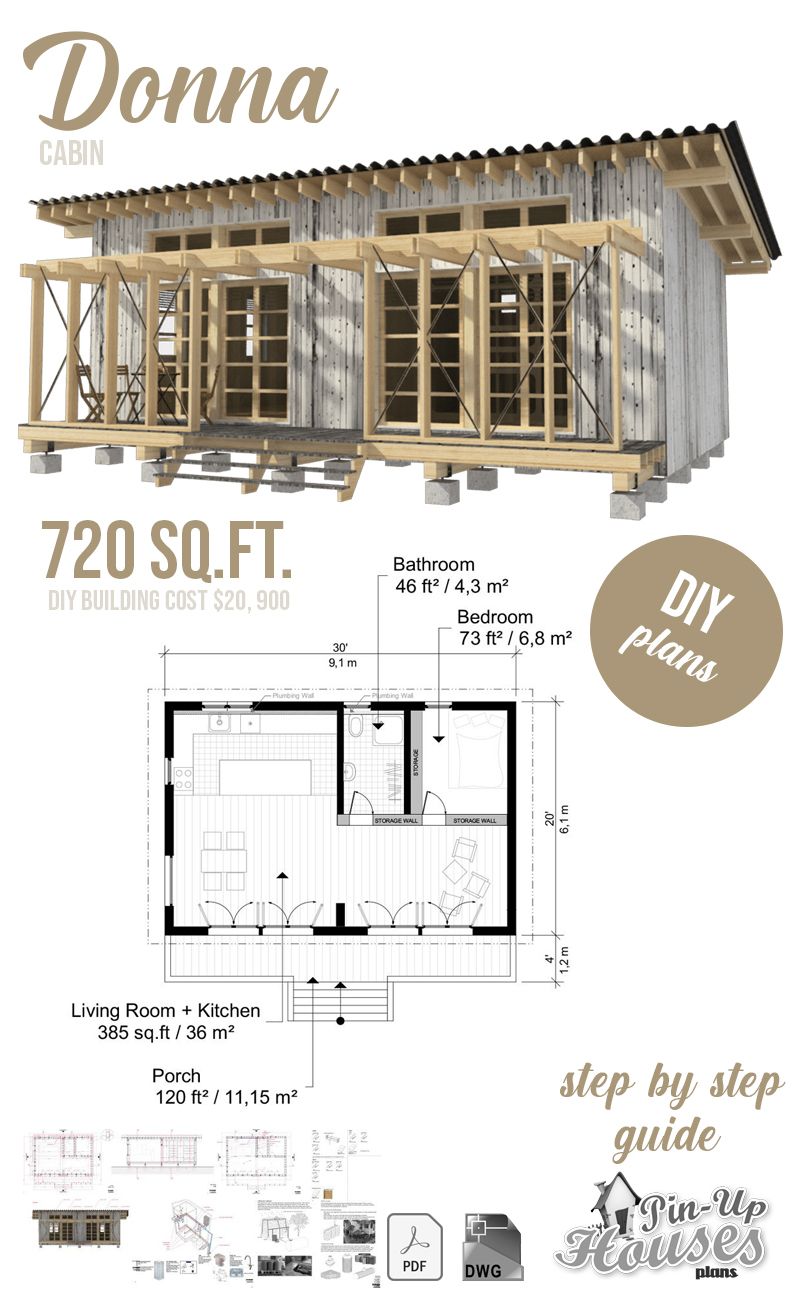 Donna is a spacious one-storey cottage with a generous terrace and a pergola. Thanks to the simple shed roof, its construction is easy and can be handled by a handy amateur. Balcony doors allow a natural connection of interior and exterior. You can enjoy the warmth of your living room while being part of the surrounding nature. This cottage is also popular among builders thanks to its modern contemporary design. Buy our Cabin Building Plans Donna and we will also send you an e-book How to build a tiny house for free.
Campground Cabin Plans Luna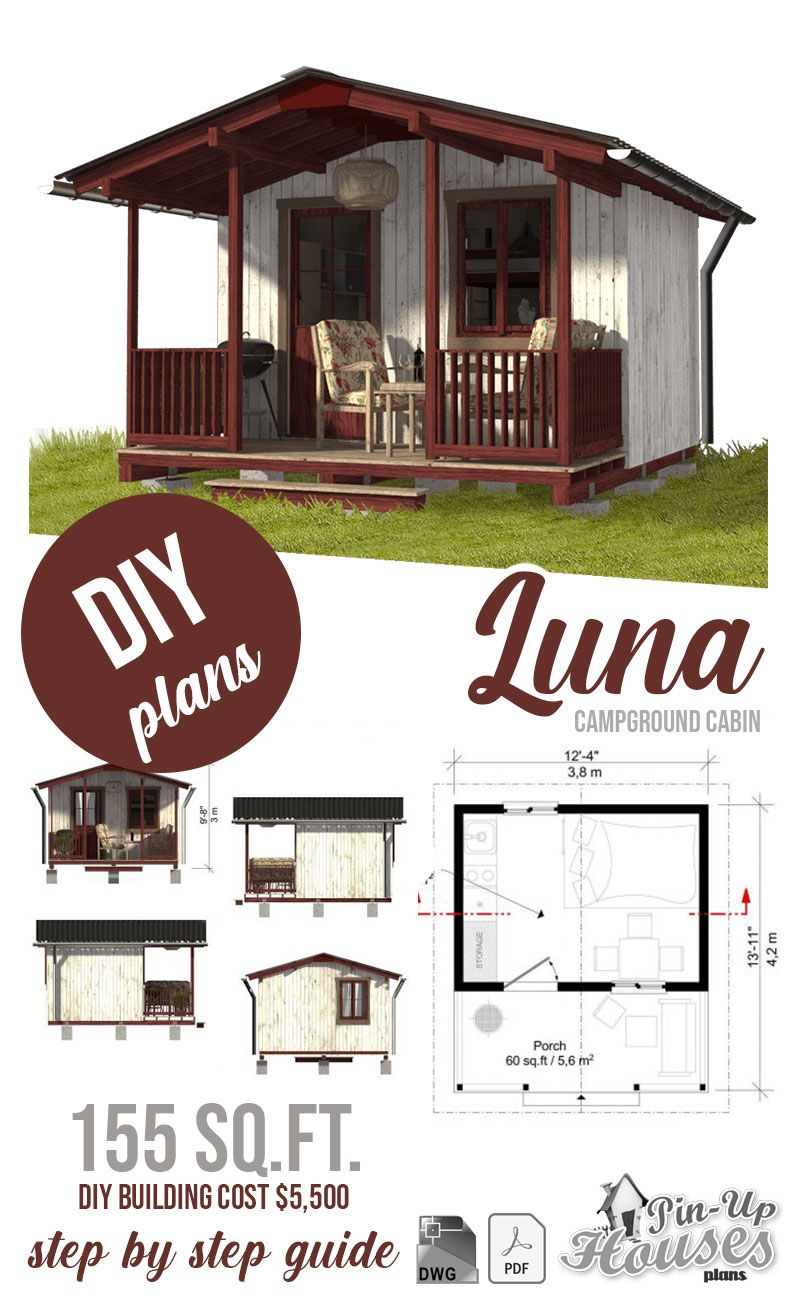 Luna is a modest small cottage suitable for camping settlements. It is easy to build and maintain. Inside we find a small kitchenette suitable for preparing or heating simple dishes. There is, of course, a bed and a dining area. The spacious terrace allows you to stay in the fresh air even when it rains. Holidays, sun, leisure and friends are what best decorate this cottage.
Small House Plans with Shed Roof Louise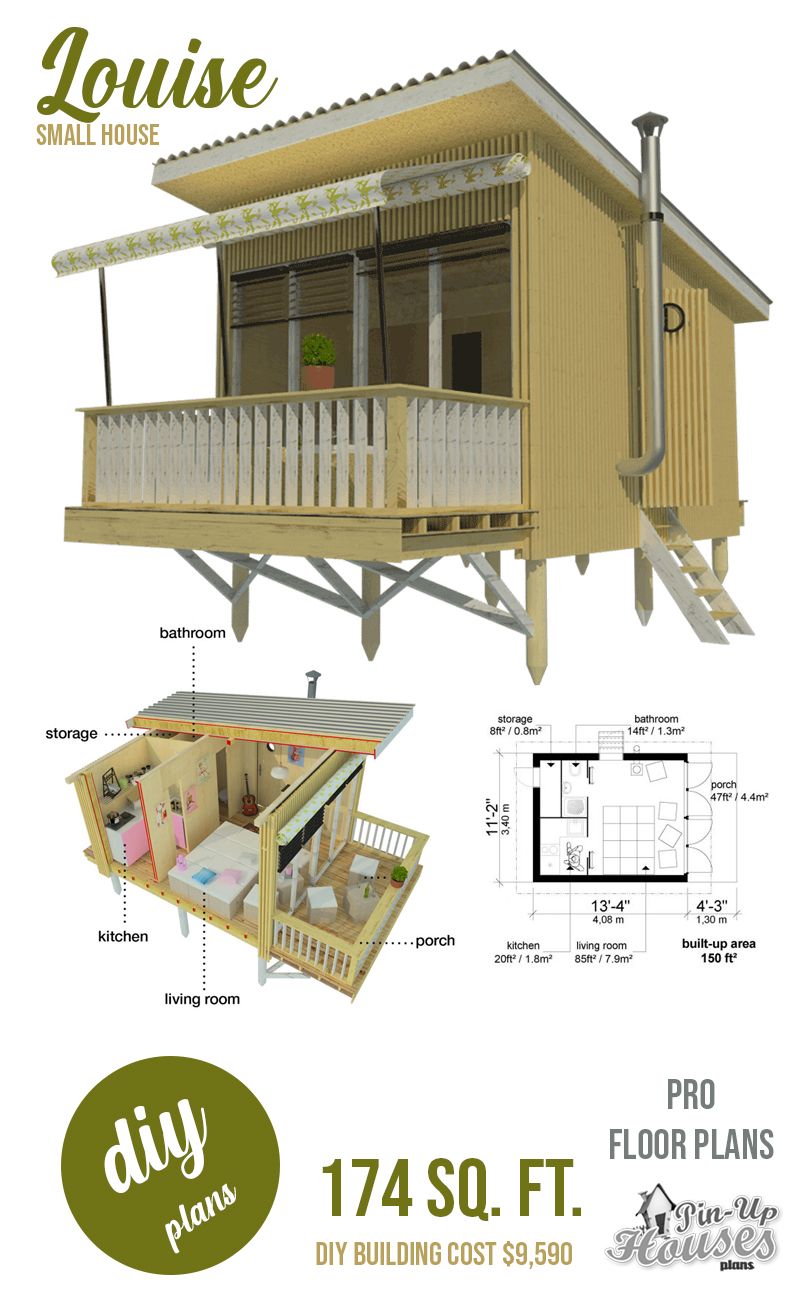 Louisa is one of the first cabins we designed. In the main living area, you can find foldable multifunctional furniture. The cubes can be used as a bed, seat or table and also has great storage space inside. On the terrace, we recommend having a folding awning in case it starts to rain and you want to stay outside. There is also a garden equipment store accessible by a door on the rear facade. This cottage is very minimalist but can serve as a pleasant temporary living for one person.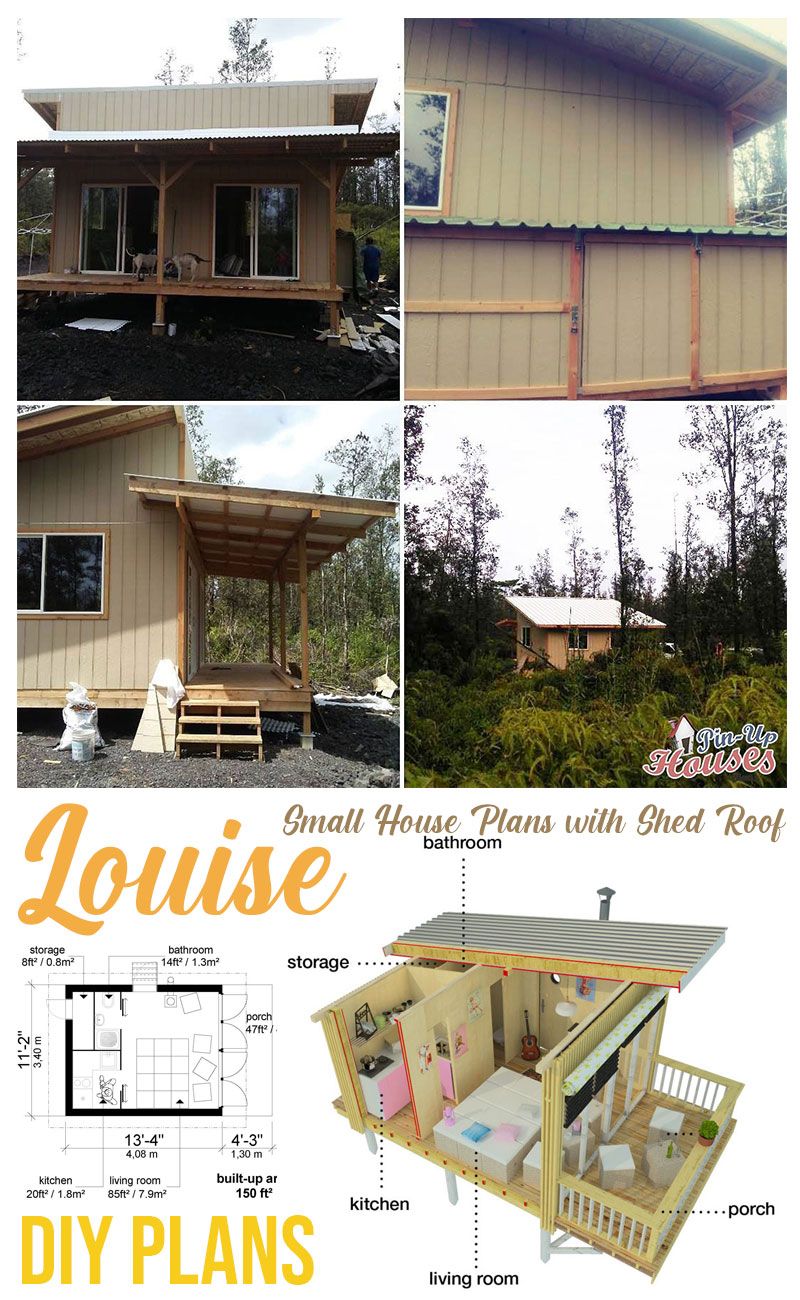 Garden Cottage Plans Shelley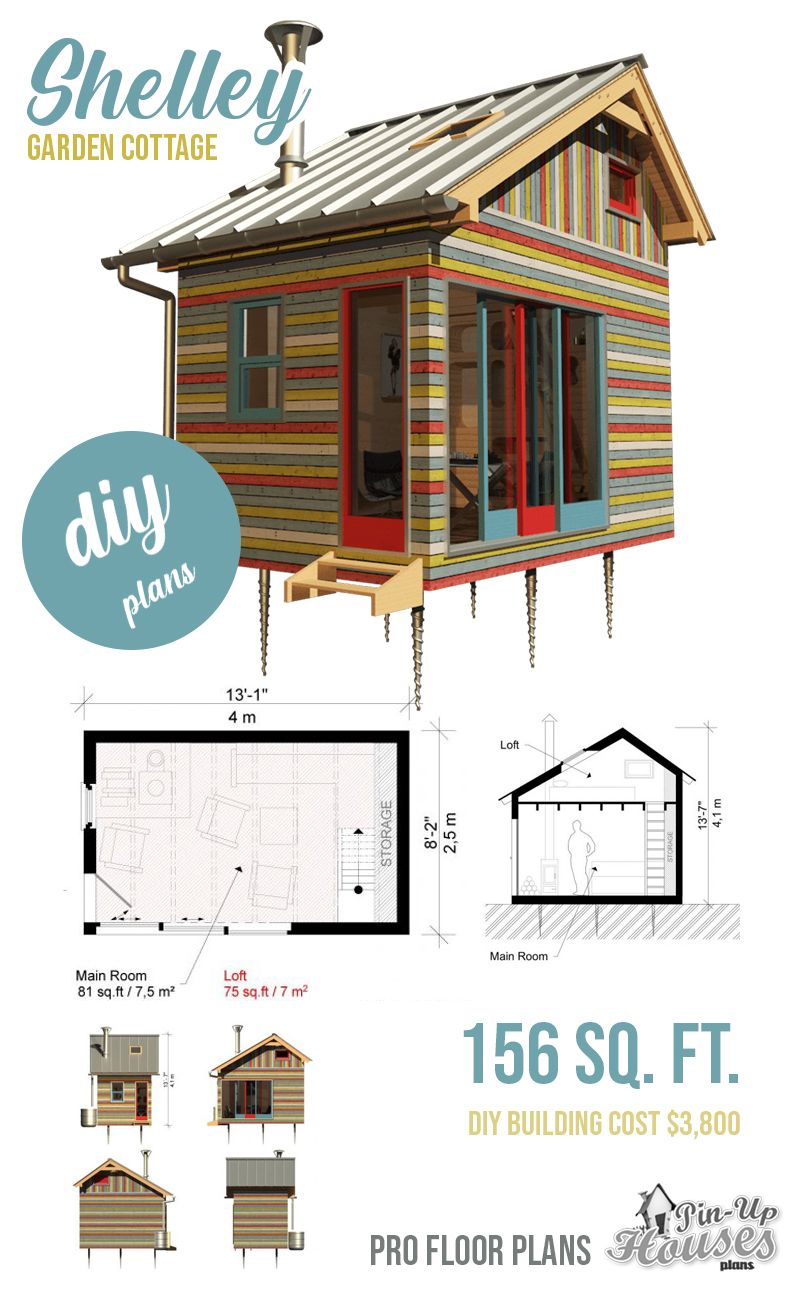 Shelley is a classic garden cottage serving as a guest room or as a summer rest for some family members. For example, a tired dad. The tiny attic is ideal for lounging and watching the outside bustle through a small window. Buy plans for this tiny cottage and take pleasure in the construction work during the summer holidays.
Pentagon Cabin Plans Ann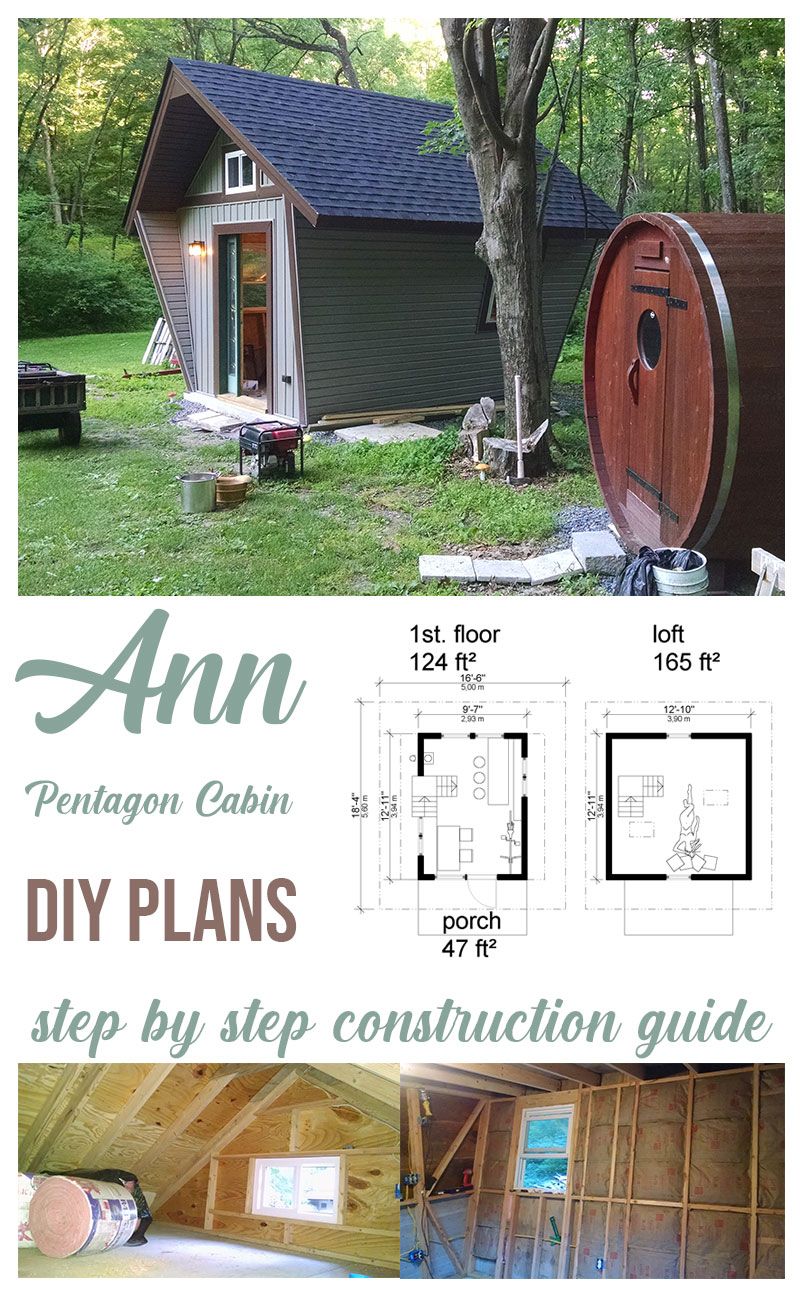 Garden Cabin Ann is inspired by the well-known shape of corn cribs. As you can see in the photos, the cottage looks beautiful and fits nicely in the corner of the garden. In the small hut, there is a large sleeping attic, which serves either as a bedroom or a garden material store. Be inspired by our Ann building plans and decorate your beautiful garden with this design. Buy our Pentagon Cabin Plans and we will also send you an e-book How to build a tiny house for free.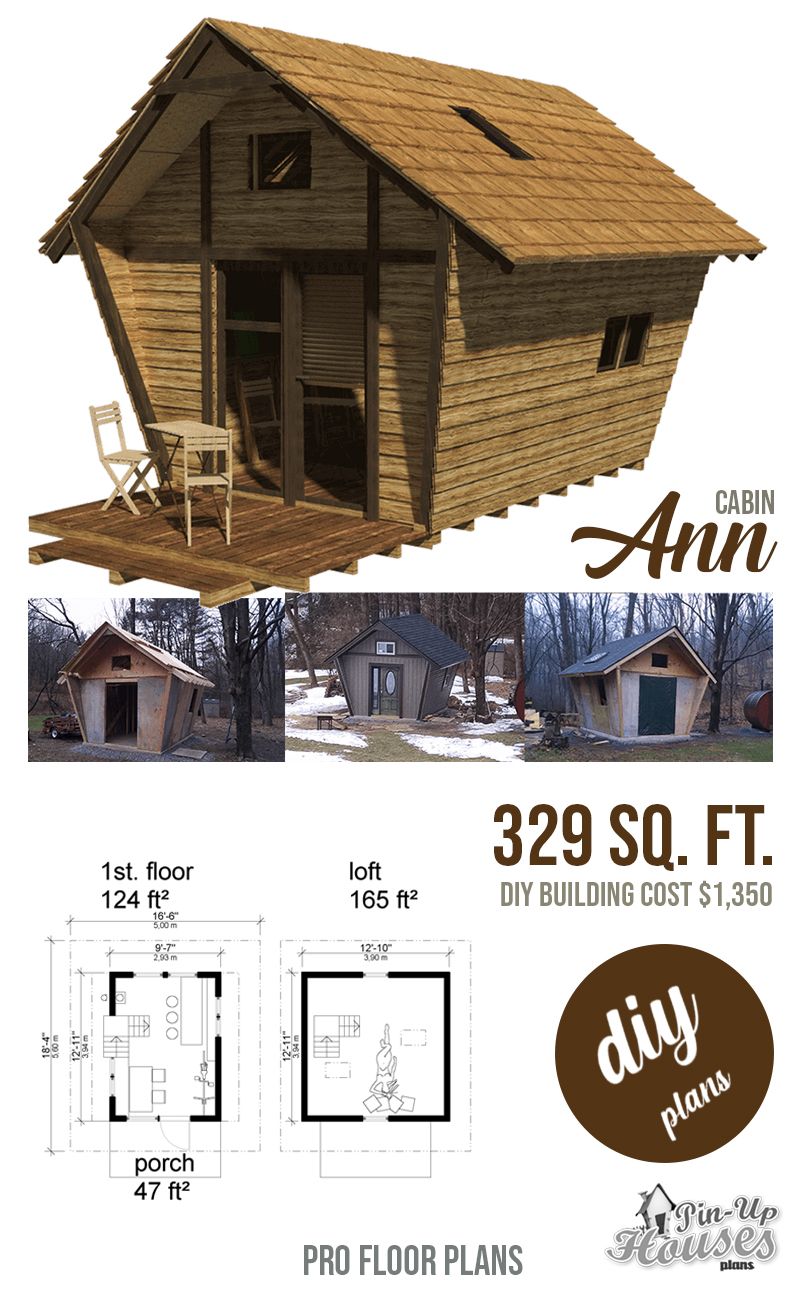 One Room Cabin Plans Madison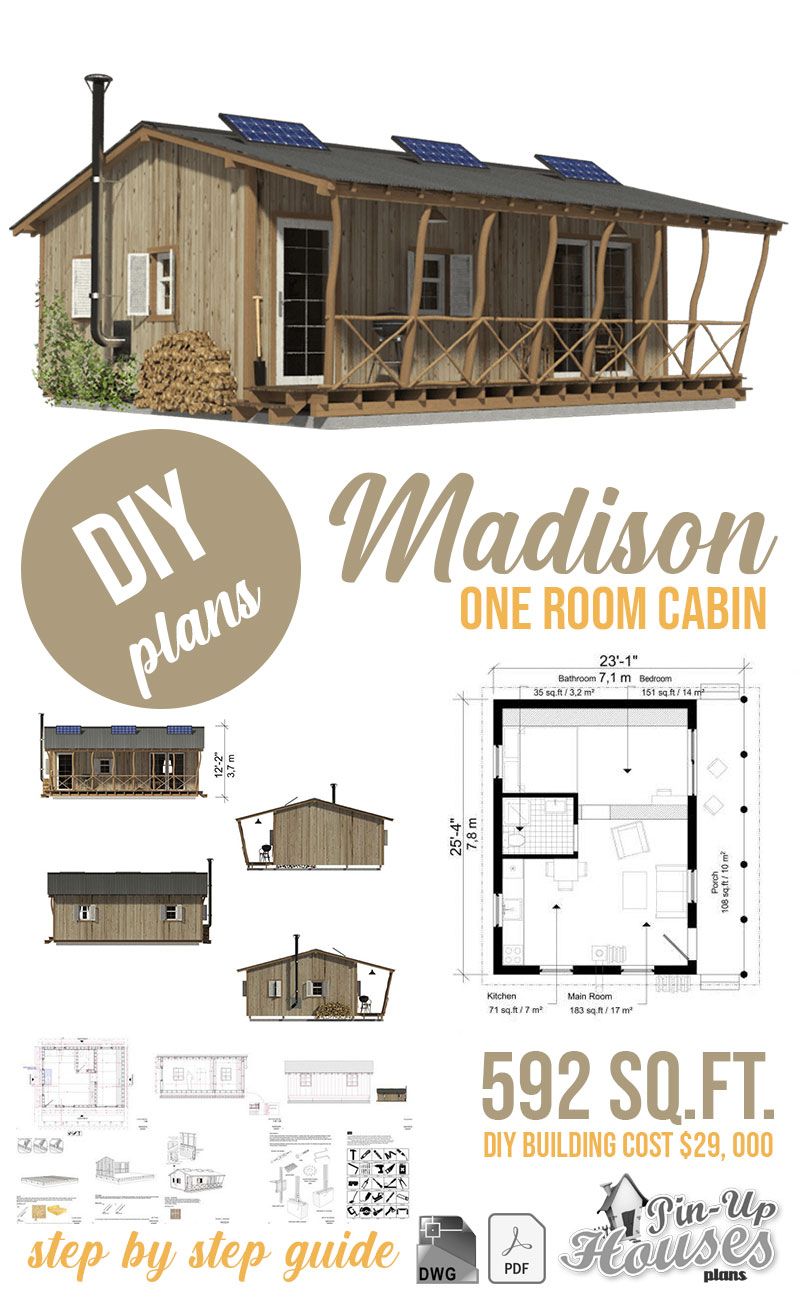 Madison is based on the shape of a Bettie cabin, only larger and has a bathroom and a standard kitchenette. Madison is a suitable house for a couple who does not want to go up the stairs, loves porches and does not like the spectacular shapes of houses. The construction plans for this house are easy to understand and include everything you need to organize your work well. Madison can serve as a modest but imaginative year-round living for two people.
One Bedroom Cottage Plans Shirley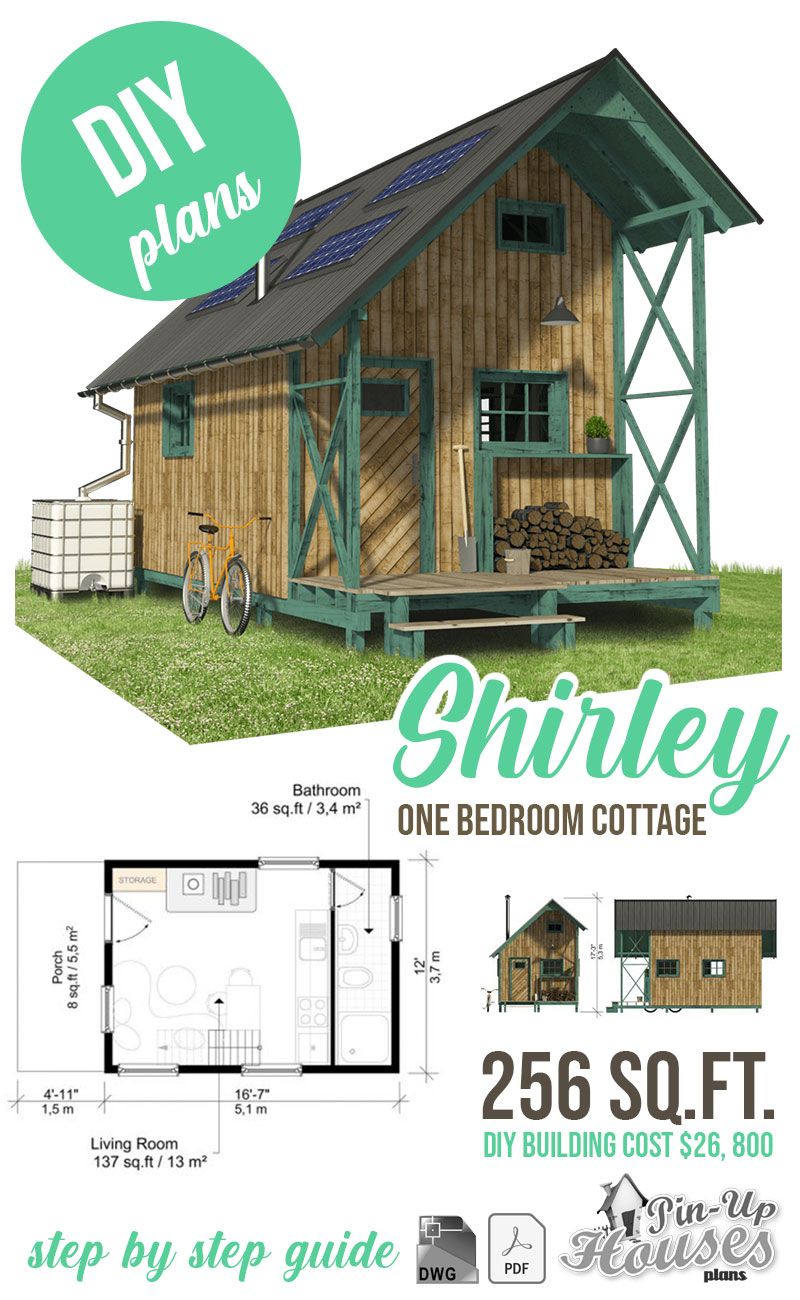 We spent a lot of time designing this cottage. The shape of the roof is not random and allows the logical installation of solar panels while creating a cozy attic space for the bedroom. Cabin in the color of the picture would fit nicely somewhere in a secluded place on the edge of the forest. Also the interior is designed effectively and with regard to saving space and budget.
Shipping Container Cabin Plans Julia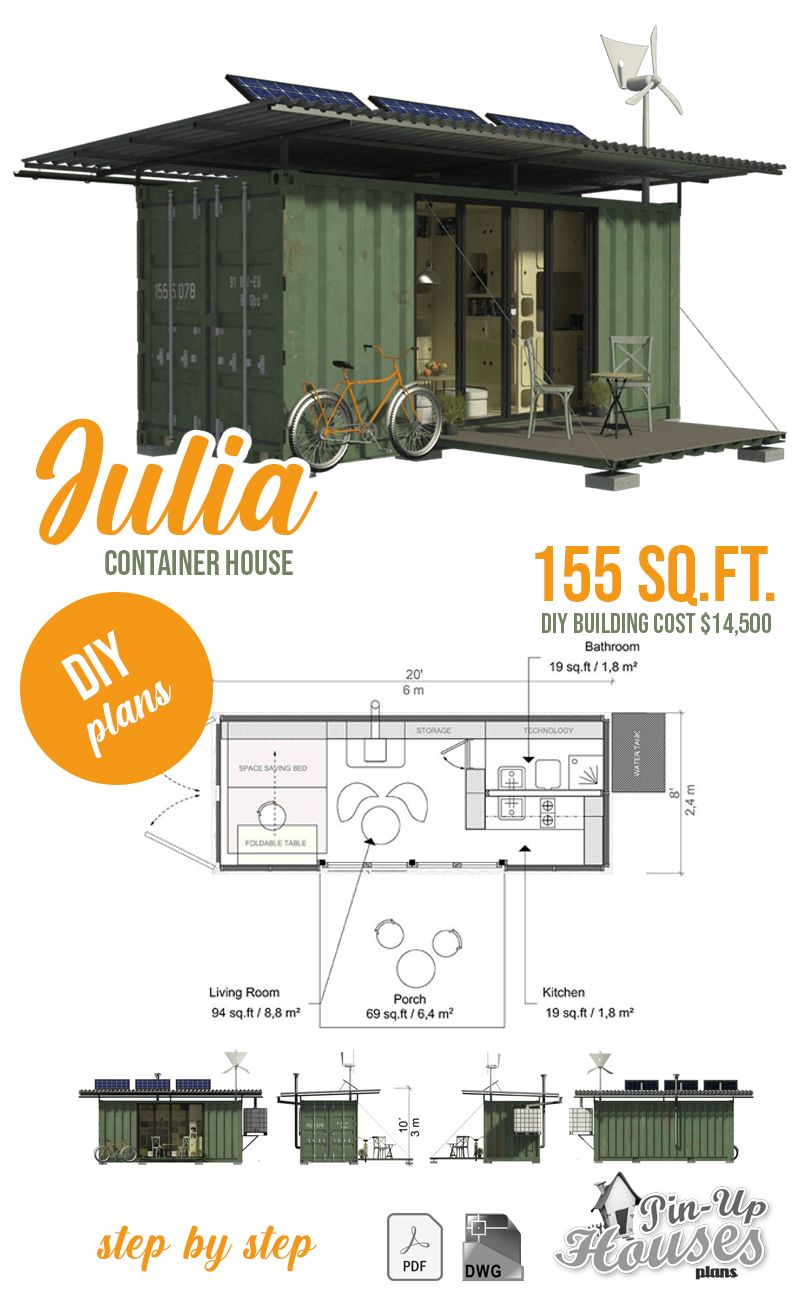 This idea has attracted the attention of various Internet media and, above all, a number of people on social networks. Intelligently designed living space in a shipping container. The emphasis is on off-grid solutions. The water tank, solar panels on the roof and a small wind power plant will allow its residents to minimize their dependence on their surroundings. With detailed plans, you can start building right away!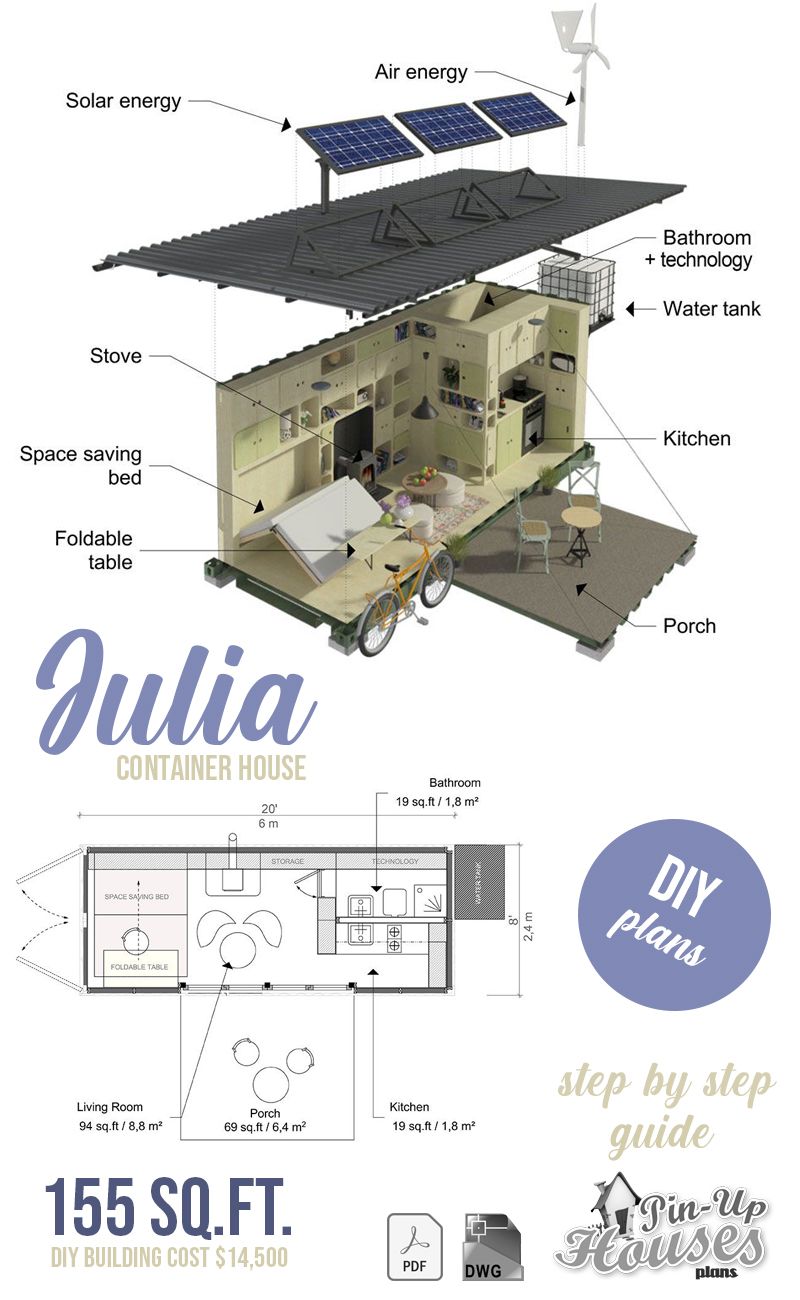 In the upper picture, you can see the whole ideal equipment of the house. Sofa bed, mini kitchen, stove, and practical bathroom. The hinged terrace allows to hide the French window with the main entrance to the container cabin.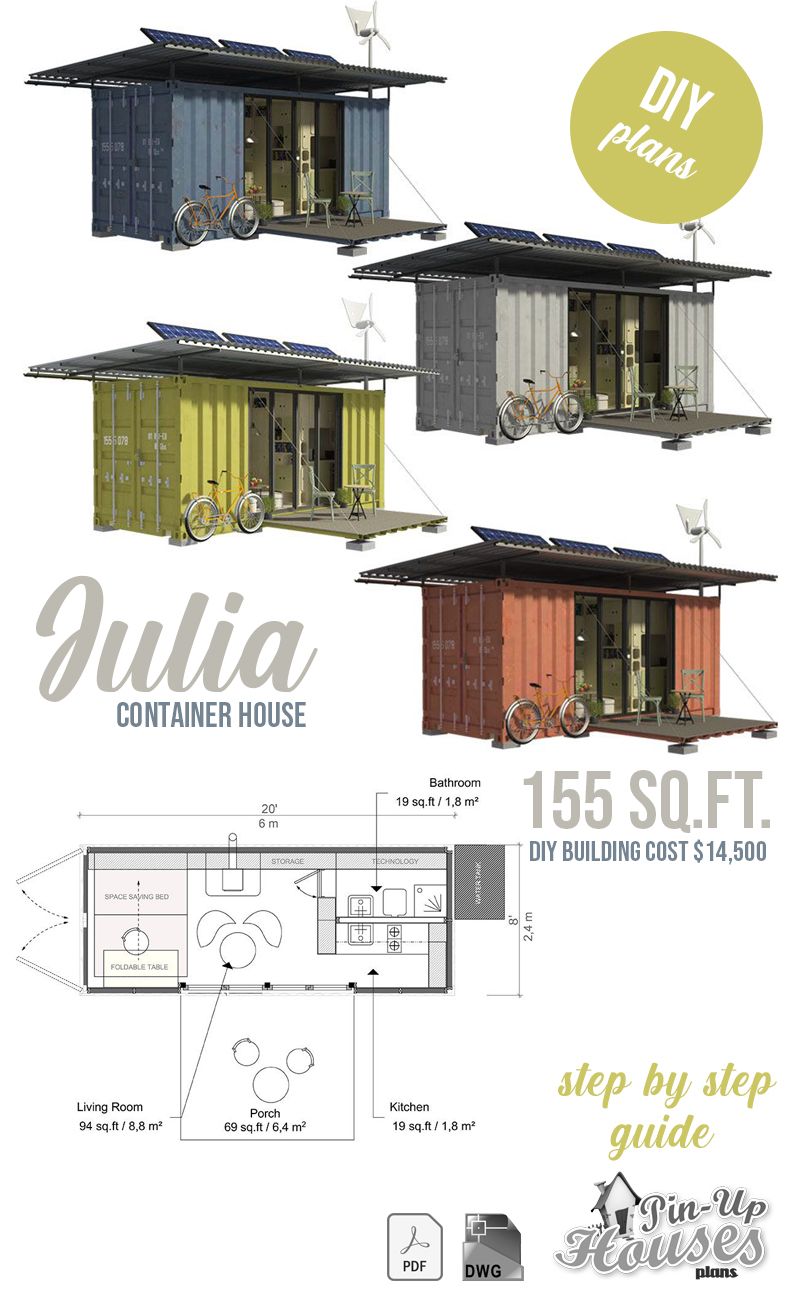 Weekend Cabin Plans Elisabeth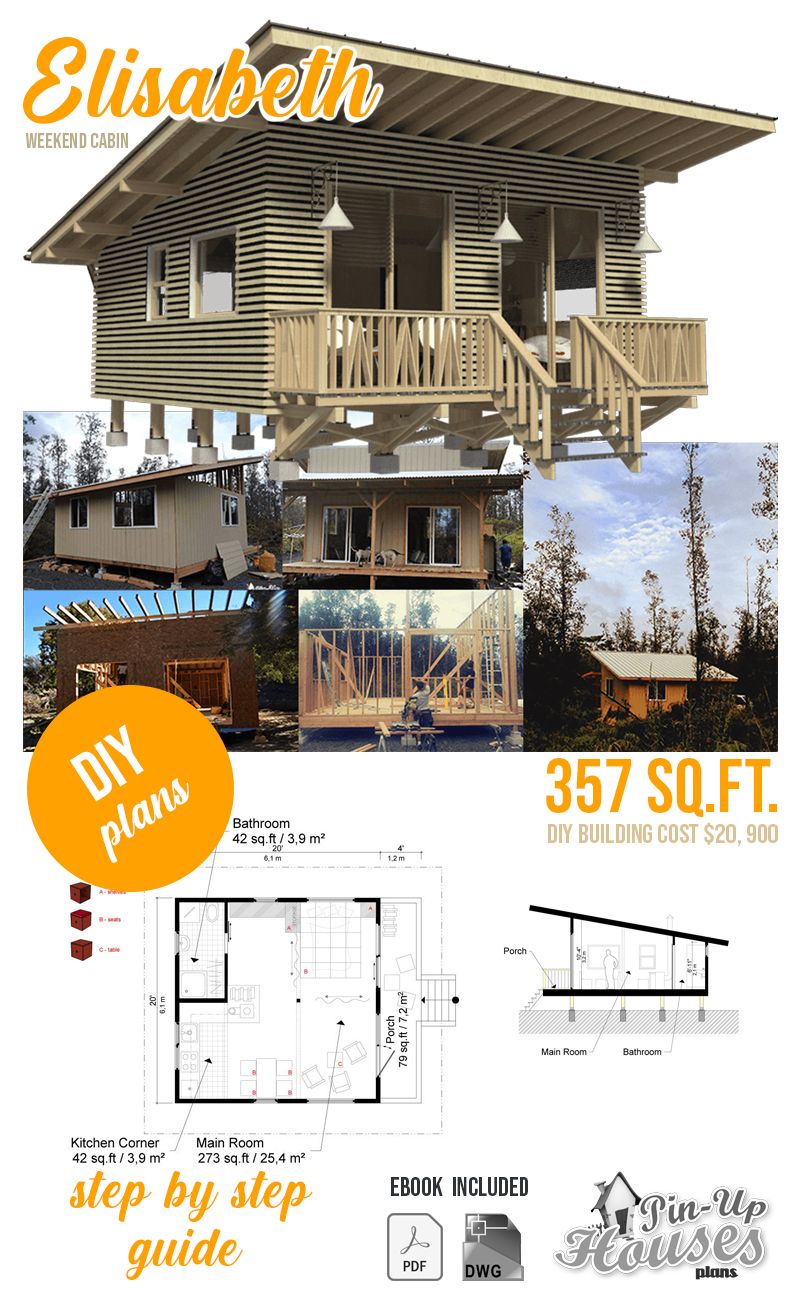 Elisabeth is another very popular cottage. It was built in Hawaii or Argentina. The shed roof is a simple construction solution that will greatly facilitate and speed up the construction process. As you can see from the photos of built cottages, the cottage fits perfectly into nature. Our plans are DIY friendly and contain well-described construction progress with many schematic pictures.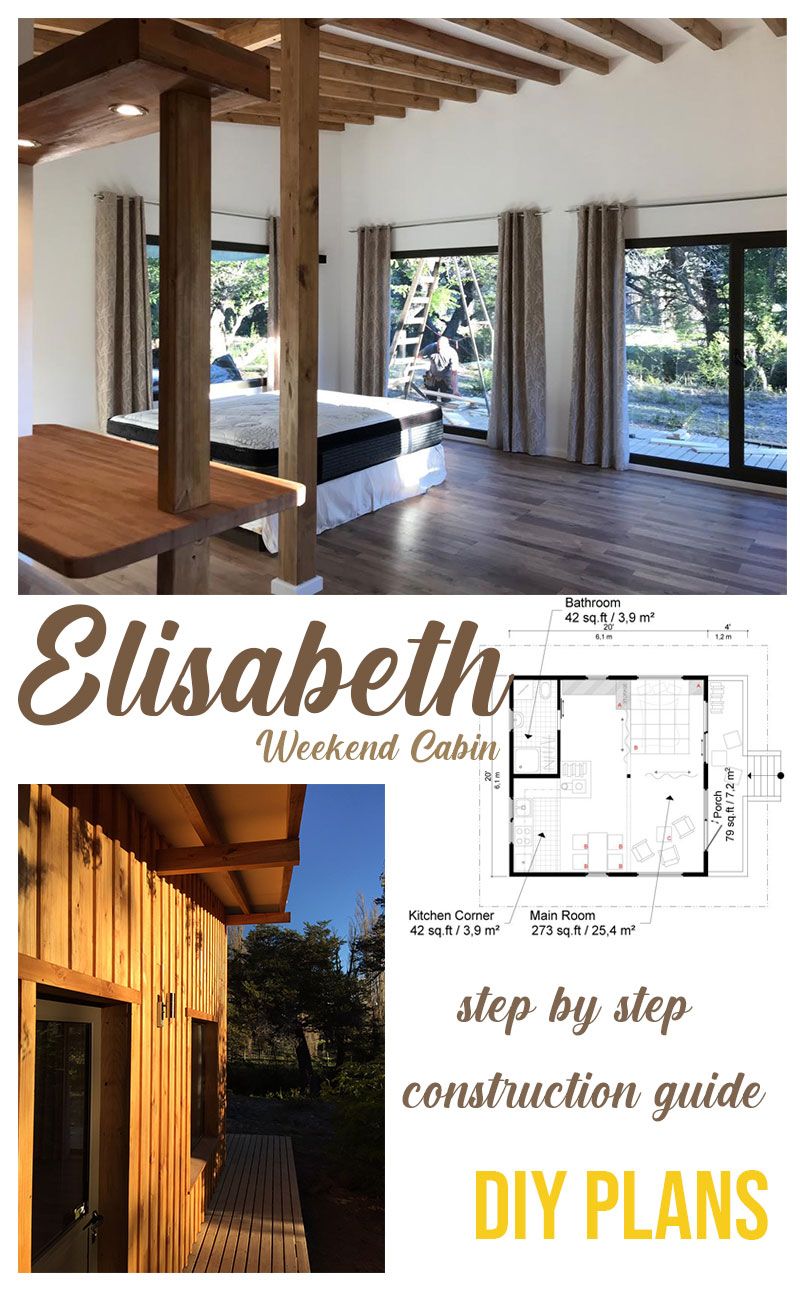 The cottage consists of one large space with a pillar in the middle and a bathroom in the back corner. From the bed, there is a wonderful view of the outdoor nature scenery. The bed can be separated by movable partitions or curtains.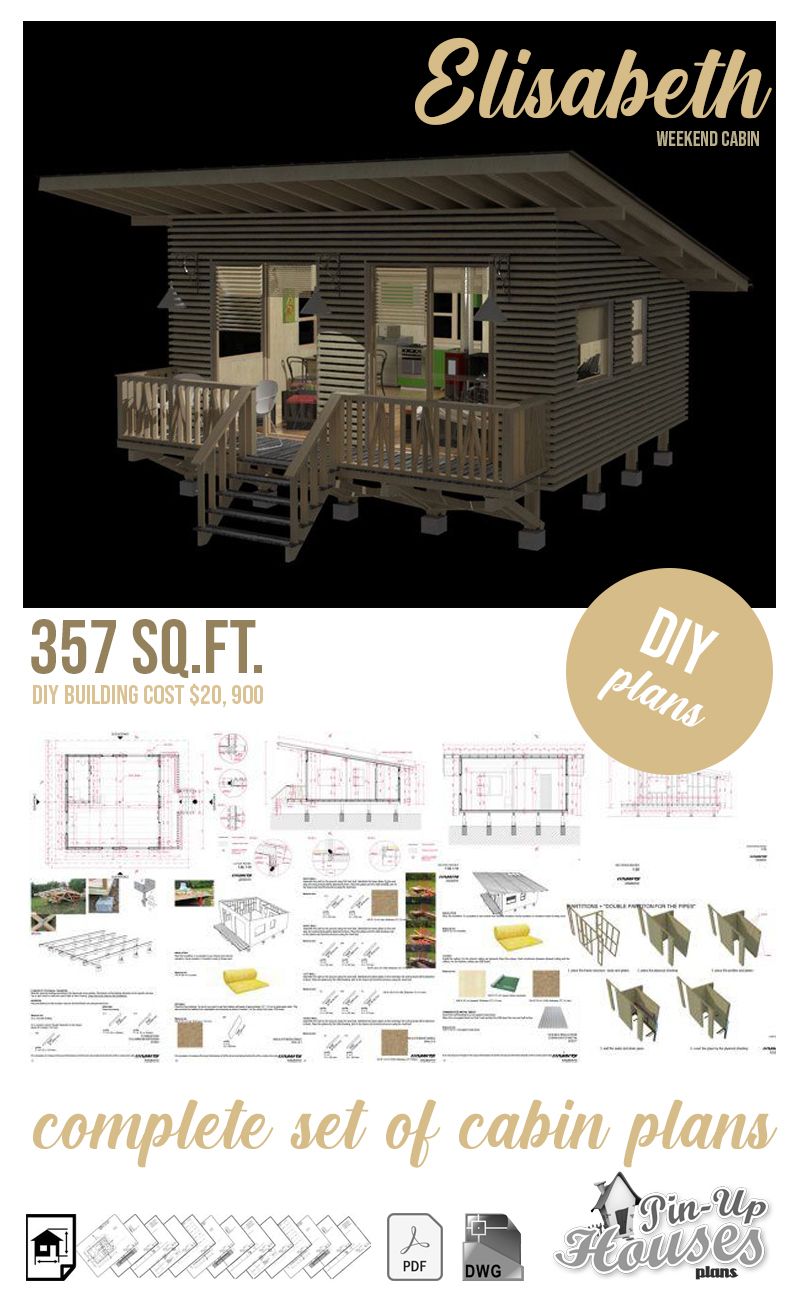 Clerestory Cabin Plans Anita
Anita Clerestory is similar to Elizabeth Weekend Cabin. It is distinguished by a covered terrace and overhead lighting that enters the main living area of the cabin. Anita is inspired by American clerestory homes, but the interior is closer to Scandinavian design. The construction plans are detailed and will guide you through all stages of the construction process.
Garden Hut Plans Jayne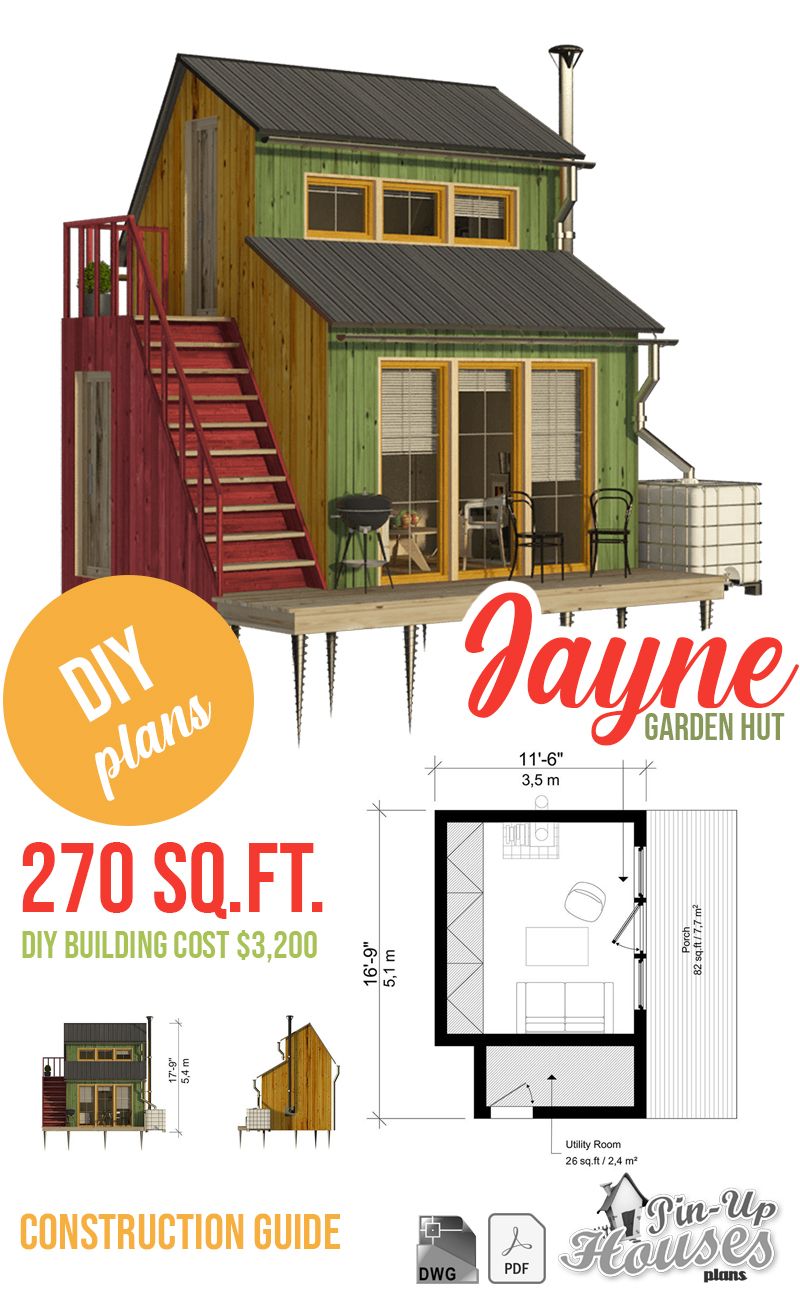 Jayne has intrigued many people. It is a garden cottage for storing garden tools, but can also be used for occasional lounging or relaxing in a warm interior. On the second floor is a bedroom accessible by small outdoor stairs. Buy our Garden Hut Plans Jayne and we will also send you an e-book How to build a tiny house for free.
Country Cabin Plans Chloe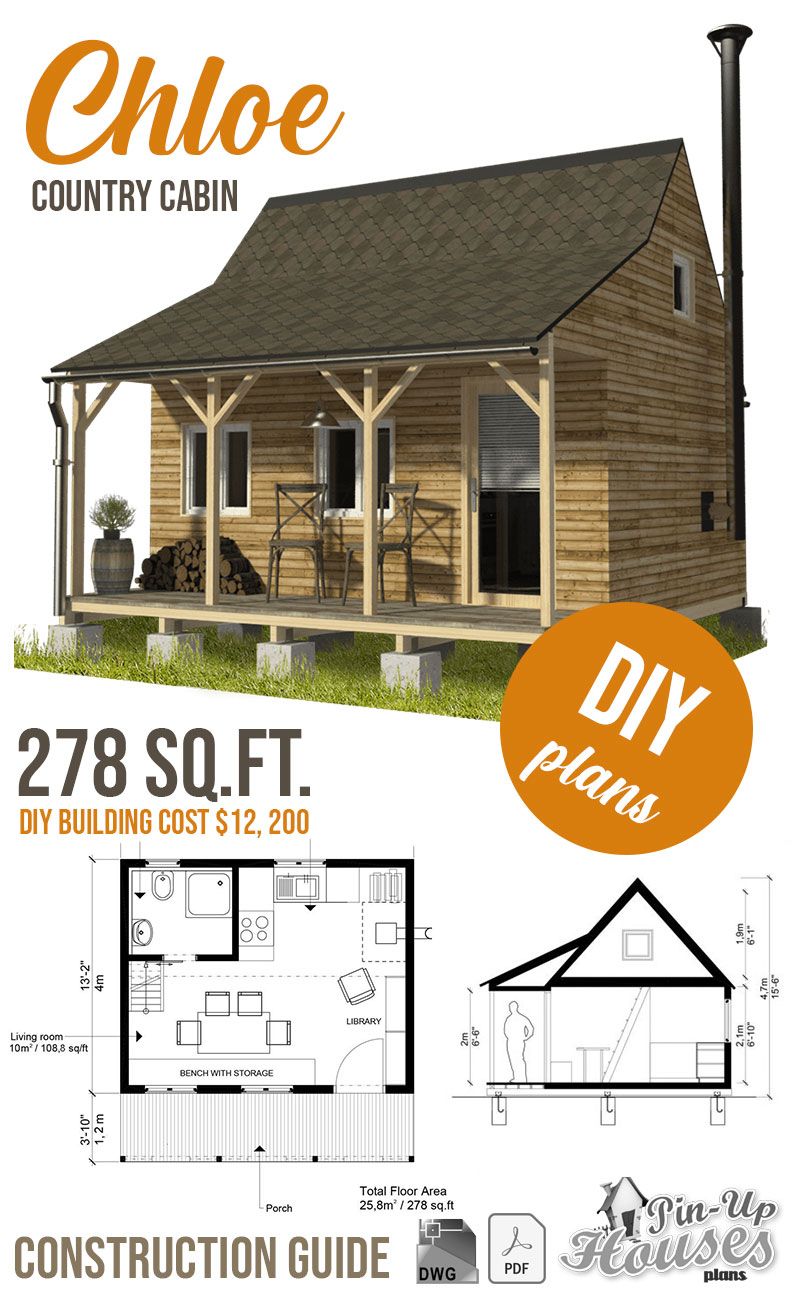 Country Cabin Cloe is a classic cottage with a terrace and a gable roof. Its equipment allows a comfortable stay of one or two people. There is a cozy sleeping area under the roof. Under the main windows, there is a storage space under the bench. The kitchen is followed by a stove with a wood corner. Build this weekend cottage and enjoy the countryside in a comfortable chair in front of the burning stove.
Pod Cabin Plans Ava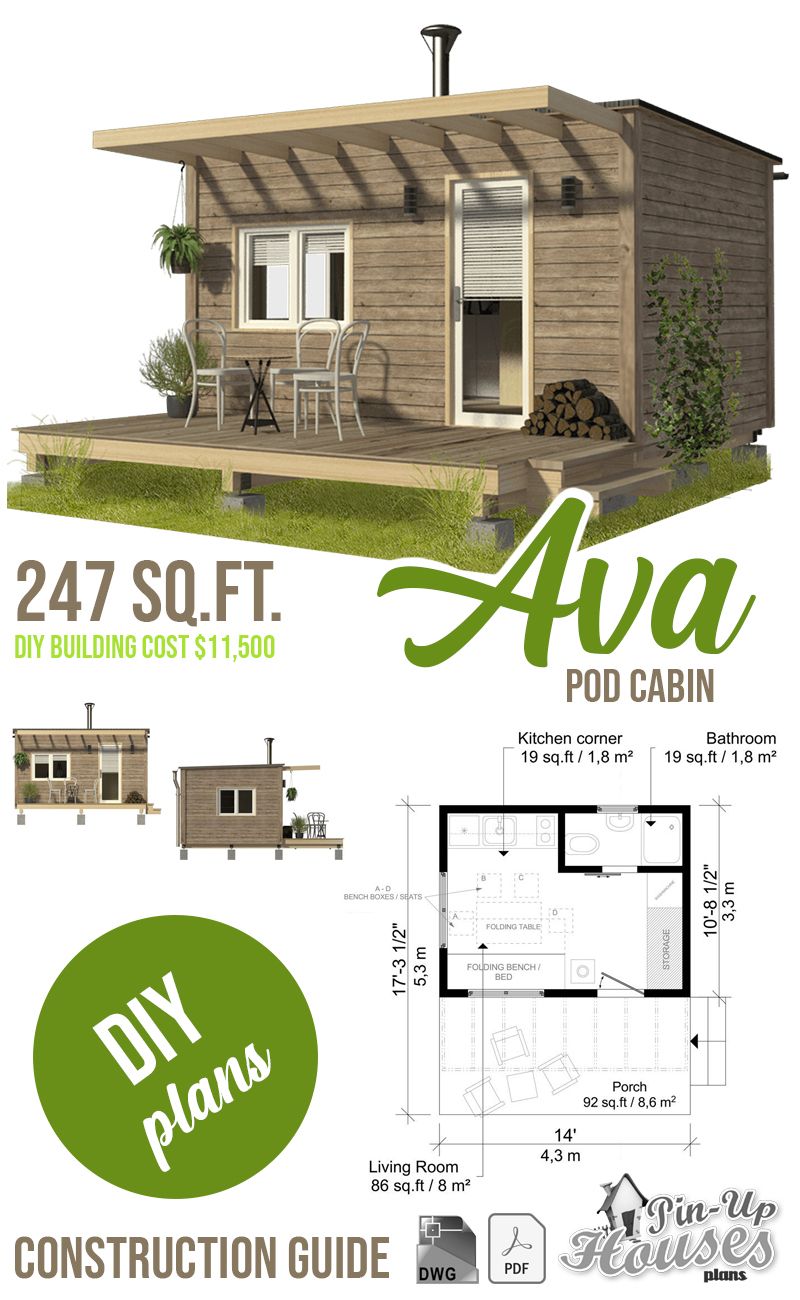 Ava is one of our smallest cabins with a bathroom. To save the floor area, we designed smart space-saving furniture. The fold-out bed can also serve as chairs with a table, as you can see in the interior visualizations on our website. This Cabin is easy to build, so don't hesitate and if you love this design, buy construction plans and get to work!
Elevated Cabin Plans Virginia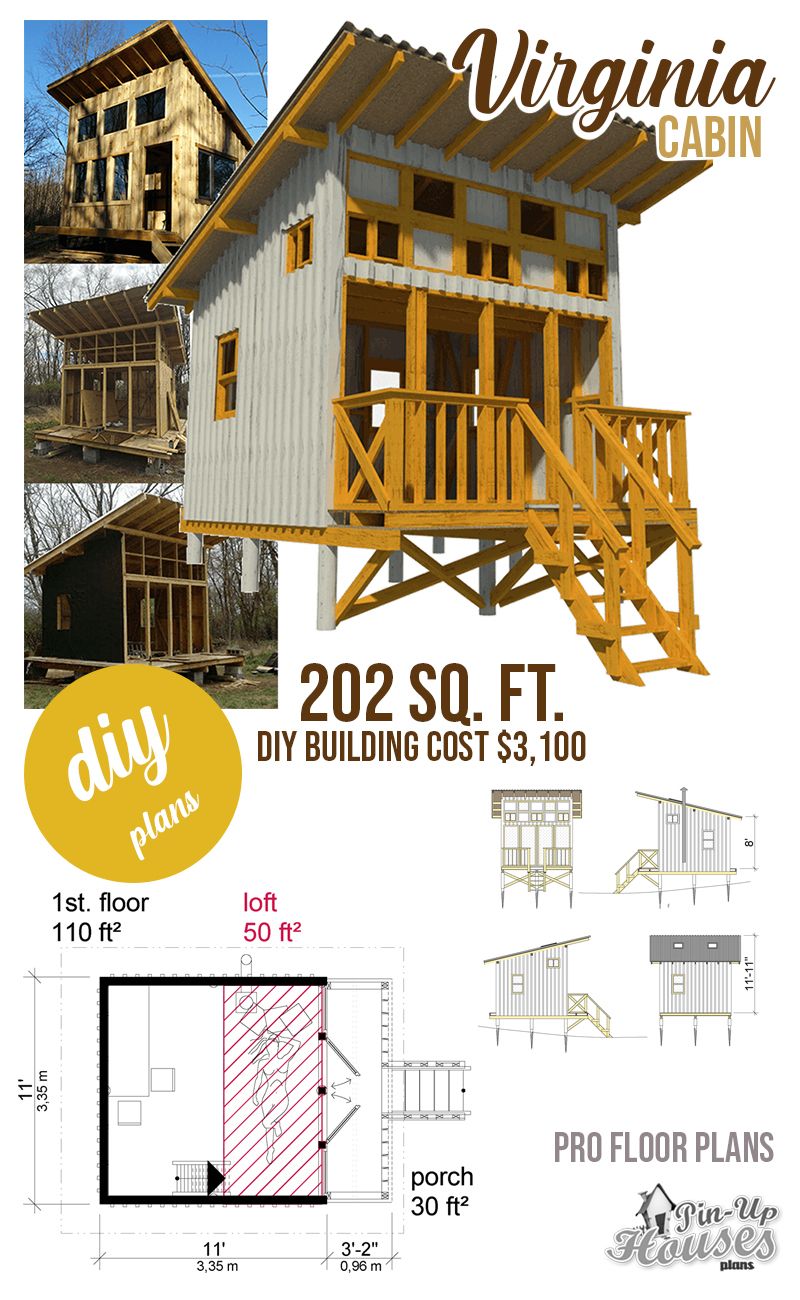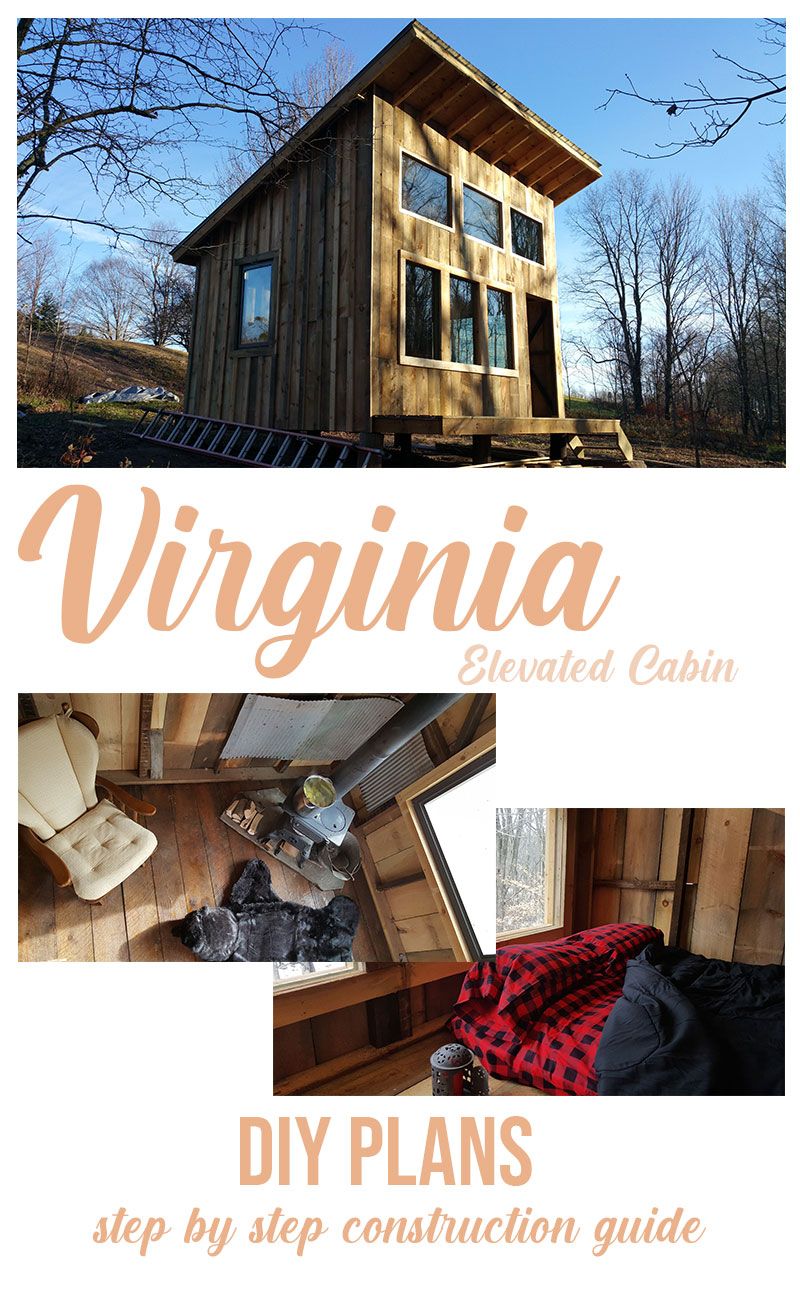 Virginia is a cottage for those who want to enjoy moments of relaxation and doing nothing. Classical construction is suitable for DIY self-construction – simple shed roof and foundation on ground screws or wooden pillars. The proportions of the cottage allow a sleeping attic with a beautiful view of the surroundings. In the photos, you can see various buildings built on our construction plans. Buy our Elevated Cabin Plans and we will also send you an e-book How to build a tiny house for free.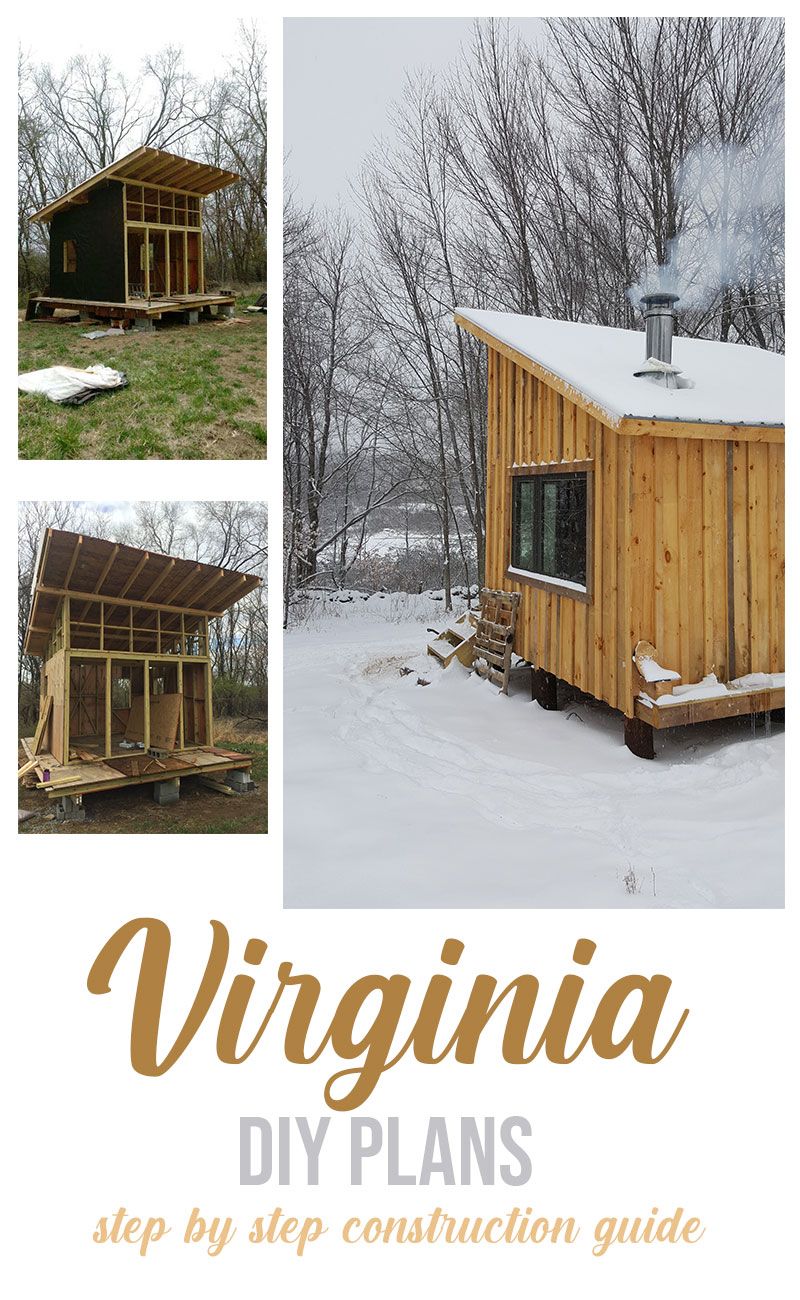 Chalet Cabin Plans Ellie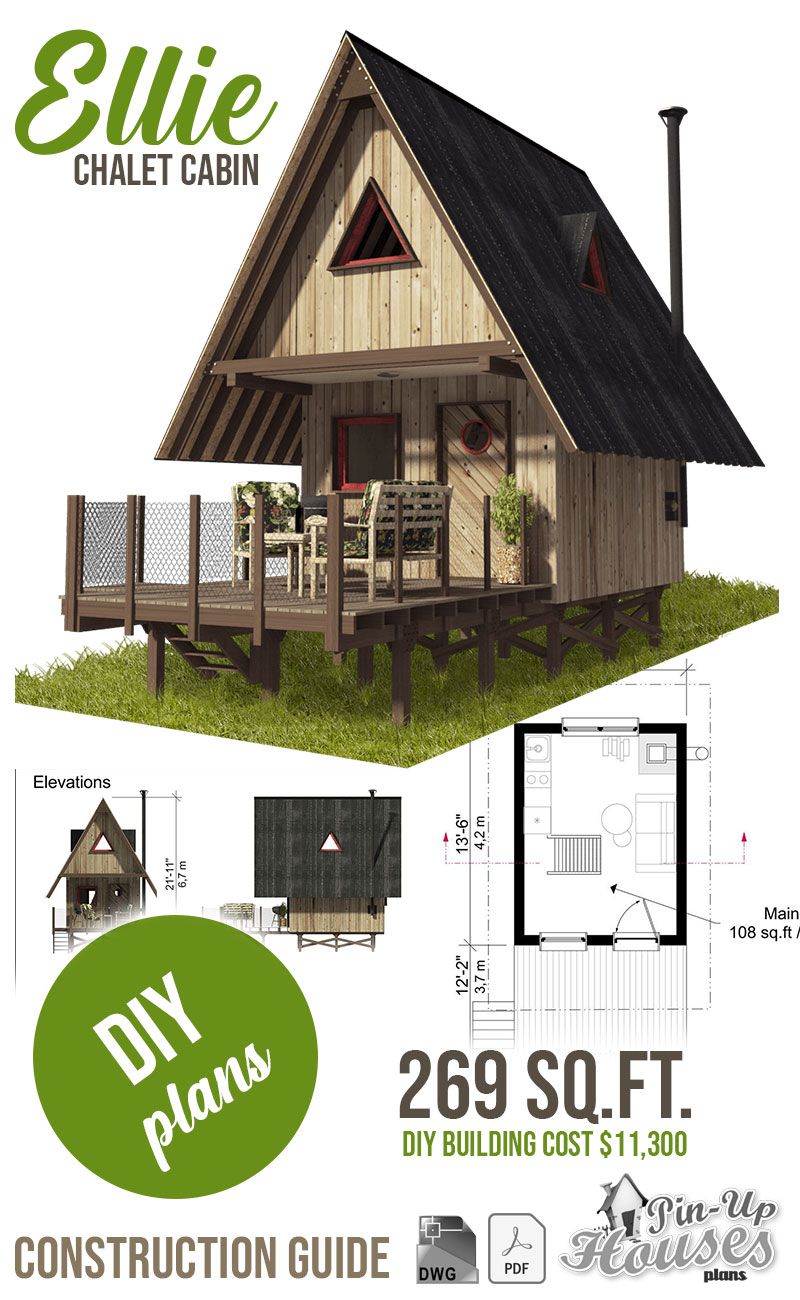 Ellie belongs to the category of holiday homes suitable for weekend relaxation or only for temporary living. At first glance, the triangular windows on the attic, where the sleeping area is situated, will attract attention. The terrace is partially covered so you can enjoy the outdoor environment even in bad weather.